On the heels of Toyota Insurance Management Solutions opening its first-ever headquarters in Plano, the independent licensed insurance agency is opening its flagship branded product to the public.
Toyota Insurance Management Solutions (TIMS) is now offering customers automobile insurance via what it calls quality, customizable coverage at affordable rates. The product, fittingly dubbed Toyota Auto Insurance, aims to make the policy purchase process quick, easy, and flexible.
The customization translates to a customer's lifestyle, namely how they use their Toyota vehicle. Options are available, for instance, to rideshare drivers or pet passengers.
The launch went live in five states—Arizona, Illinois, Indiana, Ohio, and South Carolina—but TIMS says Toyota Auto Insurance will soon be offered in Texas. Georgia, Missouri, and Tennessee are also on the horizon.
Customers can find Toyota Auto Insurance online and through Toyota's mobile app, call center agents, and participating dealerships. The addition wraps the complete car buying process with a neatly tied bow.
"With Toyota Auto Insurance, we can truly enhance the complete Toyota ownership experience for our customers," said Will Nicklas, chief operating officer of TIMS, said in a statement. "We look forward to expanding this product even further, including empowering Toyota owners to seamlessly use their driving data for additional insurance discounts."
Total Toyota integration
Toyota Auto Insurance will be supported by Toggle, the underwriter that's part of Farmers Insurance. Founded in 2018, Toggle is part of the burgeoning insurtech market. The "new kind of insurance company" provides digital insurance solutions for modern consumers and brands.
Insurance customers are set to receive discounted pricing and "Toyota Genuine Parts" for repairs, when possible. Toyota Auto Insurance also has a collaboration in place with Toyota Certified Collision Centers and Rent-a-Toyota programs so customers can get "back on the road as quickly as possible."
It's also integrated with Toyota vehicle benefits, like Toyota Care Roadside Assistance.
Plus, customers can use Toyota Auto Insurance to cover other non-Toyota vehicles in their household.
The first TIMS HQ
Toyota Insurance Management Solutions was launched in 2016 to give Toyota customers a personalized way to compare and buy polices online. It's a joint venture between Aioi Nissay Dowa Insurance Services USA, Toyota Financial Services International Corp., and Toyota Connected USA.
A key TIMS offering: The chance to opt in to allow usage-based data tracking from Toyota's connected vehicles. For safe drivers, discounts can be as high as 40%.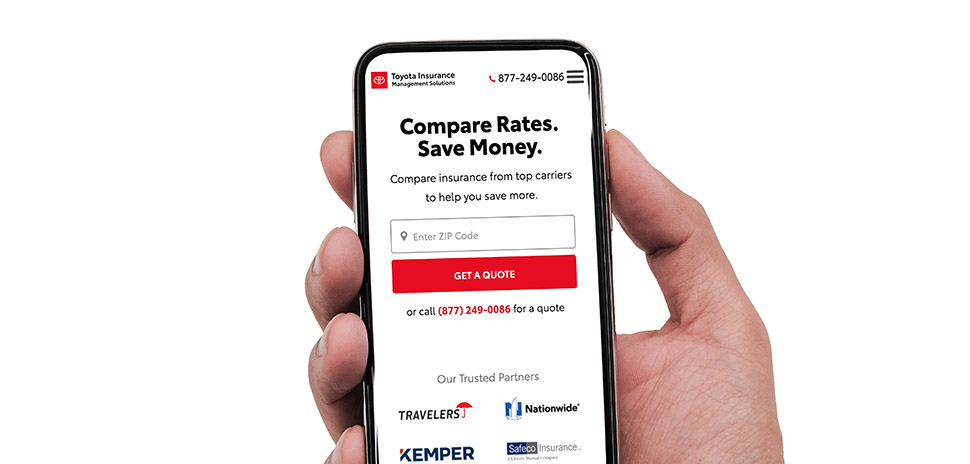 TIMS' new headquarters aims to bolster innovation and support future growth. Another reason for the opening? TIMS covers more than your Rav4. The agency has expanded to offer insurance products for home, renters, RVs, even pets.
"TIMS completes the Toyota ownership experience by providing simple, convenient ways to shop for and purchase insurance for all Toyota models, new and pre-owned, as well as coverage for other vehicles," Nicklas previously said. "Looking ahead, TIMS is expanding distribution—both digitally as well as through select dealers—and we will continue to innovate new products, providing Toyota customers with personalized auto insurance tailored to their unique needs."

Get on the list.
Dallas Innovates, every day.
Sign up to keep your eye on what's new and next in Dallas-Fort Worth, every day.