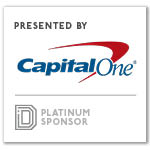 Capital One is committed to elevating DFW as a destination for top talent and spurring growth as a world-renowned innovation and technology hub through our partnerships in the community and science, technology, engineering, arts and math (STEAM) programming. Through this series, Capital One is shining a spotlight on local organizations that are creating a positive change and making DFW an even more vibrant place to live, work and create.
Meet Alyce Alston, who is the CEO of the Dallas Entrepreneur Center (The DEC) and organizer for Dallas Startup Week. As leader of The DEC, she is responsible for helping entrepreneurs start, build and grow their businesses through multiple innovation hubs across DFW. She guides community, mentorship and signature programs that provide connections and partnerships between startups, corporate innovators and investors to accelerate innovation and funding in the community.
Capital One believes that corporations, startups and the community, together form an ecosystem of opportunity. In 2015, Capital One began its partnership with The DEC and its signature WEDallas program, which helps inspire, equip, and empower women entrepreneurs across North Texas. Dallas Startup Week is an extension of that partnership with Capital One as this year's title sponsor.

1. What are two or three areas of innovation that you are seeing in your industry? Has this type of innovation reached DFW? How can we continue to make the area more attractive to companies or job seekers?
The current areas of innovation that we are seeing are around AI, cryptocurrency and cyber security. Those industries are alive and well in DFW. When you have a metropolitan region like DFW with Fortune 500 companies and so many large corporations, you will see companies grow in these emerging markets. You begin to see entrepreneurs create businesses that can be B2B innovators and service the corporate companies that are already headquartered here.  You will also see these innovators developing companies that can benefit from the global landscape while developing local customers that can help build scalability, sustainability and opportunities for rapid and massive growth.
2. Explain your perspective of how the arts feed into the intersection of science, technology, engineering and math or business?
Arts are a core component of any major metropolitan area. If you want to attract talent and businesses, you have to develop a culture of the arts that is second to none. Dallas has developed one of the largest arts districts in the U.S. with a keen focus on bringing in national and international arts offerings that can service the vast amount of people that are located or relocating into this community. The arts play a key role in attracting people to the region while also providing an outlet for the local ecosystem to thrive.
3. Outside of your industry, what is something creative that you see in Dallas that sets the region apart from other areas?
DFW is not a region of one main industry or focus. What sets us apart is a growing and thriving community of people that are working in multiple industries. There are opportunities for entrepreneurs, corporations and young talent graduating from universities to set up roots in this region. We see entrepreneurs developing cutting edge technologies and innovations that will create the pathways for growth across multiple industries.
4. How do you collaborate with other organizations in the community? Why is this important?
The focus we have at the DEC is to highlight the different organizations in the community that are building a pathway to innovation and entrepreneurship for the region. We work to elevate the work of different organizations that we collaborate with in order to raise the profile of all sectors, industries and organizations that are building into markets that are already in this region. We believe that by highlighting and bringing awareness to the amazing activity that is already happening in this region we can showcase the vast amount of entrepreneurs and innovators that are building the future of tomorrow not just for this region but also for the global economy.
5. Tell me about your event this week – Dallas Startup Week. How is #DSW19 enriching the lives of North Texans? How is it raising the visibility of DFW?
Dallas Startup Week, powered by Capital One, is a key event in the landscape of DFW to highlight the entrepreneurs and innovators that are changing industries and building the future of our economy. This event allows us to educate, empower and equip entrepreneurs for greater success while also raising the profile of the ecosystem and the important role entrepreneurs play in the role of economic development for the region.
Find out more about Dallas Startup Week here and be sure to join one of our incredible events this week—from the Women in Innovation Summit, State of Entrepreneurship and finally, the Corporate Startup Innovation Summit on Friday, April 5 at the Capital One Conference Center with keynote Kara Swisher. Register here with access code "DallasInnovates19."

Get on the list.
Dallas Innovates, every day. 
Sign up to keep your eye on what's new and next in Dallas-Fort Worth, every day.