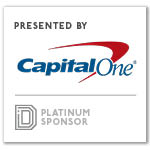 Capital One is committed to elevating DFW as a destination for top talent and spurring growth as a world-renowned innovation and technology hub through our partnerships in the community and STEAM programming. Through this series, Capital One is shining a spotlight on local organizations that are creating a positive change and making DFW an even more vibrant place to live, work and create. Find out more about Capital One's partnership with the Dallas Symphony Orchestra's arts education programs like Young Strings, Symphony YES! and the Southern Sector initiative here.
What are two or three areas of innovation that you are seeing in your industry? Has this type of innovation reached Dallas? How can we continue to make the area more attractive to companies or job seekers?
Orchestras around the country are facing the same question: "how do we continue to remain relevant while staying true to our art form and attracting new, younger and more diverse audiences." The SOLUNA Festival is a one-of-a-kind platform to present classical music alongside visual and performance art. SOLUNA bends the creative experience in order to explore the intersection between classical music and contemporary culture. The festival uses innovative programing, venue selection and marketing to reach wider audiences and shatter preconceived expectations about classical music.
Why do leaders of tomorrow need art or technology in their toolkit to be successful?
Art and music are a critical component of a well-rounded education. Science has shown that musical training can change brain structure and function for the better. It can also improve long-term memory and lead to better brain development for those who start at a young age. Everyone benefits from increased interaction with the arts and technology is one of the ways that we can increase access!
Outside of your industry, what is something creative that you see in Dallas that sets the region apart from other areas?
Texas, and specifically, Dallas has always had a can-do spirit. You see that in the performing arts as well as industry. Dallas could have stayed a city that was founded on old-school businesses and industry, but it has innovated those industries and attracted new ones. Now Dallas is a hub for technology, art and design with universities and companies that support and nurture those talents.
How is SOLUNA enriching the lives of North Texans? How is it raising the visibility of Dallas?
SOLUNA, anchored by performances by the Dallas Symphony Orchestra, celebrates Dallas's rich cultural legacy and diversity of expression. By incorporating contemporary and performing arts and strong educational and science components, audiences are invited to experience music and art while interacting with their Dallas community in new and exciting ways.
On April 18, Music Director Designate Fabio Luisi will have his debut performance. The concert marks the beginning of a new artistic era at the DSO. In order to increase accessibility for this concert and embrace technology, we will be hosting a free live simulcast to Annette Strauss Square! And on April 20, Jennifer Hudson will headline the festival, accompanied by the DSO.
Find out more about SOLUNA and this week's events here.

Get on the list.
Dallas Innovates, every day. 
Sign up to keep your eye on what's new and next in Dallas-Fort Worth, every day.