On Tuesday, 10 innovative startups from around the world will showcase their pioneering technology in one of North Texas' most historic Old West locales—the historic Fort Worth Stockyards' newly restored Isis Theater.
They'll be making history themselves as part of the world's first physical health accelerator.
The event—Techstars Demo Day—is the culmination of Techstars Physical Health Fort Worth Accelerator. It signifies more than a year of planning—and a lifetime of dreaming, innovating, and disrupting industries for the group of founders. 
Fort Worth is the only city in Texas other than Austin that hosts an accelerator of this magnitude, organizers said.
Best of the best
Trey Bowles, managing director of the Fort Worth accelerator, looked at more than 4500 companies from all over the world to narrow it down to the 10 companies selected. The diverse group, which includes Dallas-based Articulate Labs, is comprised of one startup from Germany, one from Switzerland, two from Canada, and the rest from across the U.S.
"They are some of the top innovators and disruptors in physical health tech today," he said. 
For the past 13 weeks, the startup founders have been in Fort Worth perfecting their new physical health technology.
The companies arrived in September as a part of the Techstars Physical Health Fort Worth Accelerator, a first-of-its-kind partnership between the city of Fort Worth, Tarrant County, HSC, Goff Capital, and Techstars — a global investment business that provides access to capital, one-on-one mentorship and customized programming for early-stage entrepreneurs.
The partners said the goal of the partnership is to revolutionize the physical health industry through new technology. The accelerator supports companies building new technologies, treatments, and therapies in the physical health space such as rehabilitation, physical therapy, performance, and exercise. 
The wonderful thing about the physical health space is that "most of these founders have a personal connection to the problem they are trying to solve," Bowles said.
He and his partners are proud to see the companies launch into the world.
The founders, innovators, and representatives of the startups have called Fort Worth home as team members from Health Science Center, Techstars, and Goff Capital worked with them to shepherd those ideas from concept to game-changing tech.
The startups received hands-on mentorship, curated entrepreneurial content and programming, up to $120,000 in funding, and access to a vast network of mentors, investors, alumni, and influential corporate executives.
"We are excited to see how far these companies have progressed during their time here," Cameron Cushman, HSC's assistant vice president of innovation ecosystems. "Their work to disrupt the physical therapy and related industries is going to pay dividends for patients and providers for years to come, and HSC was thrilled to have played a small part in the development of these startups."
The Techstars name opens doors
Josh Rabinowitz's Dallas-based company, Articulate Labs, is one of the startups in the new accelerator. His Kneestim is a light, wearable device that helps rehabilitate the user's knee through electrical stimulation.
Rabinowitz said the program has dramatically expanded his company's network. He now has a number of promising leads for everything from product testing to medical equipment suppliers, he says.
"Those doors opened pretty quickly with the Techstars name behind it," he said in a statement. "Having an entity like Techstars and the rest of the team show faith in the technology gives us a stamp of approval that encourages investors to take a look at us."
'A big win for the region'
Health Science Center received $4.8 million in funding from the city of Fort Worth and Tarrant County to start the physical therapy-focused accelerator program with Techstars. Equity investments into the startup companies are being made by HSC and Goff Capital to total nearly $10 million for the project over three years, according to a statement from the partners.
"It's a big win for the region," Bowles said at the time. "Customers and capital are the things that help startups grow."
Now, he says, the first 10 companies are "working hard to bring new tools to market to make us all healthier," Bowles, said in a statement. "Their experience at Techstars has opened up a world of mentors, investors, experts, providers, clinicians and researchers that they would not have had access to on their own. 
The intensive program has allowed the 10 companies to "make serious traction and grow tremendously in just a few months," Bowles said.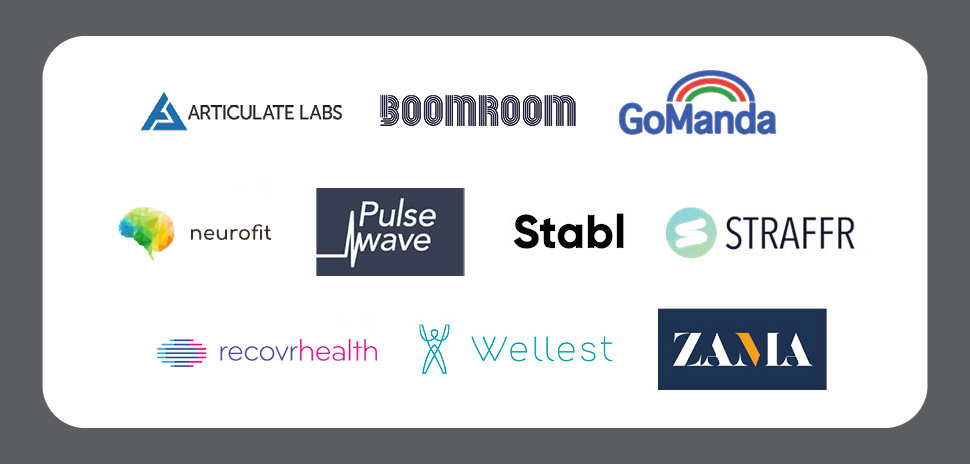 Meet the startups
Here's more about the 10 startups in the Techstars Physical Health Fort Worth Accelerator:
Articulate Labs
Dallas' Articulate Labs has developed platform technology, enabling faster physical rehabilitation through movement-synchronous electrical muscle stimulation. The first application of this platform will address quadriceps atrophy and inhibition related to chronic knee conditions or following knee surgery.
BOOMROOM
BOOMROOM out of Charlotte, N.C., is an integrated platform that equips fitness entrepreneurs with the tools and technology to host superior virtual experiences and manage their businesses all in one place.
GoManda
GoManda is a digital solution to building social skills through building vocabulary. It provides a tablet-based flashcard platform that gives educators the best tool to teach vocabulary.
Neurofit
Neurofit creates virtual therapy exercises that assess, monitor, and personalize care for neurological impairments. The Toronto startup produces a digital data layer that uses telemedicine, remote monitoring, and digital brain health programs to give patients and clinicians a more proactive way to support the recovery journey.
Pulsewave AG
Pulsewave AG's TempleGuard is a wearable attachment for existing eyeglasses that measures vital signs behind the patient's ear. The Swiss company's device combines real-time patient monitoring with artificial intelligence algorithms in order to predict the development of cardiovascular disease.
Stabl
Toronto/Chicago company Stabl's product is a computer vision-enabled platform entirely accessible through the internet that tracks patients' biomechanics automatically as they perform their recovery exercises. The movement data is relayed to the patient's clinical team members' dashboard, where they can monitor patient recovery, identify potential health risks, and communicate with the patient.
STRAFFR 
For busy, health-conscious people who do not have the time or desire to go to crowded gyms or visit a physiotherapist, German company STRAFFR is the first truly smart resistance band that connects to an app to provide personalized and effective functional training, enabled by real-time feedback and supported by certified trainers and pro athletes.
Recovr Health
Tampa-based Recovr Health helps providers and payers increase compliance and decrease no-show rates by leveraging XR technologies to gamify physical and occupational exercises.
Wellest Inc.
Wellest Inc. has created an industry-leading artificial intelligence coach for managing end-user nutrition and activity plans. The San Francisco startup's deeply personalized and dynamic plans optimize users' body compositions to help them look their best, feel healthier and live longer, all while maintaining flexibility to live their lives.
ZAMA Health
D.C.-based ZAMA Health is developing a behavioral health integration for any athletic program, fitness company, or gym.
Spurring innovation to help 'countless patients'
"The Techstars Physical Health Accelerator not only spurs important innovations that will help countless patients, but it will also help solidify Fort Worth and HSC as destinations for entrepreneurs who need support for disrupting the healthcare industry with new ideas and fresh perspectives," said Dr. Sylvia Trent-Adams. 
A key stakeholder in the program, the president of The University of North Texas Health Science Center at Fort Worth, notes that "Innovation is a core HSC value." 
Reserve your spot 
On December 6, the doors of the Fort Worth's Isis Theater will open to the public at 5:30 p.m., and founders of the companies will begin their formal pitches at 6:15 p.m., organizers said. Go to Eventbrite to reserve your free Demo Day spot—and witness innovators creating history in Fort Worth.

Get on the list.
Dallas Innovates, every day.
Sign up to keep your eye on what's new and next in Dallas-Fort Worth, every day.