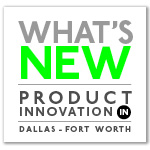 Sneakerheads can now display their prized possessions—their shoes—in a whole new way. Boston-based and Dallas-produced, Sole Stacks is a company with a fresh view on fancy footwear. 
A startup in its fourth year of operation, Sole Stacks makes and manufactures sneaker displays in a variety of sizes, colors, and designs. The concept started with a 'six stack', which displays six pairs of sneakers, and has since grown from there.
Founder Jacob Garcia and Co-owner Demont Campbell are of the strong belief that sneakers are "meant to be seen." A 2016 Kickstarter campaign that raised over $12,600 helped them reach new heights—now, Sole Stacks is selling to customers worldwide, with orders from Australia, Canada, and across Europe.
"There's not a lot of products out there that let you store your shoes in a cool kind of way," Campbell says. And 'cool' is right—all storage systems have a signature, triangle-shaped design that is unique all on its own. Currently, four products are sold online that all intend to help customers maximize their "spatial abilities in a new and innovative way": the Four Stack Wall Mount, Six Stack, Sole Socks, and Ten Stack.
Sole Stacks is entirely based in the U.S., and Dallas production means that they work with suppliers, vendors, and CNC manufacturers in the local area. The company originally created and shipped their products out of Boston, but made the switch to the Big D after their East Coast manufacturer went out of business. 
"We saw it was cheaper to make everything here, so we increased our profit margin," Campbell says of the move. "Being that we're centrally located in the United States, it brought our shipping costs down also for customers." 
Shoe collecting is growing quickly in popularity, but sneakers can take up a lot of room that most people simply don't have. Customized shoes can reach steep prices, so Sole Stacks intends to use art in a fresh way to help display the shoes of avid collectors. Originally, each shoe display was custom-made once the buyer placed an order. However, as the company grows, Sole Stacks is making changes to grow with it. 
"We live in the Amazon society where people want things the next day." Campbell says. "Now, we've changed our business model, so we spend money and we buy inventory so that we have it on our shelf and then we can ship it out immediately." 
From wall-mounting smaller collections to floor-to-ceiling designs that cover entire walls, their numerous designs can cater to anyone from novice sneaker fans to enthusiastic shoe lovers. Each customer is allowed to design exactly what fits his or her sneaker needs, because the company says its product is more than just a shelf.
"It's a piece of culture."

Get on the list.
Dallas Innovates, every day.
Sign up to keep your eye on what's new and next in Dallas-Fort Worth, every day.