The City of Richardson is taking the long view of its future to come—and making an ambitious effort to drive future growth and success. Yesterday the city announced the creation of the Office of Innovation & Placemaking Initiatives, which will manage six priority reinvestment and redevelopment areas. The new office will also oversee operations and programming for the Richardson Innovation Quarter Headquarters (IQ HQ).
The new office will focus on redevelopment efforts in priority areas throughout the city—including the West Spring Valley Corridor, the Richardson CORE District (downtown, Richardson Heights and Lockwood), and the recently created Richardson IQ.
Building on progress toward quality urban design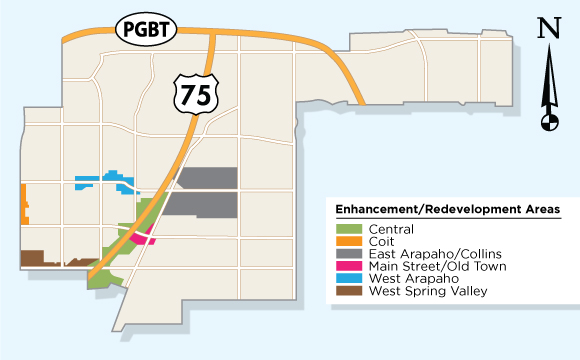 The new office will build on Richardson's ongoing progress in each of these reinvestment areas, advancing efforts to realize unique visions for each one. The office will facilitate market studies, enable new zoning entitlements, and "promote urban design that creates quality public spaces for the community."
Developing strategic cross-sector partnerships
The office will develop and facilitate "purposeful and strategic cross-sector partnerships" focused on shared business development efforts. To achieve that, it will work with a wide range of organizations, including entrepreneur-supported entities; small businesses; educational institutions; private companies; and nonprofits at the local, regional, and state levels. 
Richardson mayor: move is "crucial" to future growth and success
"Establishing the Office of Innovation & Placemaking Initiatives clearly reflects our city's ambitious long-term vision and purposeful, elevated focus on redevelopment areas that are crucial to the future growth and success of Richardson," said Richardson Mayor Paul Voelker in a statement.
"This new office will build on work we've accomplished already in some of these key areas throughout the city, foster organized momentum and provide a tightly coordinated effort to ensure we create meaningful opportunities for successful redevelopment, revitalization and growth," he added.
The mayor noted that Richardson's upcoming Main Street Celebration will bring residents and visitors to the city's new and improved downtown, offering "a great example of the work this new office will oversee." 
Managing Director Doug McDonald will lead the office
The newly formed office will be led by Managing Director Doug McDonald, who has worked for the city since 2018 and has nearly 15 years of city planning and strategic management experience. A native North Texan, he has master's degrees in public administration and city and regional planning from the University of Texas at Arlington.
McDonald is a graduate of the University of Oklahoma Economic Development Institute and Leadership Richardson, a certified city planner with the American Institute of Certified Planners, and a former president of the American Planning Association's Texas chapter.
In his new role, McDonald will further the capabilities of the city manager's office by overseeing the city's economic activities with the Richardson Economic Development Partnership, fostering public/private partnerships, and coordinating the development of city policies and ordinances.
Managing the IQ HQ with UT Dallas
As part of his role, McDonald will also manage the operations and programs at the Richardson Innovation Quarter Headquarters (IQ HQ) in coordination with the University of Texas at Dallas. The IQ HQ is set to open in 2022.
The new office will have touchpoints across a wide range of Richardson city departments. This will enable collaboration on interdepartmental strategic plans and studies to support future redevelopment and growth for the community.
The Office of Innovation & Placemaking Initiatives is currently located at Richardson City Hall. But it's destined for new digs when it moves into more than 7,000 square feet of office space at The IQ HQ on its opening in 2022. The IQ HQ will be a newly modernized facility at 1302 E. Collins Blvd. in Richardson.

Get on the list.
Dallas Innovates, every day.
Sign up to keep your eye on what's new and next in Dallas-Fort Worth, every day.