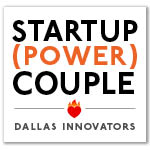 The handsomely stylish O'Banions take the phrase "Dallas startup couple" to another level.
Jamie is the brains and face of Beauty Bioscience, maker of the first at-home patented microneedling tool she designed with her father in their family-owned cosmetic lab. Her husband, Melbourne, runs Bestow, which offers the first truly modern way to buy life insurance.
The duo met in college after Jamie's older brother introduced them, insisting they were "really similar." A best friendship turned into dating, and the next thing they knew, both Jamie and Melbourne say they had fallen in love.
Two became one after the O'Banions tied the knot in 2003, and went on to have three kids. But it wasn't until later that their other babies were born: their startups.
Becoming CEOs and co-founders
The O'Banions have always operated as a team—even calling themselves 'MOJO' based on their initials—using their individual strengths to complement each other's deficits. Melbourne tends to be very analytical and structured, but is constantly challenging the status quo, while Jamie uniquely understands brand positioning and growth opportunities.
When Jamie launched BeautyBio in 2011 with the idea of providing Truth in Beauty, whether that be through the formulas, results, or price tag, Melbourne was involved in a variety of areas.
Bestow was born a few years later, after Melbourne and Jonathan Abelmann saw an opportunity to be a key disruptor in an antiquated industry. Similarly, Jamie was there at the beginning stages to help brainstorm messaging for campaigns and refine the brand's value proposition.
Both say they didn't expect to become entrepreneurs to such a nationally known extent. But Bestow and BeautyBio, while totally different, each organically grew from the O'Banions identifying a problem and envisioning a clear, articulated solution.
"We each had bold plans but it's hard to know what opportunities are going to unfold and you are going to pursue," they say. "The reality is we don't always pick our timing when something hits, and we both feel grateful to get to pursue our passions each day."
As CEOs and co-founders, the entrepreneurial power couple now helms two of Dallas' fastest-growing brands in their respective industries.
"We are certainly not a normal couple when it comes to pillow talk," they say. "When we were both raising earlier this year—private equity for BeautyBio and venture capital for Bestow—we laughed out loud as we realized we were both on our computers each building out our separate data rooms at the same time."
BeautyBio—widely hailed as the first prestige skincare brand to bridge cosmetic tools and topicals—has a cult-like following, with its GloPRO being highly ranked and raved about in the beauty industry. And Bestow, which has raised more than $40 million and recently expanded its leadership team, is on its way to transforming life insurance with its tech-heavy approach that uses AI and a full-stack platform to instantly underwrite policies.
"There is a deep level of empathy and mutual respect that is built by understanding and, quite literally, living what the other is experiencing on a day-to-day basis—whether it's a hiring quandary, market expansion strategy or reviewing a slide for the other's board meeting deck," they say. "It's an enormous gift to get to have the same job in two completely different industries."
Maintaining a work/life balance
The O'Banions say they go through seasons of life, and the one they're currently in just so happens to be a bit more hectic than others. To achieve a semblance of balance, their key to success is by being "incredibly deliberate"—spending time together is a must.
Traveling is pre-scheduled to avoid being gone at the same time (though they say there's been several funny experiences when they've ended up on the same flight or in the same city, totally by chance). Thursday at 7 p.m. is date night. A quick trip together is planned once a quarter to recharge and reconnect, which the O'Banions say is a must given their schedules.
"Will it forever be high-growth intensity? Of course not," they say. "We lock arms and lean in during the challenging times and celebrate the moments we can breathe for a minute. Our family and faith are our top priorities—all else falls into place after that."
A version of this story was originally published in Dallas Innovates 2020: The Magazine.
---
Read it online
Dallas Innovates 2020: The Magazine highlights Dallas-Fort Worth as a hub for innovation. Our third annual print publication declares "The Future is Here." It's a moment for innovation in Dallas-Fort Worth, one that we've been working toward for a long time.

Get on the list.
Dallas Innovates, every day.
Sign up to keep your eye on what's new and next in Dallas-Fort Worth, every day.