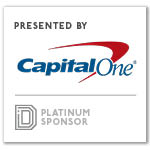 Paul Quinn College students Kenneth Boston, Ellie McRae, and Carnealus Manning hurried to make the finishing touches on their presentation Saturday. Their mobile application, called Feelo, helped support local businesses in south Dallas and the surrounding areas.
"When you look at Groupon and Yelp, their services don't apply to underserved communities," said Boston, a freshman Psychology major. "I grew up in Highland Hills in south Dallas, and the places I went to go eat at or went to for fun aren't on the apps. We've created something to incentivize going to these businesses."
The innovative idea helped the trio win the inaugural all-day pitching competition, Quinnite Build, on Capital One's Plano Campus. The students also split a $5,000 prize, which will be used toward their promising futures.
"This feels great," McRae said. "Our idea mattered to someone. We worked really hard on this."
Twenty-five students were split into five teams, and each team was tasked with a thought-provoking challenge—create a real-world business around an Internet of Things (IoT) product that helps ease the digital divide in neighborhoods low on technology access. IoT technology is most synonymous with smart-home appliances, such as lighting fixtures and home security systems.
The Capital One associates, who served as mentors throughout the Shark Tank-like competition, helped the students develop business models and marketing plans in one day, which included customer validation.
"I wish I thought of these ideas," said John Andrews, a Capital One mobile application manager. "It's so rewarding to help them get to the next level of their idea. They have their 'ah-ha' moment, and then it's off to the races. It's amazing to see how their minds work."
One team created a device that monitors diabetes and other health-related illnesses more efficiently through pop sockets and phone cases. Another team created behavior-recording technology for autistic children. Sophomore business major Stephanie Murphy grew up helping autistic students at her high school in California.
"With more thought and time, we could really get this idea off the ground," Murphy said. "Our Capital One mentors gave us great feedback all day."
Other business ideas addressed education. One website helped young children read and another website offered virtual reality to educate students about culture and other countries. Every student came to the same conclusion —technology bridges economic gaps.
"With the rideshare bikes, technology has already helped south Dallas," said junior Charles Johnson. "Technology helps a lot. Everything will be connected to a network somehow."
The Quinnite Build uniquely ties into Paul Quinn College's curriculum, which includes digital mastery with each class. In 2015, Capital One launched Future Edge, an initiative to help prepare more Americans with the skills, tools and resources they need to succeed in an ever-changing, digitally-driven economy. Programs like the Quinnite Build help students develop skills for the 21st century and allows them to explore their interests during a critical period in their education.
"Capital One is proud to partner with Paul Quinn College on programs like this Quinnite Build because they are encouraging students to think about technology differently," said Monica Shortino, Capital One's Director of Social Innovation. "The combination of Paul Quinn's digital mastery program with real world applications are encouraging innovation in our students and when put into action could be game changers in our communities."

Get on the list.
Dallas Innovates, every day. 
Sign up to keep your eye on what's new and next in Dallas-Fort Worth, every day.