If you've walked by Klyde Warren Park this week, you might have noticed a large gold shipping container situated amidst the greenery. Although the shimmery exterior is intriguing in itself, we're here to recommend that you take the time to step inside—that's when the magic really comes alive.
The giant gold box might appear to be random, but it's actually apart of a network of containers across the world, called Portals. Created by Shared_Studios, Portals are part of a global public art initiative created to give viewers an intimate social experience.
Entering a Portal Container means coming "face-to-face" with another person, as if you're running into them on the street. The catch? The person you're connecting with could be located anywhere in the world.
Immersive audiovisual technology gives you the sense that you're in the same room as someone, when in reality, they're inside an identical gold container somewhere else on Earth. Used for artistic collabs, musical jams, political discussions, shared meals, or profound conversations, Portals facilitate a connection between communities that otherwise wouldn't ever interact.
Whether it's refugees in Iraq, students in Honduras, or museum visitors in Manhattan, each Portal across the network of over 40 tells a story of the people inside, and their surroundings.
And by stepping inside, Dallas-goers are now able to hear those stories.
The Dallas_Portal was funded by a group of local donors who wanted to give the experience as a gift. Shared_Studios attributed Klyde Warren Park as the ideal urban space for the Portal to be nestled, as it sits between the business community and arts district.
"Known for connecting the city's Uptown and Downtown sectors, Klyde Warren Park is now helping its patrons make global connections," says Kit Sawers, president of Klyde Warren Park. "We're committed to offering free programming that continues to connect people of all generations, cultures, and socioeconomic backgrounds, here in Dallas and around the world."
On March 6, the inaugural connection in Dallas allowed guests to converse with residents of Herat, Afghanistan.
"Dallas_Portal is an opportunity for our city to connect with the world in ways we could never imagine and with places we might never travel," Dallas_Portal Ambassador Amy Bean says. "Dallas is such a vibrant and unique city with so much to offer to the world. I am thrilled that others shared my passion for bringing this innovative project to our great city."
Though driven by technology, each Portal is run by a real human being to assist with dialogue, provide language translations, and drive the communal connection. About a year ago, Bean heard an interview on NPR with a Portal curator in Wisconsin. She became intrigued by the idea that gold shipping containers could facilitate genuine connections, especially how each was used differently depending on location.
"The Portals founder often says that even though we are more connected than ever, we are typically connected to people much like ourselves. This idea really resonated with me," Bean says. "The idea that we could stop in a Portal in our own city and have a shared human experience with someone whose life is much different than our own. I think there is a great deal of value in that."
Think of it like a Sci-Fi movie combined with Platform 9 ¾ and your favorite social network—each experience takes you somewhere else, with someone else. There's no telling whether you'll leave feeling humanized, refreshed, connected, weird, or a little more understanding about somewhere in the world. And that's the whole point.
Step inside the Portal
Visit the Dallas_Portal in Klyde Warren Park near Olive Street from now until May 20. All photos by Rebeca Posadas-Nava.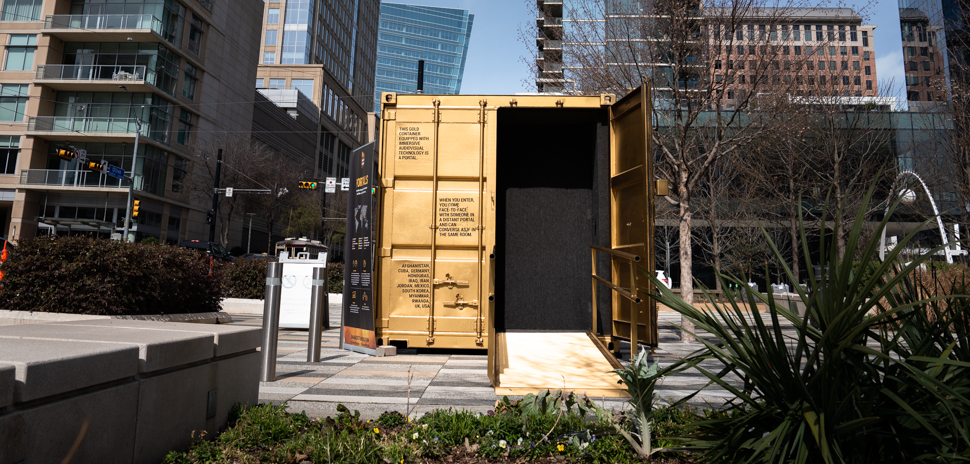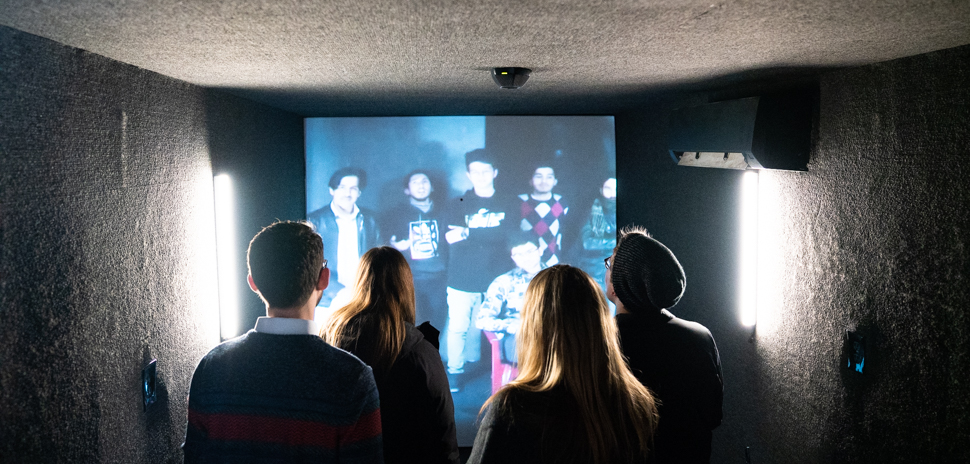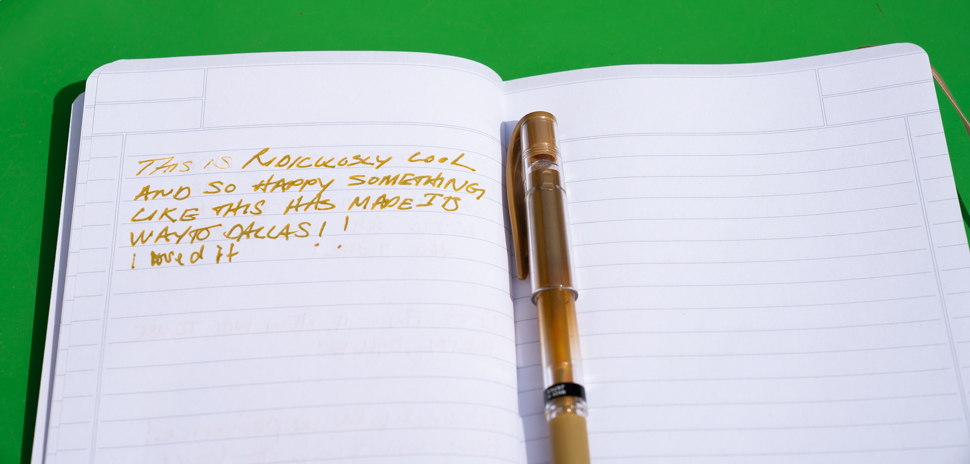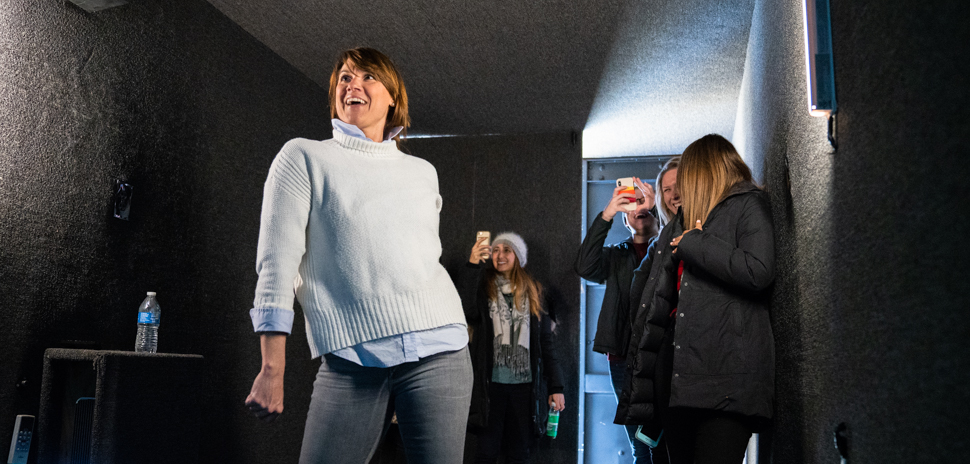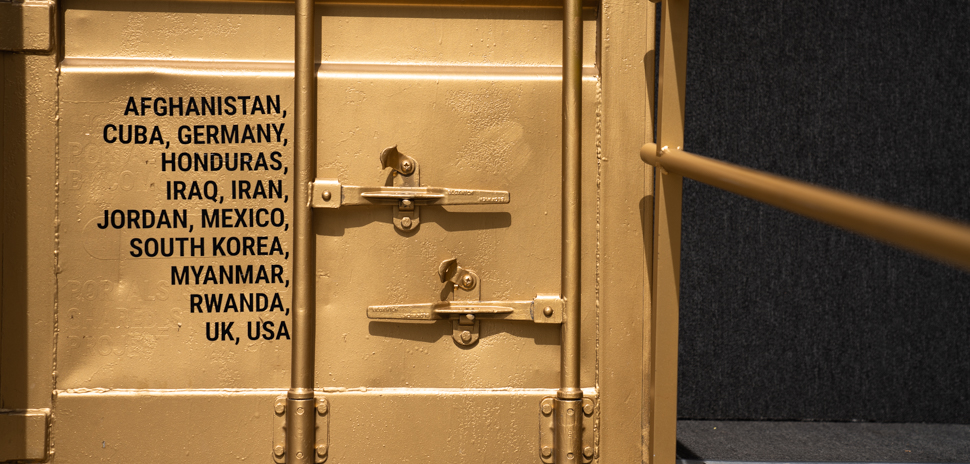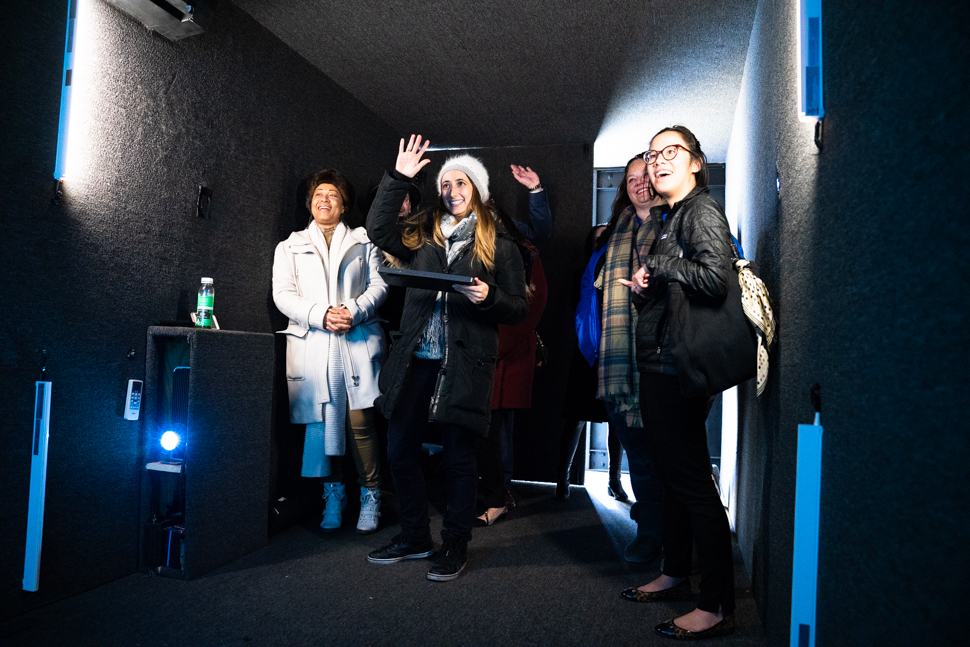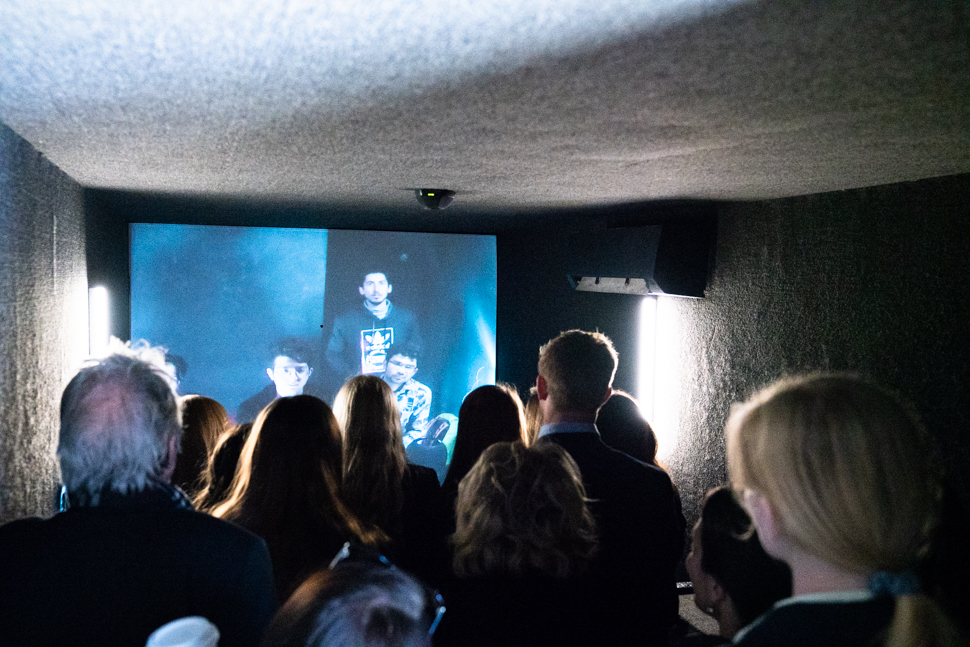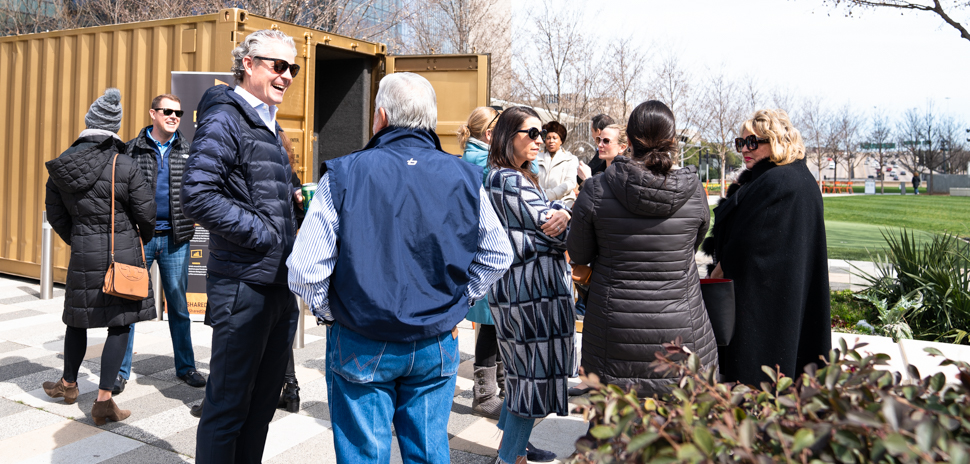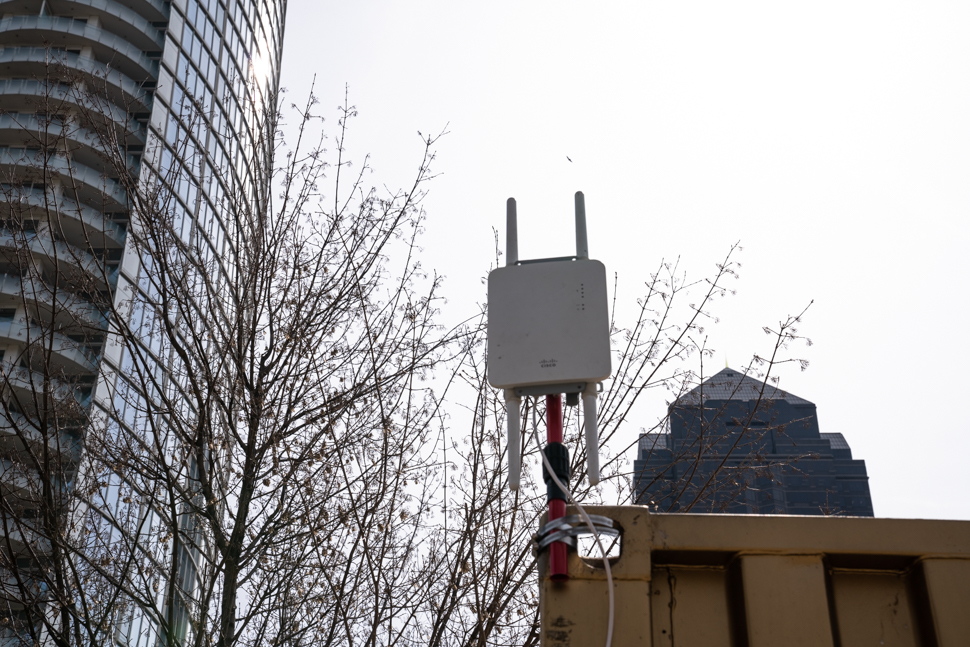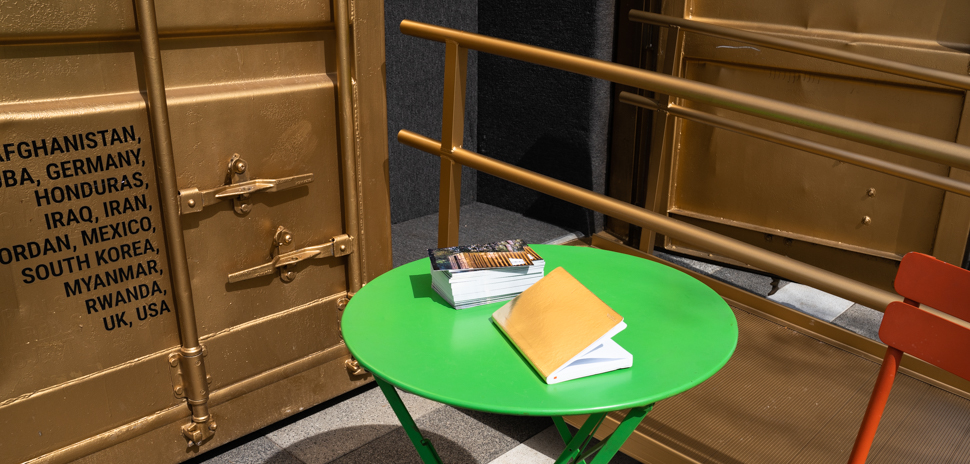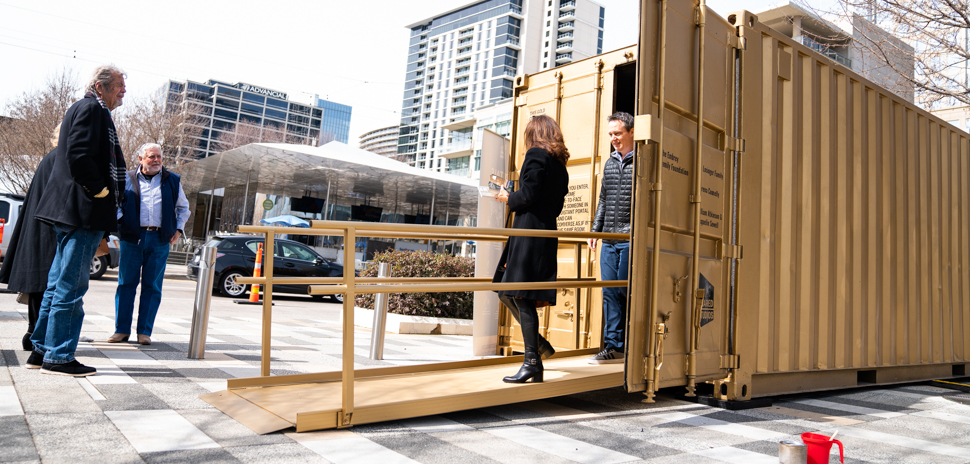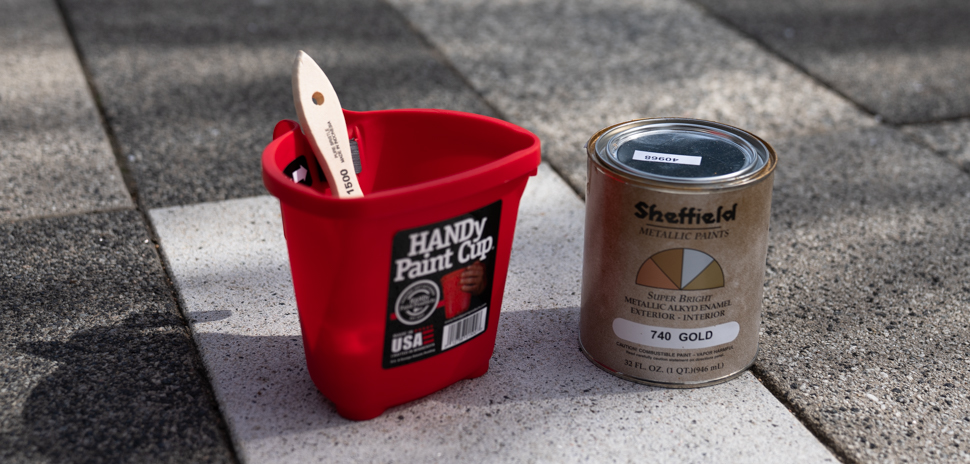 This article was updated on March 6 to include photos from the Dallas_Portal's grand opening.

Get on the list.
Dallas Innovates, every day.
Sign up to keep your eye on what's new and next in Dallas-Fort Worth, every day.