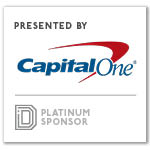 For centuries, music and the arts have provided entertainment and reprieve for audiences around the world. Research even points back to the healing powers of music used to calm anxiety, relieve pain and improve cognitive functions. In North Texas, patrons of the arts used to gather in hundreds to hear the astounding notes of brilliant musicians, but COVID-19 caused many organizations to reimagine the traditional concert and find new ways to bring performances back to the people. Arts organizations have utilized every ounce of creative chops to pivot during a time when its performers and audiences needed it most. In doing so, they have enhanced access and opportunity for a more diverse audience to benefit from the programs, especially the young up-and-comers of our community.
Capital One had the opportunity to speak with a few local leaders about how music and the arts have become more important than ever with technology playing a starring role. Amidst this time of uncertainty, one thing is clear—innovation shines through as the music plays on.
---
Meet the Experts
JAQUES MARQUIS
President and CEO
The Cliburn
The Cliburn advances classical piano music throughout the world. Its international competitions, education programs and concert series embody an enduring commitment to artistic excellence and the discovery of new artists. The quadrennial Van Cliburn International Piano Competition, which is scheduled for June 2–18, 2022, remains the most visible expression of that mission.
---
KIM NOLTEMY
Ross Perot President & CEO
Dallas Symphony Orchestra (DSO)
DSO's mission is to inspire and change lives through musical excellence and performance. DSO is the largest performing arts organization in the Southwest United States, committed to inspiring the broadest possible audience with distinctive classical programs, inventive pops concerts and innovative multimedia presentations.
---
EMILY GUTHRIE
Executive Director
Fine Arts Chamber Players (FACP)
FACP was founded in 1981 by Rogene Russell and Charles Price, in collaboration with the Dallas Museum of Fine Arts at Fair Park. The organization enhances the quality of life for North Texas residents, especially families and children, through free classical music concerts and educational activities.
---
How have you pivoted during COVID-19?
CLIBURN: We launched a four-part digital series, each serving a particular purpose. Our Cliburn in the Classroom program, which typically reaches over 50,000 students in the North Texas area each school year, moved online to meet the needs of students, parents and educators who were pushed into an at-home learning environment. Cliburn Kids, which we fully intend to continue after the pandemic ends, can easily be used in the classroom or at home. Now at 38 episodes, the program consists of seven- to 10-minute videos designed to introduce children to the fun of classical music. Each episode has corresponding lesson worksheets and activities that follow Texas Essential Knowledge and Skills (TEKS) objectives.
DSO: We worked hard to ensure that our education-focused programs continued by moving them online—this entailed pivoting on several fronts including installing a robotic camera system and studio to record performances. Our successful Young Strings and Young Musicians program also moved online providing students with impactful video lessons and programming. During our transition, the DSO also identified a critical need for devices, ear buds, hotspots and bi-weekly food delivery. The DSO held a drive for tablets and equipment to supply vital musical instruction to countless students. The DSO also provided groceries and basic needs to keep families fed.
FACP: The slogan for our 2020-21 online concert season is "Adapt. Pivot. Include." We've adapted to new technologies and our programming has become more inclusive of composers of color and female composers. The response to the Festival-in-Place was beyond our expectations. In 2019, the average weekly, in-person attendance was 590 people. In 2020, the average weekly, unique online viewers was 1,146: that's a 94% increase in audience size!  Our Hallam Family Concert series, which normally is held at the Dallas Museum of Art for roughly 300 people per performance, is now an online concert experience. Concerts remain free, but registration is required. 
Why is business collaboration and collaboration of thought so important right now?
CLIBURN: We're all seeing the beauty of collaboration right now. Our world needs a little more love than normal, and since we've all had to lean on flexibility, creativity and innovation across industries, we feel extremely fortunate to have supporters, like Capital One, which partner with us to meet the moment. When an arts group can find corporations that share the same vision, the partnership can lead to truly great things.
DSO: Partnerships between businesses and the arts show how the two sectors complement each other, especially now. The future of for-profit and non-profit businesses comes from the ability to survive during trying times. The arts provide ways to heal and to cope when days are gray, and the business community has employees who need this outlet. Capital One, for example, is one of DSO's largest partners and has worked with us throughout the pandemic to strategically innovate its employee engagement and community outreach initiatives. This has included hosting a back-to-school bash with take-home dinners for the students in our education programs, collaborating on musician Q&A Zoom calls and sharing information with employees about our digital concert opportunities. We've also been able to strengthen our ties with organizations like the Mexican Consulate for a Día de los Muertos family concert and the Dallas Black Dance Theatre for the Unity Concert in support of Project Unity, honoring those who have lost their lives to racial violence and injustice.
FACP: This year has shown how collaborations act as buoys for organizations, especially for nonprofits, in rough waters. When the pandemic hit, FACP felt an immediate impact when some funding from other institutions was canceled after having been committed to our programs. We are so thankful that Capital One kept their sponsorship of our summer series, the Basically Beethoven Festival, even when we had to change course and turn it into a virtual event. The ripple effect makes a very real difference: our musicians told us that FACP was the only organization that did not cancel their performance contracts during the spring and summer.
What other resources are you offering right now?
CLIBURN: We unveiled Cliburn Essentials, a new hybrid subscription package of distinctive Cliburn experiences, designed for this singular year. For each of three quarters (fall, winter and spring), subscribers receive a special Cliburn box, with a surprise gift and a menu of experiences specially curated for that three-month period—headlined by in-person, outdoor concerts to attend or to watch from the comfort of home. Presenting these intimate concerts in non-traditional venues and hiring high-level local artists has enabled the Cliburn to attract past ticket buyers, along with new-to-us patrons.
DSO: Though our audiences are limited in size in person, the DSO launched the Next Stage Digital Concert Series to bring weekly performances to patrons in their homes. These on-demand, digital events allow many more listeners to enjoy the DSO in a safe and comfortable way. In addition, this holiday season, the DSO brought The Concert Truck to Dallas. As weather cooled off, outdoor performances became more difficult, and we needed a different way to share music. The truck has a small stage that has moved throughout the community to present pop-up performances all around Dallas.
FACP: Our audience is a dedicated bunch, with a large portion of our audience returning every month for our concerts. We have worked hard to maintain a sense of community around our virtual events. Our music residencies at Dallas ISD's David W. Carter High School and Wilmer-Hutchins High School moved online when school campuses closed. This semester, our voice and piano teachers at those campuses continue to offer individual and small group lessons via video conferencing. We also run an after-school violin program at a charter school in east Dallas. We continue to adapt since leading large-class instruction online is difficult. We are trying to also move our individual lessons online.
How can music help us during a trying year like 2020?
DSO: Music uplifts, comforts and inspires us. We've brought joy through virtual concerts and our in-person performances on our stage, in driveways, backyards and neighborhoods. We celebrated anniversaries, birthdays and brought comfort and hope to those staying at home.
FACP: I know my relationship to music in 2020 is not unique. Music is my refuge, cocooning me while working from home in a space I share with my three children who are doing school work from home. Music helps each of us focus, reduces anxiety and clears creative blocks. So much of our pandemic stress we can't control, but we reclaim some peace with what we can control.

Get on the list.
Dallas Innovates, every day. 
Sign up to keep your eye on what's new and next in Dallas-Fort Worth, every day.