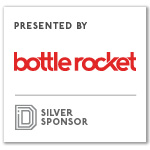 It's 2018, and the mobile revolution is in full gear. Case in point, people spend almost 3 ½ hours using mobile apps daily, according to eMarketer.
But just as quickly as big brands have acknowledged and built out mobile products to serve their customers, the landscape continues to evolve. Tech never rests. It will be a while before another sea change in customer technology occurs, but the mobile ecosystem is continually morphing.
The following are three of the half a dozen trends Bottle Rocket will be paying attention to in the new year. Mobile product owners, ten-HUT!
TREND ONE: THE CONNECTED LIFESTYLE
What are you going to say when your boss asks for your opinion?
We don't yet have robot butlers — well, the majority of us don't — but we are counting on technology to make our lives increasingly easier by connecting us to everything: our television, our appliances, our home thermostat, our lights, alarm systems, and even our baby.
One clear trend is the move toward voice interfaces. Tell your boss that voice interface is the way to go, and get your brand into the mix via any one of the more common voice interface devices, like Amazon Echo or Google Home, or through mobile voice interfaces like Siri for iOS devices or Google Now for Android devices.
Your brand can build out skills or actions that allow people to access information about your products, shop your e-commerce site, or simply interact with you to get answers quickly. Think news summaries, recipes, driving directions, store locations and hours, and the like.
Who is already ahead of you?
Campbell's was an early adopter of voice interface, enabling people to query their Campbell's Kitchen online portal for ideas for meals, while also providing step-by-step recipe instructions. The recipes, of course, utilize Campbell's products.
GE allows users to control their Wi-Fi connected appliances such as refrigerators, dishwashers, and ranges through Amazon Echo skills.
Dominos accepts verbal orders via Echo and integrates them with online ordering profiles, so a customer can order favorites quickly.
Here's an idea (or two)
Where can voice interface go?
Auto makers can — and will — enable people to query their cars about how they are feeling, or at least how they are functioning. Imagine asking your car if it needs power steering fluid or a brake job!
Manufacturers of consumer packaged goods (CPGs) can provide ingredient information easily and make recommendations for substitute products for the person looking to control calories, eliminate gluten or nuts, or increase the level of spiciness. 
TREND TWO: PROGRESSIVE WEB APPS
What are you going to say when your boss asks for your opinion?
Progressive Web Applications (PWAs) have been a hot topic lately, but not everyone knows what they are or how to leverage them.
PWAs are regular web pages that resemble and respond like native mobile apps. It's a new technology, but it is built on proven, mature web technologies, and it offers many advantages: near instant load times, a new level of responsiveness, and an app-like experience without the need to download a native app and take up storage space on the mobile device.
Tell your boss that this is definitely a technology worth exploring. It is cross-platform, like a mobile web page, but it is focused and guided, like a native app. Each of the major web frameworks provides built-in tools to create PWAs without burdening developers with lots of code. In 2018, PWAs will become a much more common way we see brands connecting with consumers, and it could provide an alternative solution to the age-old debate of app versus mobile web.
Who is already ahead of you?
MakeMyTrip, India's leading travel company, solved a big problem, intermittent connectivity, for its market of a billion potential customers by creating a PWA, which stores information locally and then transmits the data when connectivity returns. It also allowed customers with low-end phones to still use the service without downloading an app. This led to a tripling of conversion rates from the previous strategy of driving mobile app downloads.
Here's an idea (or two)
Intermittent connectivity? Large amounts of information that updates frequently? Need for data input in remote locations? Desire for a focused and guided experience?
All of these challenges are addressed well by PWAs, and coincidentally those issues form challenges for field service representatives trying to conduct sales calls away from the highly connected office. PWAs could be a great solution for companies who need to digitally enable an in-field sales force. This could also solve problems for people gathering data in remote locations, such as healthcare workers who are conducting home visits.
TREND THREE: AUGMENTED REALITY
What are you going to say when your boss asks for your opinion?
Yes, I've been seeing things that aren't really there. And those things are courtesy of augmented reality, the placement of digital assets in the real world.
For the last two years, Pokémon GO made characters appear in unusual places, and Snapchat and Facebook augmented our faces with wacky animations. In 2018, this technology will become a highly sought-after utility tool for brands to provide unique value to customers through their mobile devices.
Google and Apple recently unveiled high-quality AR development tools within their native environments, ARCore and ARKit respectively. Developers no longer have to deal with complex integration and the barrier to entry for brands to employ this technology has dropped precipitously. Tell your boss it's time to put AR on the roadmap.
Who is already ahead of you?
Ikea and other furniture retailers have created AR apps that allow the prospective buyer to first see the furniture in his or her home, to see if it fits and if it will look the way the buyer hopes.
Sephora created the Visual Artist AR tool to allow women to use their smartphones to "test" makeup without ever touching a brush or a tube of lipstick. And the AR app integrates seamlessly with mobile purchase: a nice, closed system that keeps the customer engaged.
Here's an idea (or two)
Consider how Pokémon GO uses a phone's GPS to engage players in specific activities at specific locations. This same approach could be used to help customers navigate warehouse-sized stores, help families find patients inside monolithic hospital complexes, or help visitors find specific services in city-based mixed-use areas.
Another great application of AR is "dollhousing:" the projection of objects onto a desktop in miniature size. Hotels or convention centers trying to earn event and conference business could allow planners to view their meeting and event spaces in three dimensions via AR, and could allow them to arrange the space to ensure it will meet that planner's needs without having to travel to the venue.
Check back for part two of this series, where you'll learn details on three more trends to consider this year: artificial intelligence and machine learning, cloud migration, and visual search.
Or, if you just can't wait for the next part, drop us a line at [email protected] and we'll send you the full booklet.
Read next
The OTT Revolution Comes to Dallas
The Connected Lifestyle is Here. Are You Ready?
Tale of How Dreams and Passions Make Gaming App Come True
Meet the Dallas Mobile Studio Behind Your Favorite Apps

Get on the list.
Sign up to keep your eye on what's new and next in Dallas-Fort Worth, every day.