Armed with $40 million in private equity funding, Fountain Quail Water Management is poised to become the leader in frack water recycling.
But first, energy prices need to rebound.
The Keller-based company recycles water for the oil and gas industry, giving drillers the option of re-using wastewater instead of disposing of it in the ground. A paradigm shift, led partly by Fountain Quail, made 2014 a banner year for recycling as regulations were loosened, drilling was booming, technology advanced, and attitudes towards water changed.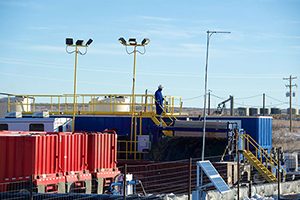 "Then it was like somebody pulled the carpet out from under us," said Brent Halldorson, COO of Fountain Quail, of the oil crash in late 2014. "When people start cutting back, the first thing they start cutting is non-core services. A lot of the casualties in 2015 were water recyclers. We got a lot of our projects cut."
Like most energy service companies, Fountain Quail cut jobs to survive the downturn.
But there's reason for optimism with CSL Capital Management, a Houston private equity firm, infusing Fountain Quail with $40 million so it can scale up quickly when prices recover.
"Even though it's been a brutal down time, the opportunities now in this down market, now that we have capital, we're trying to set the stage to grow," he said. "Now, there's really good people laid off all over the place."
How it works
All oil and gas wells produce a salty wastewater, called produced water, that historically has been injected into disposal wells that go deep into the earth. With the advent of hydraulic fracturing, or fracking, water was needed beforehand to shatter the shale and release the oil and gas. The frack water, millions of gallons per well, comes back to the surface and also has to be disposed of.
Fountain Quail's proposition is to use its equipment to remove the mud, chemicals and brine, turning wastewater back into freshwater. That freshwater can be used again for the next frack job.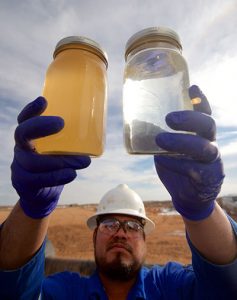 The equipment, called a Nomad, can be set up basically anywhere. It separates the mud and removes the chemicals then uses large boilers to desalinate the water.
Fracking has advanced to the point where some jobs can be done with brine water, or saltwater. In those cases, Fountain Quail has developed the Rover, a smaller setup that sits on two flatbed trailers.
"We've taken 15 years of experience of how to treat the water and we've put that into the Rover," Halldorson said. "It's a plug and play."
The Rover uses a similar process as the Nomad without the desalination. Skipping a step makes the process cheaper, in some cases 75 to 80 percent cheaper than buying freshwater and transporting it to drill sites, Halldorson said.
"That kind of math only works if you're drilling and have need for that water," he said.
New regulations
Water has become the battleground issue for the anti-fracking movement. There are concerns over contamination, over-use, and even earthquakes triggered by disposal.
Halldorson said he hopes to be a voice of reason in this ongoing debate.
He's the chairman of Texas Water Recycling Association, a nonprofit that specializes in water-related matter in the oil field.
"When the state wants to know what the real issues are with water, we can talk about that," Halldorson said.
He testified before the Texas Railroad Commission in 2013, talking about how certain rules made it harder for recycling to take hold in the state.
"Recycling has gone from a sideline, interesting project to really being mainstream," Halldorson said.
The commission approved new rules so water recyclers could buy water from multiple drilling companies, mix it together, and sell it to other companies.
Essentially, they removed the drillers' liability for that water once Fountain Quail takes possession of it.
"There's a logical chain of liability," he said. "If you want recycling to really take hold in Texas, the people who are having the hardest time finding water are the small producers that don't have much activity and can't source their own water."
Now, water is viewed as an asset instead of a liability.
"Recycling [frack water] has gone from a sideline, interesting project to really being mainstream," Halldorson said.
Staying alive
There aren't many oil fields that can make money with crude oil below $40 a barrel. Fountain Quail is focusing its operations in areas where there's still drilling and where disposal prices are the highest.
That includes the Permian Basin in far West Texas and southeast New Mexico. But more than that, Fountain Quail is spending private equity dollars to hire business development specialists who are spreading the word about water recycling around the country.
"To survive in this industry you need to be incredibly adaptable," Halldorson said. "We're maintaining baseload activity to stay busy but are gearing up for the upturn."
---
For a daily dose of what's new and next in Dallas-Fort Worth innovation, subscribe to our Dallas Innovates e-newsletter.