When Sean McCoy and Alan Gerding met at a game industry conference, their ideas for a new line of board and card games meshed well, so they started working on their first game.
Their creation became Tuesday Knight Games (TKG), and it's a hit.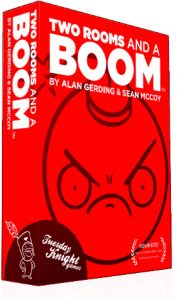 In October 2013, TKG announced the development of their Two Rooms and a Boom! game. A trend toward playing real games with real friends was just on the uptick. The hobby and board game industry has experienced a 20 percent growth rate, earning $880 million in the U.S. and Canada in 2014, up from $700 million in 2013, according to a 2015 report by ICv2.
To bring Two Rooms and a Boom! to market, they used all the newest and unconventional means possible, including a $100,000 crowd-funding campaign and Amazon fulfillment. The result is a game design that resembles a classic dinner party game (food optional), but produced and delivered in a seriously modern way.
Leveraging the latest enterprise models, TKG got into the board and card game business without a manufacturing plant, without hassles of customs, without a warehouse, and without dedicated distribution channels.
By relying upon other parties and their specialties, TKG has been freed up to focus on their own specialty — designing games for people to enjoy with each other.
Tuesday Knight Games has completed its first run of 10,000 units of Two Rooms and a Boom!.  Preparations are underway for the next production run, due to a booming (sorry) business, and they will be initiating another crowd-funding campaign for their next game World Championship Russian Roulette.
In the hobby and board game industry, the games are classic, but the business model is straight from the new millennium.
Dallas-Fort Worth-based Tuesday Knight Games is playing the game like grandmasters.

---
For a daily dose of what's new and next in Dallas-Fort Worth innovation, subscribe to our Dallas Innovates e-newsletter.