When work forced Roderick Turner and his family to relocate from their home state of Alabama in 2017, Turner found himself disconnected from his close circle.
As a former college athlete, competition and camaraderie is ingrained in Turner's DNA. But losing the ability to connect with former teammates and friends put a damper on his social life.
That's when the idea for TopIt was born.
Dallas-based TopIt is a social platform that allows users to create customized direct-challenge competitions based on interests and hobbies. A user can choose to post their own niche challenge from the variety of categories—education, music, comedy, sports, fitness, fashion, food, art, autos, dance, and more—or join in on an active one.
It doesn't matter if participants know each other, either. Users can challenge their friends to karaoke or athletes to a dunk contest. Barbers can challenge each other to increase their customer base or personal trainers to connect with clients. There are even social cause challenges available, relating to movements such as Black Lives Matter.
Turner says the intent is to "engage target audiences while building communities, sizing up the 'competition,' and earning bragging rights."
"A user can create dance challenges and send an invite to friends or the creator of a song to challenge and gain popularity," Turner, who is TopIt's founder and CEO, says. "Then more users can join in to keep the challenge going. Other users view and vote on the best content: Users with the most votes win."
With virtual communal 'games' like HQ Trivia and Pokémon GO becoming viral sensations, it's a major growing market to tap into. Currently, TopIt is in its final development stages and currently being tested for an official launch this fall.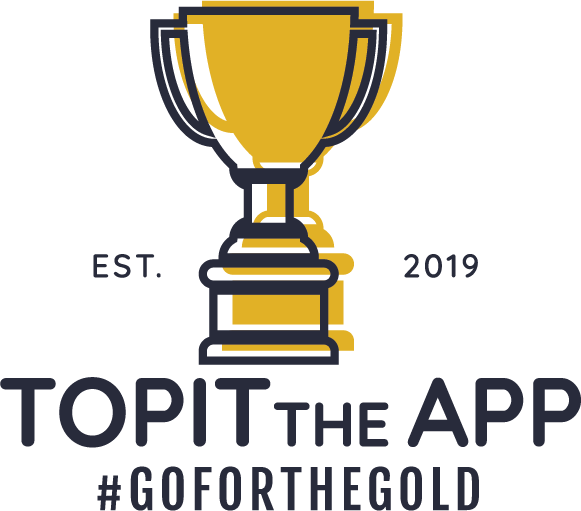 Turner and the TopIt team used feedback from users and stakeholders to make edits related to TopIt's design and quality. The most recent update includes changes to the appearance of the skins in the app, the ability to sign in through Apple, and overall functionality.
Alongside the app launch, branding updates will be released that further align with the startup's target audience and mission.
"TOPIT the APP has seen a 300 percent increase in our user base over the last quarter," Turner says. "Our goal is to reach 150,000 active daily users by 2021. Long term, TopIt will host all major and mainstream competitions allowing users to connect, engage, and vote for the winners either from the live audience or virtually."
Though he has big plans, Turner has continually led his five-person team with a set of core values: diversity & inclusion, integrity, growth, winning process, maximizing value, and excellence is minimum. He looks to "challenge the norm" every day, adapting and assuming new responsibilities to position TopIt to achieve new elevations.
"We believe our established processes go above and beyond the competition that allows us to take pride in our work and put us in a place to achieve exceptional results," he says. "We believe in the way we plan, and preparation allows excellence at a minimum to be present in all efforts and tasks carried out in the name of the company."
Learn more about Turner and TopIt in our Q&A. This installment is part of a new Dallas Innovates series in which we highlight some of Impact Ventures' Spring 2020 Fellows. You can also read about Exgratias, Education PowerED, HVACIntel, Latinx Spaces, nVenue, One Stop Wellness, and Red Plum WP Builder.
Meet TopIt
How do you expect that being accepted to the Impact Ventures spring cohort will make a difference to your team?
The Impact cohort allowed the TopIt team to engage our core user base for feedback. Impact allowed us to onboard key personnel to continue to grow along with our user base. It also will bring additional exposure and partnerships that will allow us to continue gaining traction.
Who is on your team?
• Roderick Turner, Founder & CEO
• Secoya Holmes, Public Relations & Marketing
• Emmanual Ibe II, CTO
• Leona Surles, Marketing Executive Assistant
We're planning to hire a chief financial officer, brand ambassadors, and influencers soon.
How are you funding your startup? What key partners have you had?

TopIt has been bootstrapped to date. We're planning to raise our first pre-seed round in the third quarter this year. We'll use the funds to continue to build out our team and to execute user acquisition strategies. 
TopIT the app will offer sponsorship and advertising opportunities in the near future. At this time, we are focusing our efforts and energy into providing our users with a successful full app launch.
How did you name it?
The name comes from "trending topic," but we are trying to TopIt (out-perform someone).
If the content gets enough traction, then it will trend. Our target audience's ultimate goal is to trend on social media. 
What opportunities do you see rising?
We are in talks with a local car club to host a car show on our platform. We're excited about this opportunity and bringing value to one of our partners. This will allow users to engage, comment, and vote on the best vehicle in the show.
We are aiming to eliminate some of the pain points brought forward by COVID-19.
What sector trends are you most excited about?
We're most excited around the movement for inclusion for minority founders. In terms of technology, we're enthused about artificial intelligence, location-based technology, and wearable technology.  
Has the pandemic and social environment shifted your plans this year?
We were planning to roll out our college brand ambassador program in Fall 2020, and the pandemic has shifted our focus to other areas for marketing and brand recognition. We've also postponed our launch party in Dallas due to the pandemic.  
The pandemic has also resulted in funding deals to fall through.
Our team is operating remotely, with our CEO and CTO located in Dallas. Our marketing team is mostly on the West Coast and our PR is based on the East Coast.
Tell us how your company might be able to help businesses or people right now, in the current, fast-changing environment?
TopIt allows users to display their skills and talents while marketing directly to their target audience. Users can use it to connect socially with others. Skilled professionals can use the app to market to a target audience and gain new customers.
This Q&A was edited for brevity and clarity.
Read next
Dallas Innovates is highlighting startups in Impact Ventures' spring cohort, which aims to assist the underrepresented startup community.
Meet Exgratias, a Financial Platform for Entertainment Gig Workers
Exgratias is a first-of-its-kind financial platform for the entertainment industry that helps contractual workers get paid quickly and effortlessly.
Meet Education PowerED, an Online Marketplace of Culturally Responsive Teaching
Education PowerED is behind a fast-growing educational movement designed to energize educators, empower students, and eradicate educational inequity.
Meet HVACIntel, an IoT Platform That Helps Contractors Manage HVAC Installations
HVACIntel hopes to disrupt the legacy industry with its patented IoT platform that monitors HVAC systems, proactively detects operational issues, and prevents failures.
Meet Latinx Spaces, a Digital Publication Redefining Latinx Media
Latinx Spaces is at the intersection of art, culture, and politics. The digital media platform is dedicated to amplifying the voices of the Latinx movement—though anyone can consume the content.
Meet nVenue, a Sports Tech Startup That Wants to 'Revolutionize the World of Fan-Engagement'
nVenue hopes to marry tech and sports in a way that enhances the game-watching experience. The Dallas-based startup has set out to open a new market of virtual fan-engagement.
Meet One Stop Wellness, a Comprehensive Health Solution That Empowers Employees
The Dallas-based startup offers customizable programs that empower employees to improve their wellness behaviors while helping to reduce their company's health insurance costs. In response to COVID-19, the team launched a risk mitigation tool for employers to remain compliant with OSHA guidelines.
Meet Red Plum, a Platform That Makes Building WordPress Sites Easier
Dallas-based Red Plum WP Builder makes the open-source content management system easy for designers and marketers so they can get back to making clients happy.

Get on the list.
Dallas Innovates, every day.
Sign up to keep your eye on what's new and next in Dallas-Fort Worth, every day.