Years ago, Jennifer Sanders stopped in her tracks at Dallas City Hall. She had a meeting to get to, but she couldn't ignore the sight before her: A massive line of people stretched down a hallway into the distance. She walked along the snaking crowd, seeing people leaning on the wall, others shifting their weight from foot to foot as they peered ahead impatiently. Finally, Sanders reached the window everyone was waiting for—and she was amazed.
"They were waiting to pay their water bill," Sanders told Dallas Innovates.
"I thought, do they not know that they can pay it online? Do they not have a bank account? A lot of these folks probably had to take off work to come down here and stand in line."
She realized many of these people were being left behind by the "digital divide": a barrier that keeps people without access to digital technology from realizing their economic potential.
Sanders thought, if only there was a way to help these people get online and get the basic skills to avoid a line like this, imagine what else might change. 
"We could help them save a couple hours, at minimum, to do something else," she said, from being with their families to going to the grocery store to maybe using the internet to learn new skills, open new horizons, and advance to a brighter future. Not just for themselves, but for their communities, too.
Trying to end that line: the Dallas Innovation Alliance
Flash forward to today, and Sanders is doing something about it. She's the co-founder and executive director of the nonprofit Dallas Innovation Alliance. Together with co-founder Trey Bowles, she and their dedicated team work with a coalition of stakeholders from the city of Dallas, corporations, nonprofits, academia, and private individuals all striving to advance Dallas as a "smart' global city. 
A big step toward doing that is ending lines like the one Sanders saw that day at City Hall, by giving every Dallas citizen the tools and know-how to be digitally savvy in an increasingly connected age.
To work toward that digital equity, DIA needed help—and it's gotten it.
The Dallas Foundation and Santander step up—and AT&T makes Sanders cry
First, The Dallas Foundation got things started for DIA by providing critical seed money. Then Dallas-based Santander Consumer USA donated a substantial grant.
But the biggest moment for DIA so far came earlier this month, when Dallas-headquartered AT&T contributed $1 million toward DIA's new Digital Ambassador program, Connected Dallas: a two-year campaign to promote digital inclusion and internet access in the Dallas community.
Sanders got emotional when she first got calls about all three of those donations. But when AT&T called about the $1 million grant, "I burst into tears. And it's just gratitude."
$1M AT&T grant is part of a $2B commitment to bridge the digital divide
AT&T's $1 million grant to DIA is part of its $2 billion, three-year nationwide commitment to help bridge the digital divide. 
AT&T presented the check to DIA earlier this month on the campus of CitySquare, a nonprofit that's fighting to end poverty in Dallas through service, advocacy, a food pantry program, and affordable housing options.
Mylayna Albright, assistant vice president of corporate social responsibility at AT&T, noted that CitySquare is home to AT&T's "very first Connected Learning center."
"We're working to make digital technology accessible and affordable for students and families in need," Albright said of AT&T's $2 billion national commitment. "We're so grateful to partner with organizations like the Dallas Innovation Alliance to continue that work."
Mayor Pro Tem: Pandemic highlighted the challenges of lacking digital access
Mayor Pro Tem Carolyn King Arnold also spoke at the AT&T presentation. She said the pandemic has highlighted "the significant challenges that students, workers, and families actually experience on a day-to-day basis."
"If they don't have access, they don't have connectivity," King Arnold said. "What they end up with is stress, frustration, and unhappiness."
The Mayor Pro Tem discussed the city's Broadband and Digital Equity Plan, which works to provide everything from internet access to home computers to digital literacy and skills training.
"Many individuals in our vulnerable communities are in desperate need of knowledge, tools, and technologies that will help prepare them to live, learn, and work in our digital society," she added. "The Digital Ambassador Program is a wonderful opportunity to meet these people where they are and provide them the education, the training, and other support to take advantage of the online opportunities available for themselves as well as their families."
CitySquare CEO: An alliance of 'innovators and disruptors'
Dr. John Siburt, president and CEO of CitySquare, looked out at the audience at the AT&T ceremony and saw a lot of allies in this fight.
"We're honored to be a part of this alliance, because you all are innovators," Siburt told the crowd. "And you all are disruptors who aren't willing to resign yourself to this just being the way things are."
"The status quo isn't OK to anybody in this room," he added. "We need to go actively create solutions."
Dallas Fed: 42% of Dallas residents lack home internet
Jennifer Sanders—the DIA co-founder and executive director—stood up last at the AT&T presentation. She spoke of her organization's 2015 founding, and how it's been working on the digital divide issue since 2018.
Sanders cited research by the Dallas Federal Reserve which showed that as of 2019, about 42% of Dallas households lacked a fixed connection to the internet. The Fed's message: "Digital inclusion drives economic inclusion. People need fast and affordable internet access, along with basic computer skills, to be able to search for housing, apply for jobs, get homework done, run small businesses, review bank transactions and perform other everyday tasks."
"What we learned is that that's based on three main factors," Sanders told the audience. "One is access. Do you have a device? Do you have internet connectivity in your home? Is it affordable, and do you know how to use it? Do you know why it's important? Do you know the tools that this is going to provide?"
The biggest challenge: getting the communities to know resources exist
"We learned that the hardest problem to solve was the understanding of the community," Sanders said. "How do you get to the community so they know what resources exist?" If Dallas can get the word out, people will know there are low-cost city and federal programs available that can get them connected and transform their lives.
"The Digital Ambassador program is really an opportunity to take the program to the community where they're at," Sanders explained, helping people from sites across the city and through "hyper-local" outreach at everything from apartment complexes to senior centers.
"We're so excited to get started," she said.
Next step: Setting up Digital Ambassador sites where they're needed most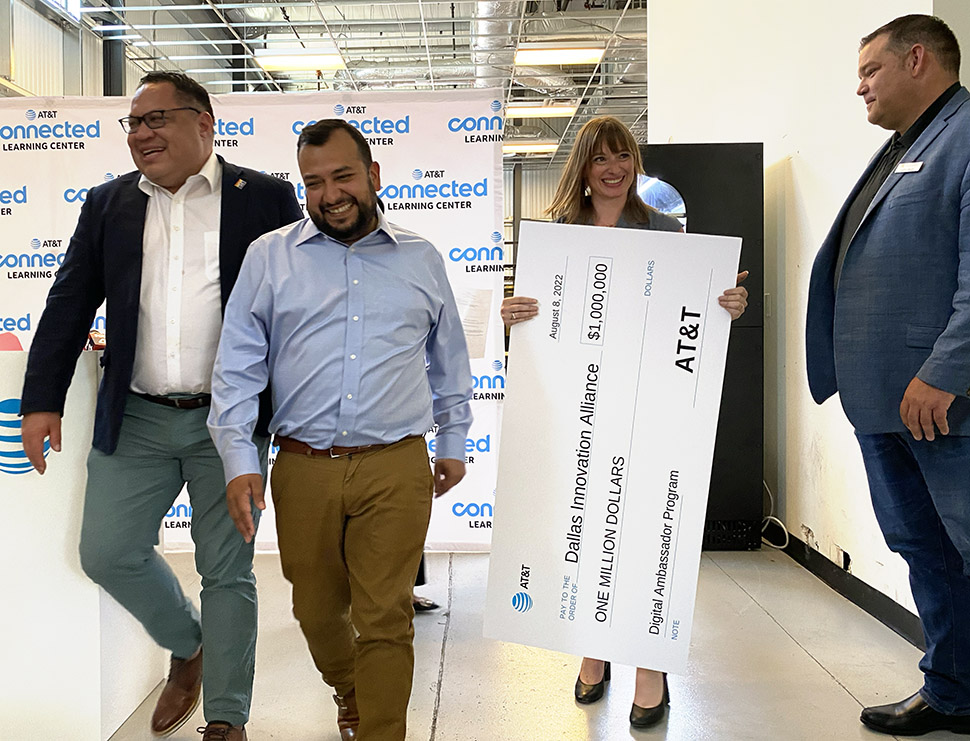 Dallas Innovates talked with Sanders about next steps for DIA's program, now that it has a total of $1.3 million in funding.
She said much of the infrastructure to help bridge the digital divide is already in place, including the city's Broadband and Digital Equity Plan, federal subsidies for internet access, and things like the Santander Consumer Foundation's $7 million investment to advance digital equity in Dallas.
In January, Santander announced a partnership with tech and community nonprofit Comp-U-Dopt to target student households below 200% of the federal poverty level in the southern sector of the city. They will provide free high-speed Internet connectivity to up to 10,000 Dallas student households, along with free laptop computers, training, and support to eligible low-income residents who enroll in a lottery for the program.
That's just one of the programs available to Dallas residents who lack digital access, equipment, and knowledge. So DIA's Digital Ambassadors are tasked with getting the word out, and helping people actually access those programs. 
Getting the word out about connectivity programs
"If communities don't know that these affordable plans exist, if they don't know how to sign up for them, then it can feel especially out of reach," Sanders told us. So far, people may only have heard about programs that require things they can't afford. Sanders has heard responses like, "I don't have $60," "I don't have $45," "I don't have $30."
"This Affordable Connectivity Program covers that," Sanders said. "They're powerful tools. Traditional methods are just not sufficient to reach the communities that most need those."
"Folks get frustrated" when they don't get clear, easy-to-understand info, Sanders said. "They don't have time to figure it out. They have to know how to enroll to take advantage of the programs."
The Digital Ambassadors will know about all the programs and will work with community members to match them with the right ones.
Getting rolling with a website and support line
The Digital Ambassador program's website is slated to be launched by the end of September. Additional digital resources and a tech support line will also be live before the end of the year. 
"We're partnering with Compudot on the Digital Ambassador support line," Sanders said. "We're combining resources to leverage that infrastructure."
Coming in 2023: community anchor sites in South Dallas, Southern Dallas, and West Dallas 
Next up: getting ambassadors out in the community where the people who need them live. DIA is currently working on developing "community anchor sites" for the Digital Ambassador program, initially targeting areas most impacted by the digital divide: South Dallas, Southern Dallas, and West Dallas. DIA will look to target areas in Northeast Dallas as well at some point, Sanders said.
DIA will be putting out a call for community organizations to provide space for community anchor sites, which will be outfitted like walk-in centers.
"The goal is to start onboarding and soft-open the first community anchor site right after the first of the year," Sanders said.
DIA plans to have 12 sites set up by the end of 2023, with five paid Ambassadors at each site, supplemented by volunteers as well.
'A hub-and-spoke structure'
"The idea is to build a network of these walk-in facilities—as well as each facility within a neighborhood—that trains the individual ambassadors to be resources out in the community," Sanders explained. "It's a kind of hub-and-spoke structure."
"The goal is to continue to scale the locations and the number of ambassadors, and to refine content and partnerships."
Working with providers like hospital systems and DART
Those partnerships will include working directly with service providers like Dallas hospital systems and Dallas Area Rapid Transit.
"Those organizations don't always have the support staff or a support infrastructure to say, 'We can set up the telehealth appointments,'" Sanders pointed out. Part of the whole problem with the digital divide is "folks who don't understand how to set up a MyChart account, let alone download a video client and understand how to log into their appointment."
DIA's Digital Ambassadors will work to not only help people get connected, but help them get the tools and knowledge to navigate the digital world as well. 
"We're trying to take pressure off of the whole system," Sanders said.
DIA's Mobile Learning Lab
DIA will continue to operate its Mobile Learning Lab, a converted school bus that provides free Wi-FI within 500 feet, and educational programs inside.
"It will continue to be used for after-school and adult learning, but also will be its own location that can move to provide Ambassador-type services," Sanders said.
Sanders' ultimate goal: 'We work outselves out of a job'
We asked Sanders about her ultimate goal for the program.
"My long-term vision is that we work ourselves out of a job, where this program is not necessary," she said. She looks forward to the day when she's "doing something else, because there's a different problem to solve—because we're good here."

Get on the list.
Dallas Innovates, every day.
Sign up to keep your eye on what's new and next in Dallas-Fort Worth, every day.