Last June, CharaChorder launched with a new class of peripheral device that lets ordinary people type faster than is possible on a traditional keyboard. Fast forward two months, and the Plano-based startup is already growing with two new local investment partners and a $2.5 million evaluation—all despite operating during a global pandemic.

Based on its latest investment, CharaChorder believes the team is now positioned as one of the leading consumer electronics startups in Texas. And it has a lofty goal: To completely replace the QWERTY keyboard.
That's because your current keyboard just can't keep up.
CharaChorder thinks peripheral devices should stay on pace with the human brain. Its mission is to raise the average text transmission speed for people (40 words per minute) to something that can approach their text comprehension speed (250 wpm).
"Keyboards were invented for something that did not even run on electricity," Adan Arriaga, CharaChorder's chief communications officer, told Dallas Innovates. "It's 2020 and most of us still use a typewriter every day. We're here to create a new standard for the digital age."
Arriaga says the company's innovative device is a speed demon built for the future. It switches a user's detect motion in three dimensions, so people can have access to more than 300 unique inputs—without ever having their fingers break contact with the device.
#killQWERTY
CharaChorder's target market is anyone that uses a computer, though the greatest interest has so far come from data entry specialists, gamers, and people with disabilities.
For data entry specialists, more speed means more productivity. The same advantage goes for gamers—but there are also uses in virtual reality, according to Arriaga. 
"Text entry is currently one of the major challenges with many VR applications," he says. "Because CharaChorder users never have to break contact with the device, it is much easier than typing blind on a keyboard and much easier to make wearable."
These sectors will likely drive the majority of CharaChorder's revenue, but Arriaga says the team is most excited about the impact it can make in the assistive device space. CharaChorder offers myriad benefits for those who are visually impaired, have neuromuscular disorders, are nonverbal, or have limited mobility.
It's a huge target base, with the global keyboard market currently capped at $4.5 billion and growing at around 2 percent annually, Arriaga says. The largest segment is in coding/gaming keyboards, which is predicted to surpass $1.5 billion in the next five years.
Though many have deemed CharaChorder's goals impossible, the team aims to completely replace the QWERTY keyboard. According to Arriaga, most don't believe in the tech until they see it.
"We want people to understand our mission to elevate the speed of human communication," he says. "Human beings right now have the ability to comprehend text on average five-times faster than they can produce it. We're here to turn the tables and give people the ability to produce text even faster than they can read it."
Why it's time for a new standard
Most keyboards use one-dimensional buttons or a QWERTY design. According to CharaChorder, this can often cause user error—like typos—caused by hitting letters in the wrong order when "muscle memory" is moving faster than a device can keep up with.
With CharaChorder, these "errors" are highly encouraged. A user can type entire words by pressing all letters simultaneously in a single motion. CharaChorder's internal processor will then arrange the letters on-screen in real time, faster than the human eye can perceive.
This kind of technology makes it easy for users to learn "chording" (a way to enter characters or commands formed by pressing several keys together) intuitively over time. According to the team, it's also a much more powerful method of communicating.
Building the tech
The CharaChorder technology is an accumulation of five years of research and development.
When the first CharaChorder was built, the intention was to assist in communication for people with disabilities. Founder Riley Keen grew up with a nonverbal father, and his original goal was to create a way for him and others with limited mobility to communicate freely with loved ones.
At first, Keen's intent was to simply reduce the amount of finger movement with 3D text entry. But, he and his founding team realized that a device for chorded text entry was ideal, and could offer exponential speed benefits to virtually any keyboard user.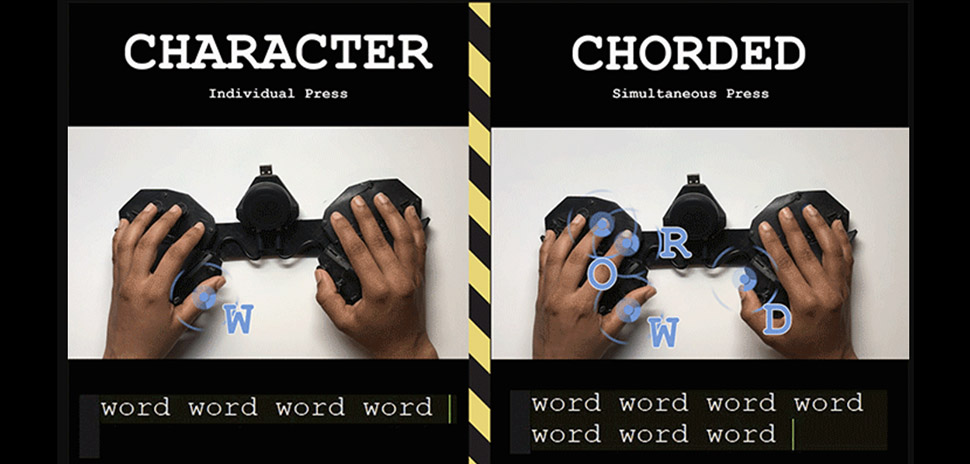 "CharaChorder turns out to be a great example of the 'curb-cut effect' where helping the marginalized ends up benefiting the rest of society as well," Arriaga says. And that initial pivot has exponentially paid off for the four-person leadership team.
Arriaga describes the startup as a portmanteau of 'character' and 'chord': While there are many benefits to using the device, the greatest one comes from its ability to fluidly switch between two entry modes.
Future forward—with funding
The CharaChorder team now has a provisional and utility patent on its technology and physical device. It also covers fluid chorded/character text entry, as well as the chord detection algorithm that CharaChorder's internal processor uses.
Since its first public announcement in late 2019, Arriaga says there has been a "great deal of interest and traction." The team was recognized as a top new and noteworthy company at the Consumer Electronics Show, and was able to showcase the product for the first time at CodeLaunch last year.
The startup's newest investment partners are both based in North Texas Connector Specialists Inc. and W.A.L.K. Investments LLC. That put CharaChorder at a $2.5 million evaluation on a pre-revenue basis. 
Kevin Lipponcott, Director of W.A.L.K. Investments, lauded CharaChorder as a company that is revolutionizing the keyboard and controller market. Lipponcott said his team has "great confidence" in the product, which will support an exponential increase in data entry speed and human to technology interface.
CharaChorder plans to use the new funding to finalize the computer software for customizing the device and finalize manufacturing of the internal components.
The team is currently laser-focused on a December shipping date and is accepting pre-orders online. There were some minor manufacturing delays brought on by the COVID-19 pandemic, but the startup built a safety buffer into its production to stay on schedule.
CharaChorder also had to shift some of its beta testers and workshops to virtual environments. To maintain social distancing guidelines, most meetings have been conducted virtually or in spacious areas, like in a mentor's airplane hangar.
"We have a truly remarkable team that is working hard to ensure our hardware, software, and production systems are ready," Arriaga says. "We are grateful for the strong investor support that leaves us well positioned to not only fulfill the orders that we have received, but to deliver a product above and beyond our original promises despite the many pandemic-related challenges we are facing."
Quincy Preston contributed to this report. The story was updated with additional details and artwork on Aug. 21, 2020 at 10:02 a.m.

Get on the list.
Dallas Innovates, every day.
Sign up to keep your eye on what's new and next in Dallas-Fort Worth, every day.