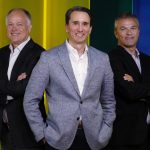 Health Wildcatters is on the prowl this week utilizing a brand new office building as well as taking a fourth class of graduates through its 12-week accelerator program.
According to The Dallas Morning News the Health Wildcatters, a Dallas health-care startup accelerator, has settled into a new office on the top floor of the 20-story building at 1910 Pacific Ave. CEO and co-founder Dr. Hubert Zajicek has high hopes for the new doubled-in-size office space.
The Morning News said Zajicek hopes the larger office — which includes an auditorium, conference room and offices available for rent — will help Health Wildcatters become Dallas' hub of health-care innovation.

D Healthcare Daily took a look into Health Wildcatters' fourth class, calling them "its most mature yet." The fourth class consists of health IT and data analytics and medical device startups.
"As opposed to two or three years ago when we really saw some very early innovation that was not validated at all, most of these already have validation," Zajicek told D Healthcare. "We know that we're working with a team that has something that is definitely desired out there and we're going to be figuring out how to best optimize that."
The participating startups receive a $30,000 investment and the 12-week course in exchange for 8 percent equity in the company; So far 32 companies have raised more than $16 million through the program with Health Wildcatters.
Big bash planned: #hwgrandopening
Healthcare Wildcatters wants to show off its new digs, and is throwing a party that is open to the public rom 5:30 p.m. to 8 p.m., Sept. 15. The office is on the 20th floor of 1910 Pacific Avenue in Dallas. For information, or to RSVP, click here.
---
For a daily dose of what's new and next in Dallas-Fort Worth innovation, subscribe to our Dallas Innovates e-newsletter.