The architectural and design firm, Gensler, has released interior concept renderings offering an initial look into what the development at 1808 S. Good Latimer Expressway could look like. 
The property is planned to house a coworking space as well as residential lofts, office space for lease, coffee shop/cafe, makerspace, fitness room, meeting rooms, art gallery/event space, and a rest area.
LOFTwall founder Steven Kinder, who owns the property and is co-founder with Amy King on the GoodWork coworking company, envisions a community that is responsive to varying work needs. He's employed environmental architect Gary Gene Olp, principal of Dallas-based GGO Architects, to help transform the old warehouse space with a focus on sustainability and green design. 
Mike McKeown, a strategy director for Gensler, said his team took these goals into consideration when coming up with design concepts for the property.
"There's just this blend between the raw, celebrating the existing character of the space and then adding some professional polished locations just to give it a good mix," McKeown said of the design concept. 
Take a look below at the renderings and read more about the 1808 development in this earlier story.  
---
---
---
WHAT DO YOU THINK?

This is a poster from a recent event hosted by the folks from 1808. They want to know what you think their new neighborhood should be called.
Click on the poster below to leave your comment on our Facebook page.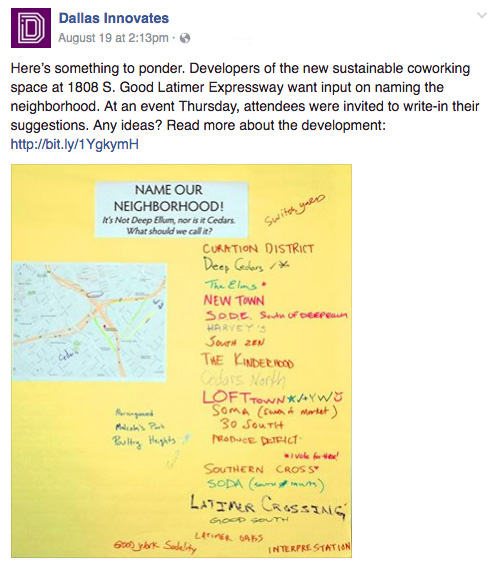 ---
For a daily dose of what's new and next in Dallas-Fort Worth innovation, subscribe to our Dallas Innovates e-newsletter.