Fort Worth-based real estate and development firm M2G Ventures raised more than $260,000 at its third annual fundraising gala, Art of the Mind, benefitting UT Southwestern Medical Center's Center for Depression Research and Clinical Care. That brings M2G's fundraising total to over $700,000, the company said.
The gala was held at the Ostreum in Fort Worth.
M2G's co-founders, sisters Jessica Miller Essl and Susan Gruppi, launched the M2G Mental Health Initiative in 2019 after losing a loved one to bipolar disorder in 2017.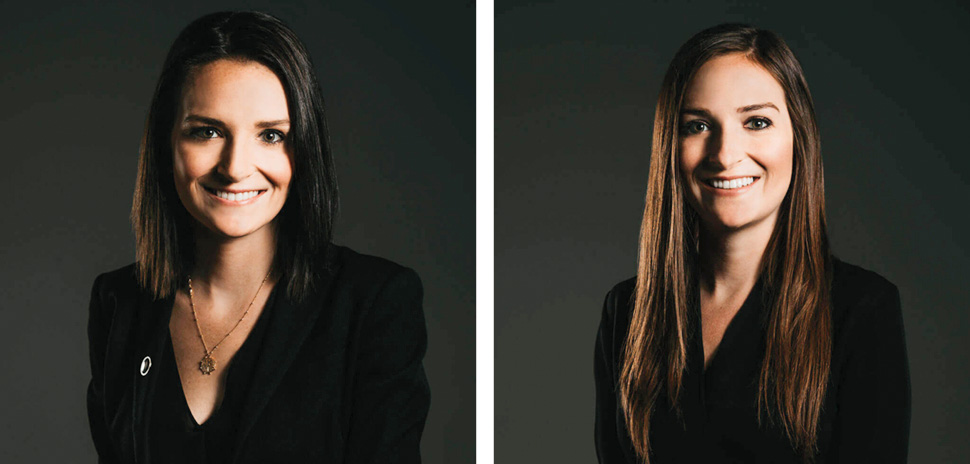 M2G Ventures co-presidents Susan Gruppi, left, and Jessica Miller Essl [Photos: M2G Ventures]
The sisters earned 501(c)(3) status this year for their mission to change how the world treats mental illness. Social impact is important to the firm, and M2G Ventures' capstone is the Mental Health Initiative, it says.
Partnering with the UT Southwestern CDRC, the sisters set a goal to raise $1 million to bring its services, studies, and resources to children and young adults regionwide.
"We may be in commercial real estate, but at the heart of our company is innovation. M2G has a vision for a world that offers better outcomes, earlier intervention, and an established path to healing and wholeness for current and future generations," Essl said in a statement.
UTSW's Dr. Madhukar Trivedi is founding director of the CDRC
The gala was highlighted by a moderated discussion with Dr. Madhukar Trivedi, founding director of the CDRC, along with patient testimony and a fine art auction.
M2G has a reputation for integrating immersive art into its development projects. The company strategically partnered with local, regional, and national artists to commission fine art that reflects the mental health journey. Included in the auction lineup were works from well-known artists Katie Murray and Jay Wilkinson as well as experiential items donated by Chef Tim Love and Blackland Distillery.
"We are overwhelmed by the support our initiative has received and are ending the year on a high note," Hannah Stephens, director of social impact at M2G, said in a statement.
Center for Depression Research and Clinical Care is nationally recognized for its cutting-edge research in unipolar and bipolar depression, M2G said. Its research brings better understanding of the causes of depression, identifies effective new treatments and improves existing ones, Trivedi said.
Trivedi is identifying biomarkers of depression and resilience
The CDRC clinical site at the Moncrief Cancer Institute opened in 2019. Since then, Trivedi has implemented the Texas Resilience Against Depression, or T-RAD, study, aimed at identifying biomarkers of depression and resilience. So far, the CDRC site in Fort Worth has enrolled 90 participants.
"Through innovative programs such as T-RAD, the CDRC is developing practical tests that will transform clinical care for the diagnosis, treatment, and prevention of mood disorders, which will have long-lasting and transformative benefits in Tarrant County," Essl said. "Dr. Trivedi and his team of researchers are unlocking key insights into the prevalence of depression, changing the way mental illness is diagnosed and treated, now and in the future."
Depression is the leading global cause of disability, contributing to poor mental health, lost economic productivity, and suicide. It's a leading cause of suicide—and rates of death by suicide have increased 56 percent in the past decade, according to the initiative, adding in the United States, seven people die every hour from suicide due to mental illness.
The impact of depression, by the numbers
M2G compiled statistics from the CDRC quantifying the impact of depression:
It is the second leading cause of death for persons in the U.S. between the ages of 10 and 24.9 percent of children experience depression by the age of 14.
65 percent of adolescents experience depression before high school graduation.
13 percent of adolescents consider suicide.
To date, there are no effective biological methods to diagnose and assess depression or treatment response, according to the CDRC's most recent five-year impact report from 2015-2020.
Here is how depression impacts adolescents in Tarrant County, with statistics from the CDC's website featuring Youth Risk Behavior Surveillance System (YRBSS) data from national, state, and local high school and middle school surveys from 1991-2019.
36 percent of children and youth (ages 6-17) have behavioral health needs.
13 percent of children and youth (ages 12-17) suffer from depression or bipolar disorder.
11 percent of high school youth in Fort Worth attempted suicide one or more times during the past 12 months compared to 8.9% of youth who attempted suicide nationally.
M2G Ventures said that it is guided by a purpose to inspire evolution through impact and innovation, and that it carefully invests in distinctive mixed-use and industrial development projects with a focus on creating places that users want to be.
The innovative M2G is growing
Founded in 2014, the company has become a leading voice in the industry through a bold strategy anchored by a dedication to innovation. M2G Ventures is a certified women-owned business.
This week, the female-founded company announced it's expanding to Austin. With the help of Pennybacker Capital's former Director at the helm in the city, M2G says it's poised to revolutionize industrial and mixed-use projects with innovative investments in Central Texas.
In September, M2G announced that it had sold its signature Foundry District development in Fort Worth to the North Carolina real estate investment firm Asana Partners, growing that company's North Texas portfolio.
No financial details were released about the acquisition, which is Asana's first foray into Fort Worth.

Get on the list.
Dallas Innovates, every day.
Sign up to keep your eye on what's new and next in Dallas-Fort Worth, every day.