What companies are finding funding or having a big exit? From startup investments to grants and acquisitions, Dallas Innovates tracks what's happening in North Texas money. Sign up for our e-newsletter, and share your deal news here. 

Automation Products Company Expands Mexico Footprint with $275M Acquisition
⟫ Allied Electronics & Automation, the Fort Worth-based distributor of industrial automation products and electronics components that's owned by London's RS Group, announced acquiring Mexican industrial automation products and services provider Risoul y Cai S.A. de C.V. for $275 million. In the 12 months ending in September 30 last year, Risoul generated $166 million in revenue, with EBIT of $19 million. Allied and RS said the move will help accelerate its growth, expand its geographic reach, and offer new product solutions.
PLUS
Tech-Enabled Lender Enters Dallas Market with $5M Investment
⟫ Lendistry—a minority-owned, tech-enabled lender that aims to lift underserved communities—is expanding to Texas by opening a Dallas office, the company announced at a launch event today at Dallas Startup Week.
With $5 million in funding provided by Dallas-based Texas Capital Bank, Lendistry will be focused on "closing the equity gap in funding" for small, minority, and underserved business owners and startups across Dallas and Texas.
The new Lendistry office is located in The Epic building at 2550 Pacific in Dallas' Deep Ellum neighborhood east of downtown. The fintech has begun building a local team under its new SVP of Sales, Todd R. Adams.
With its new partnership with Texas Capital, Lendistry will be launching three new lending products: contractor financing, nonprofit term loans, and startup financing.
—
Dallas Startup Lands Top Prize at Pitch Competition
⟫ Closing out the first full day of Dallas Startup Week, a handful of entrepreneurs took to the stage to pitch their innovations for a shot a thousands of dollars' worth of prizes and national recognition.
Taking home the top title and $15,000 worth of in-kind prizes from Dell for Startups was Dallas-based medical device startup Spark Biomedical for its device helping patients deal with the symptoms of opioid withdrawal.
And taking the No. 2 spot was Quimby, a Coppell-based employee engagement platform aimed at mental and emotional wellness. Currently still in development, the company's platform gives employees individualized wellness reminders, while providing employers with anonymous aggregated data about the health of their team and actionable ways to improve that health.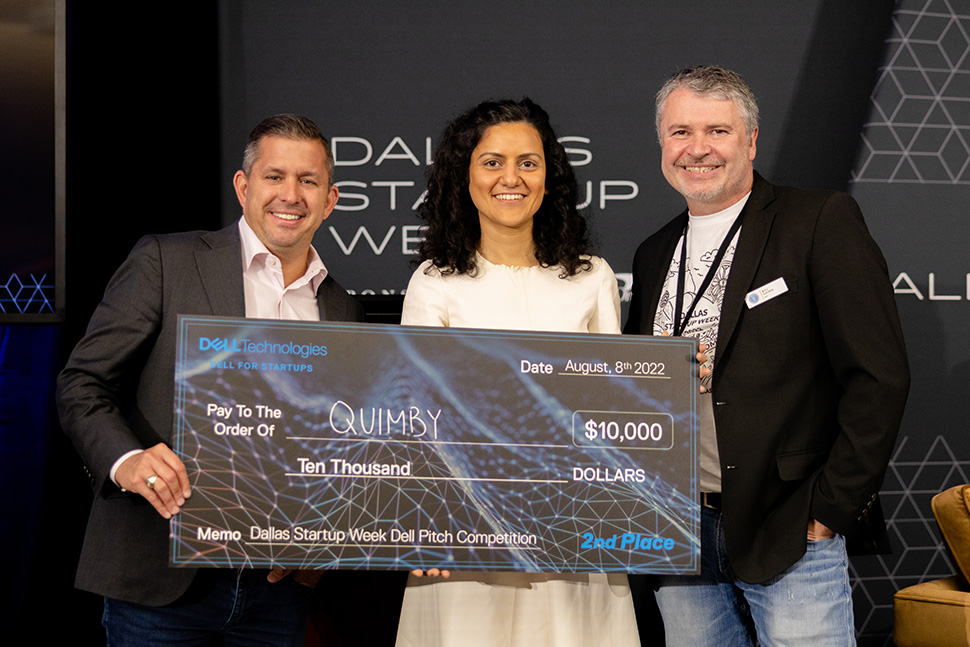 —
Investment Giant Raises $1.55B for New Impact Fund
⟫ Fort Worth- and San Francisco-based investment giant TPG amended an SEC filing from May to reflect raising $1.55 billion from 63 investors for a private equity fund titled Rise Fund III, L.P. When the firm first unveiled its third climate-focused fund earlier this year, TPG's CFO Jack Weingart said it was targeting a total of $3 billion. TPG's first Rise Fund closed at $2.1 billion, while its second closed at $2.2 billion.
—
EV Charger Maker Acquires Charging Installation Company
⟫ Wallbox, the Barcelona, Spain-based EV charger manufacturer, plans to being production this fall at its new Arlington manufacturing facility. It has acquired Coil, Inc., an EV charging installation service with a nationwide presence in the U.S. "This acquisition allows us to further enhance our service offerings to our customers in residential and commercial settings, while also expanding into the rapidly growing DC fast-charging installation market," said Douglas Alfaro, Wallbox's North America GM.
—
Cloud-based Business Management Solutions Firm Scoops Up Two Companies
⟫ Fort Worth cloud-based business management solutions firm ECI Software Solutions has acquired two Pennsylvania-based data analytics and manufacturing intelligence platforms Data Inventions and Lojic for an undisclosed amount, with plans to make the two companies' products part of its portfolio of offerings. According to ECI CEO Trevor Gruenewald, the move has the potential to make the company's technology "become ubiquitous in the industry." 
Manufacturers are still learning how valuable machine and business intelligence can be for their operations, an ECI spokesperson said. The company has seen firsthand how manufacturers can benefit from that level of data intelligence, it says. The latest acquisitions were made on behalf of ECI's manufacturing division: Data Inventions, the maker of an innovative machine intelligence platform called Alora, and Lojic, the maker of Lojic Dashboards, a customizable dashboard solution that helps manufacturers create and display real-time, insightful dashboards across operations. 
In last 2020, private equity firm Leonard Green & Partners acquired a majority stake in ECI via funds advised by Apax Partners and The Carlyle Group.
—
Ingredient Manufacturer Acquired by European Investment Firm
⟫ European investment company Investindustrial VII L.P. has acquired Parker Food Group (PFG), a Fort Worth-based manufacturer of specialty ingredients for industrial B2C and B2B clients, from The Riverside Company. With a team of around 370 employees, PFG has operations in Texas, Missouri, and New York. In 2021, the company was valued at $1.7 billion. Investindustrial said it plans to make PFG part of its broader portfolio of food ingredients company, which collectively have a turnover of nearly €1 billion, or about $1.03 billion.
—
BenefitMall Acquired by Truist Financial Corporation Subsidiary
⟫ North Carolina-based Truist Financial Corporation subsidiary Truist Financial plans to acquire Dallas' BenefitMall, the country's largest general agency brokerage services, from publicly traded investment firm Carlyle. Expected to close later this quarter, the move will add about $150 million in annual revenue to Truist, according to the Dallas Business Journal. As part of the deal, BenefitMall will be combined by Truist-owned CRC Group, a distributor of specialty insurance products, with the goal of providing a larger selection of offerings, Truist Chief Insurance Officer John Howard said.
—
Dallas Real Estate Firm Expands to NYC with Continued Acquisition Streak
⟫ After merging last month with Washington, D.C.-based Pearson Smith Realty, Dallas residential real estate firm United Real Estate has merged with a New York firm formerly known as MEHome Realty, in a move that will see United enter the New York City market. When United merger with Pearson, the combined company had more than 21,000 agents across 630 offices, per the Dallas Business Journal. The new deal will add 160 agents to the company. United has tear of M&A deals, with United President Rick Haase telling the DBJ that it expects to "be at least 50% bigger by end of next year."
David Seeley contributed to this report. 
---

Want more?
Sign up for our e-newsletter, and share your deal news here. 
Read more in Kevin Cummings' recent Follow the Money deal roundup:

Get on the list.
Dallas Innovates, every day.
Sign up to keep your eye on what's new and next in Dallas-Fort Worth, every day.