Closing out the first full day of Dallas Startup Week, a handful of entrepreneurs took to the stage to pitch their innovations for a shot a thousands of dollars' worth of prizes and national recognition.
At the local leg of the annual Dell for Startups pitch competition seven founders working on ventures ranging from medical devices to lifting up unheard voices gave three-minute presentations to a panel of judges for a collective $25,000 worth of in-kind prizes and the chance to move on to the national part of the competition, where $40,000 worth of prizes are available.
YJ Lin, senior program manager at Dell for Startups says its program is meant to highlight startups in cities across the country.
Dallas medical device startup takes home the top prize
Taking home the top title and $15,000 worth of in-kind prizes from Dell was Dallas-based medical device startup Spark Biomedical for its device helping patients deal with the symptoms of opioid withdrawal. Fueled by a nearly $2.5 million award from the National Institutes of Health that it landed late last year, Spark has developed a neurostimulation device that helps relieve withdrawal symptoms by stimulating the cranial nerve that causes the release of endogenous endorphins. Founded in 2018, the company received FDA clearance for the device in early 2021.
"Opioids are diabolical, because they actually change the structure and function of your brain; they change the way your reward system works," said Daniel Powell, CEO at Spark Biomedical, at the event. "In our clinical study, we had patients in mild and moderate withdrawal. Then, with just 30 minutes of electrical stimulation, we're able to bring 93% of patients to mild or no withdrawal."
And taking the No. 2 spot was Quimby, a Coppell-based employee engagement platform aimed at mental and emotional wellness. Currently still in development, the company's platform gives employees individualized wellness reminders, while providing employers with anonymous aggregated data about the health of their team and actionable ways to improve that health. Founder Sumedha Ganjoo, who created the technology based on her own experience with depression, said Quimby has already worked with a number of businesses to implement its platform.
"I've learned that the stories of stress, anxiety, and burnout are lingering everywhere. They make it to the headlines but are not shared with the person sitting next to you," Ganjoo said at the event. "Using Quimby, employees can set reminders to pause and reflect on their wellbeing. These reminders, designed with the help of a psychologist, help them shift from autopilot into identifying how are they truly feeling and track their insights over time."
Meet the other competitors
As Spark Biomedical and Quimby move on to the next leg of the competition, be sure to check out the other pitching companies below.
KoiReader Technologies (Dallas)
With numerous patents to its name and a team of nearly 60, KoiReader is an artificial intelligence-powered "hyper-automation" platform for the supply chain and logistics industry.
Black Girl Magic Museum (Mesquite)
The Black Girl Magic Museum is an "interactive cultural experience" aimed at highlighting the contribution of Black women and girls on society that's currently eying expanding into five more cities by 2024.
Vendorzs (Dallas)
An event management app aimed at pop-up and other events, Vendorzs' platform verifies event coordinators, allowing them to connect with vendors and manage them at events. Launched in 2020, founder Michelle Ochoa said the company has already amassed around 13,000 users.
One Step Wellness (Addison)
One Stop Wellness is a health literacy and employee engagement platform that helps employees track their chronic risk factors, while being incentivized for developing healthier habits. Employers are then given aggregated data on the wellness of their teams. The company's platform also offers a library of on-demand video classes on health and wellness.
DoTells (Frisco)
DoTells is looking to bring technology to the lost and found market with a branded set of tags with a QR code that can be attached to nearly any item. If someone finds a lost item and scans the code, they are anonymously connected to the owner to help facilitate its return.
Dallas Startup Week 2022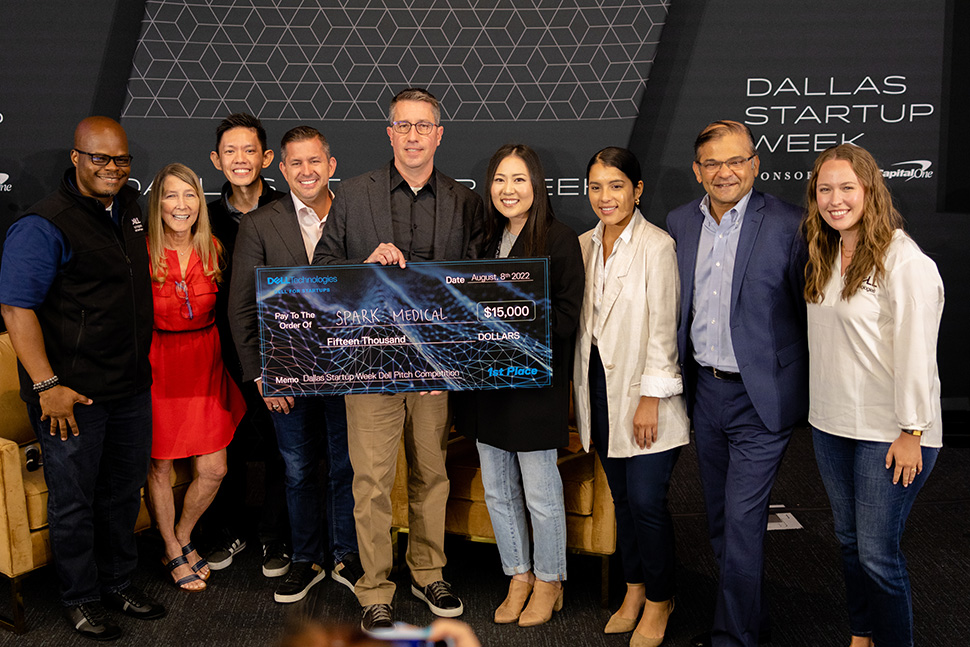 The Dell for Startups pitch competition capped of the beginning of the first day of sessions and summits at the eighth annual Dallas Startup Week—The DEC Network's flagship event that features more than 100 events and more than 200 speakers focused on driving entrepreneurial success, economic impact, and innovation.
Sponsored by Capital One, the event runs online and in-person at SMU's Cox School of Business through August 11, bringing together innovative leaders across sectors to support the growth and success of the startup community, creating the potential for partnerships and new opportunities, event directors say.

Get on the list.
Dallas Innovates, every day.
Sign up to keep your eye on what's new and next in Dallas-Fort Worth, every day.