ARIA STONE GALLERY WAS THE VENUE FOR THE "MIND-BLOWING" ART SHOW IN DALLAS
---
Exhibits fusing art and technology filled the Aria Stone Gallery Wednesday night as part of Digital Dallas' <Art/Code> event, which organizers called "mind-blowing."
Amid Aria Stone's slabs of natural stone, Dallas-area digital artists displayed their work, which ranged from 3D models and video installations to interactive experiences using social media or brainwave activity.
Event curator David Rodriguez, who also goes by Dr. Gorilla, said more than 260 people registered for the event.
For self-taught artist Paul Hammerquist, who turned to art as an outlet to escape drugs and alcohol, the pieces he crafted through a 3D printer were more than just plastic shapes and figures.
"This is my story. This is my life. This is why I am the way I am today," he said.
Further inside the Design District gallery, the sparkling images Jerod Davies and his brothers etched into upcycled television screens led many to stop and gaze.
"It's so simplistic, but so captivating at the same time," Kari Presswood-Perlman said of Davies' work.
Davies said his first TV etching of a plane hitting one of the twin towers came months after 9/11.
"I wanted to engrave that scene into a TV to where it's always playing that image since they [were] trying to burn it into our brains," Davies said.
The collection of TVs-turned-canvases on display Wednesday depicted a baby fetus, primate skeleton, human skeleton, and a man and women distracted by their cell phones during an embrace.
"It shows that life on this planet could be led astray by technology," Davies said.
Tucked in the corner away from the disc jockey's blaring tunes, Alex Garcia Topete allowed patrons to hear his musical piece using NASA data while Jeremy McKane challenged them to clear their minds in order to see particular images on a screen.
Eric Trich's work also immersed people into the art. Visitors waited in line for a turn to see their movements projected onto a five-wall mapping installation.
"They can manipulate stuff, they can change it, it's not like looking at a static painting," Trich said.
Melissa Gonzales was intrigued by Scott VanRavenswaay's exhibit, which featured a machine drawing a scanned photo with one continuous line.
"I want to create something, but I really don't have the time. I wish something could manifest itself by just thinking about it," Gonzales said.
<ART / CODE> ARTISTS DESCRIBE THEIR WORK
Barton Damer and his team from the studio Already Been Chewed displayed various digital illustrations, motion graphics, and 3D animation they have created for clients such as Nike, Dallas Mavericks, and Vans shoes. "Brands will often hire us to connect with pop culture," said Already Been Chewed business manager John Davidson. Read more about Already Been Chewed's work.
Jerod Davies believes he might have stumbled upon a new art form. Jerod and his brothers Joshua and Isaac spray painted old television screens and used a precision knife to etch images into its surface. The collection of TVs turned canvases depicted a baby fetus, primate skeleton, human skeleton, and a man and women distracted by their cell phones during an embrace. "The scratch is so thin, we are separating the red, green, and blue pixels into separate colors. That's how you are seeing all those diamond, twinkling colors all at once," Jerod Davies said.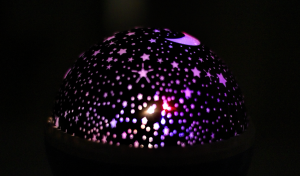 Alex Garcia Topete: Custom-made for this exhibit, Topete created a cosmic symphony using sounds from NASA. He described his work as a collision between art and science. "I feel even more accomplished that I've had musicians say, 'I thought this would sound mechanic but it sounds like music!'" Read more about Topete's work.
Paul Hammerquist learned 3D modeling, programming, and how to use Adobe Illustrator through the "university of YouTube." The pieces he crafted through a 3D printer to display were more than just plastic shapes and figures. "This is my story. This is my life. This is why I am the way I am today," he said.
James Lang: In its first exhibit, this visualization screen uses a camera with depth perception. Utilizing similar hardware as many video games, the display colors become more intense as objects get closer. The display was appropriately placed next to the music, as people moved around to see changing hues. "I've had a lot of people come up and dance."
Ryan McCutcheon: This artwork layers flat, 2-dimensional pieces to create a 3-D sculpture. The designs were displayed on a rotating surface with colorful lights to incorporate a digital element. "Each piece has some sort of meaning behind it. I don't always tell everyone what those meanings are because they see that and have their own interpretation." Read more about McCutcheon 's work.
Jeremy McKane used a headband that read brainwave activity for his digital art installation that raised awareness about the health of the ocean. Different prerecorded images would display on the screen based on the person's level of brain activity. "It's a video installation that shows trash in the ocean and it will always show trash in the ocean unless you are able to clear your mind and be in the present moment … When that happens, you get to see all these beautiful things the ocean has that's worth saving," McKane said. Read more about Mckane's work.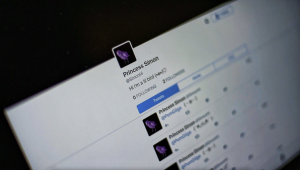 Lauren Maxwell featured an animated bird, who patrons could tweet to @SimonHi and receive responses back in bird emojis. If Twitter users, included a photo, the bird would wear the "pictures as a gown," "I wanted to provide something that's nonsensical and doesn't take itself too seriously," Maxwell said.
Darcy Neal: Anytime the word "love" is used on Twitter, this LED map shows the users' geographic location within the United States. At the time of the event many people were getting off of work, so the piece displayed a high level of activity. "The purpose behind the piece is because there is so much tension going on in the world, just with political risks and our heightened awareness of violence, this serves as reminder to show people there are still a lot of positive things in the world. There is still love, there is still good intentions." Read more about Neal's work.
Kris Swenson: Created in only two weekends, this display includes a bust statue accessorized with feathers, ribbons, and other organic items. Swenson is primarily a filmmaker, and the work is illuminated by a moving image from a projector. "I like anything natural. I like how that was a part of something and I found it on the ground. I don't know what it's for but it felt important."
Projekt202: Guests captured memories by posing for Projekt202's Command Line photobooth. The Addison-based software design/development and consulting company collaborates with clients like Southwest Airlines and Neiman Marcus. Photobooths are a hit at any social event, but Projekt202 put a technical spin on the activity by using a command-line interface. The captured images are automatically posted to Twitter. "We took the concept of the Photo Booth, and said, 'Let's use something really nerdy like the command line." Developer Chris Williams said: "People like how hacky it is."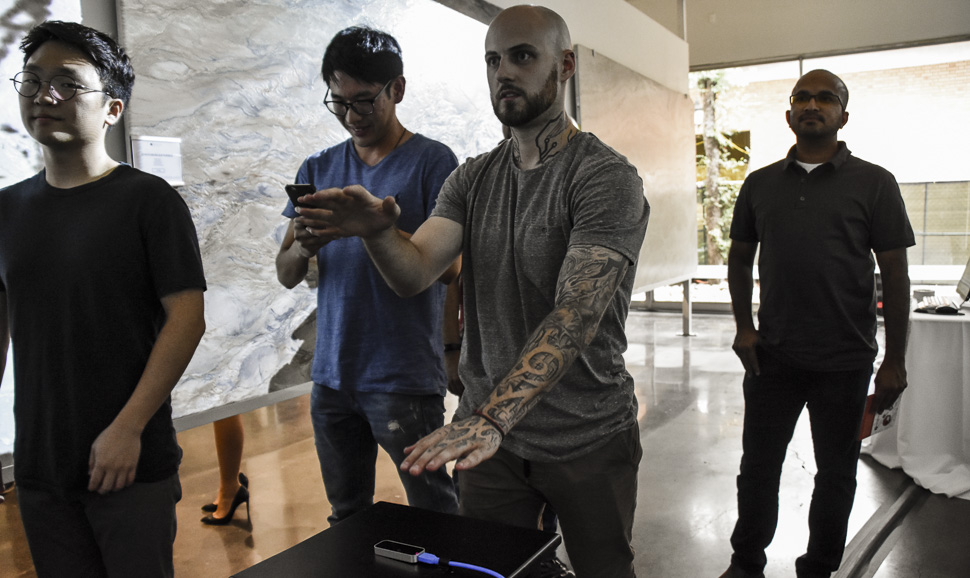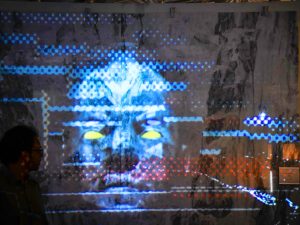 Eric Trich: This interactive projection mapping installation is spread over five walls, all mapped accordingly. Users engaged with a motion camera sensor that picks up on their joints and generates a 3-D model. Movement is translated onto the walls, showing particles flowing in either direction. "I think people are intrigued by things that they can interact with. They can manipulate stuff, they can change it, it's not like looking at a static painting." Read more about Trich's work.
Scott VanRavenswaay: In its debut appearance, this hanging work utilizes the same CNC machine technology used for laser cutters. A vector image, in this case, a picture of Frankenstein's wife, is translated to the motors in a single-line drawing. These drawings use a mathematical algorithm to move in a continuous line that never crosses and creates an image. "I will sometimes stand here for, like, 40 minutes and just watch the whole thing. Each time is different, it hypnotizes me."
Look for a photo gallery on the exhibit tomorrow on Dallas Innovates.
Amanda Hayes contributed to this report.
---
For a daily dose of what's new and next in Dallas-Fort Worth innovation, subscribe to our Dallas Innovates e-newsletter.