Whether you're a founder looking to scale or get a company off of the ground, many rely on the help of outside funding to make it happen.
To help aspiring entrepreneurs, Wen Zhang, founder and CEO of the INNW Institute, hosted a session at Dallas Startup Week aimed at helping leaders hone their pitches when approaching venture capitalists and other investors.
"Remember, we are just one pitch away from changing the world," Zhang said at the event. "It's our job as a founder, as a co-founder to show people the world that we are seeing."
Three-part pitch
A mentor for TechStars Austin, Capital Factory, and MassChallenge, Zhang simplifies the short pitch into three sections: problem, "magic solution," and impact.
Zhang says it's important to have a story that personalizes who the company's target audience is, what problem the company is solving for that population, and why that needs to be addressed. When addressing solutions, Zhang notes that it's important to describe how a company will tackle an issue using plain language that anyone can understand. And when summarizing the impact the company will have, she said it's important to address not only the functional impact it will make, but talk about it in emotional terms.
"Does this help me make more money? Does this help me save more money? Is this part of something bigger in the community, for the family. Or does it help me become more skinny, more tall, more healthy, or give me more freedom to enjoy this whole world," Zhang said. "Give me a specific—emotionally—to why a customer wants to get to you."
While making these pitches, Zhang stressed it's important to form a connection with your audience that helps create further dialogue and conversation. Tailor the pitch depending on who is on the other side of the table, she advises.
"At the end of the day, how do you build trust with investors? It's a long conversation back and forth," Zhang said. "We are all wired to listen to stories. No one wants to be sold something but we love to buy."
What investors want in a pitch deck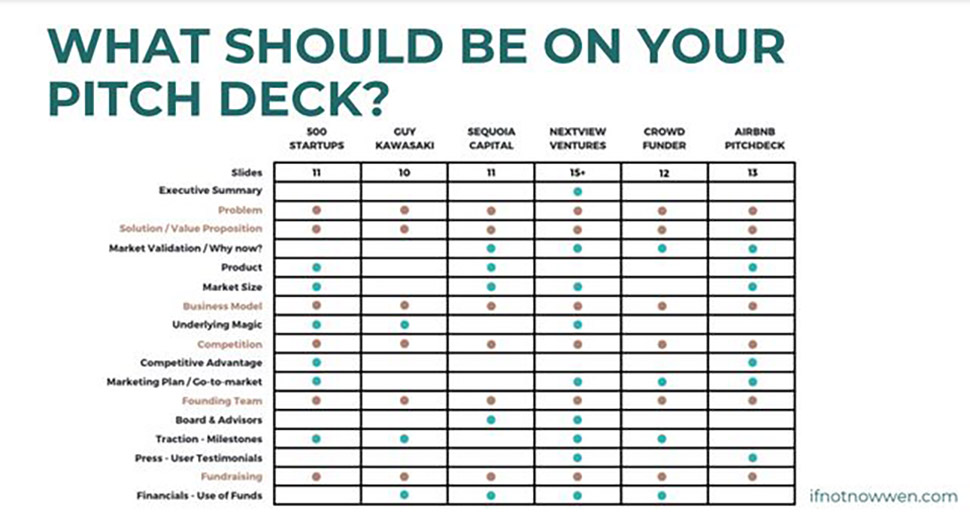 Though VC firms, angels, and other investors all have their own unique things they look for in a pitch deck, Zhang shared the main things that names like 500 Startups, Sequoia Capital, and Nextview Ventures look for in companies pitching to them. Those include problem identification, solution and value proposition, business model, competition, information on the founding team, and fundraising efforts.

Get on the list.
Dallas Innovates, every day.
Sign up to keep your eye on what's new and next in Dallas-Fort Worth, every day.