ANCIENT HUNTER GATHERERS CREATED NETWORKS TO MINIMIZE INBREEDING
At least 34,000 years ago, human hunter-gatherer groups minimized inbreeding by developing sophisticated social and mating networks.
That's according to a new study conducted by an international team of academics that included Southern Methodist University archaeologist David Meltzer. The team was led by the University of Cambridge in the United Kingdom, and the University of Copenhagen in Denmark.
Meltzer's expertise includes the First People in the Americas, according to SMU. He is Henderson-Morrison Professor of Prehistory in SMU's Department of Anthropology in Dedman College.
The study sequenced the genomes of individuals found at an ancient burial site in Russia.
The team discovered that individuals were, at most, first cousins, which showed that they had developed sexual partnerships beyond their immediate social and family group, SMU said.
Ancient genomics shed light on aspects of social life among early humans, and the results pave the way for further studies to explore variation in social and demographic strategies in prehistoric societies, according to SMU.
"This study takes us a step further toward pinpointing when and why the things that make humans unique evolved,"  Robert Foley, a professor at the University of Cambridge, said.
You can find out more about ancient humans and the study here.
---
UTSW RESEARCHERS: MOLECULE CAN PREVENT BREAST CANCER GROWTH 
A first-in-class molecule can prevent breast cancer growth after other therapies have stopped working, researchers at the UT Southwestern Simmons Cancer Center have discovered.
What are first-in-class drugs and how do they work?
In the case of this research, it's a molecule that takes aim at a protein on the estrogen receptor of tumor cells, and the potential drug offers hope for patients whose breast cancer has become resistant to traditional therapies, according to UTSW.
"This is a fundamentally different, new class of agents for estrogen-receptor-positive breast cancer."
Dr. Ganesh Raj
"This is a fundamentally different, new class of agents for estrogen-receptor-positive breast cancer," said Dr. Ganesh Raj, professor of urology and pharmacology at UT Southwestern's Harold C. Simmons Comprehensive Cancer Center. "Its unique mechanism of action overcomes the limitations of current therapies."
According to UT Southwestern, all breast cancers are tested to determine if they require estrogen to grow, and roughly 80 percent are found to be estrogen-sensitive.
While those cancers often can be treated with hormone therapy, as many as a third of them become resistant over time.
Raj said the new compound potentially is an effective, next-line treatment for those patients. Discover more about the treatment possibilities here.
---
UTD RESEARCHERS LOOK AT VAGUS NERVE TREATMENT FOR PTSD
Post-traumatic stress disorder can create debilitating mental anguish and anxiety, and researchers at the University of Texas at Dallas are investigating how mild stimulation of the vagus nerve could help improve its symptoms.
That vagus nerve stimulation already is being used to treatment such disorders as epilepsy and depression, according to the university.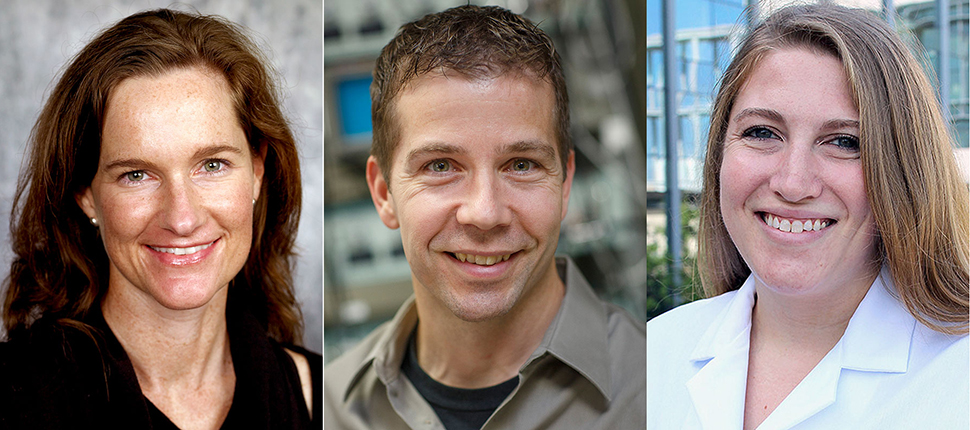 Christa McIntyre, Michael Kilgard, and Lindsey Noble of the University of Texas at Dallas. [Photos courtesy of UTD]
The vagus nerve controls the parasympathetic nervous system which influences an array of critical body functions such as slowing the heart rate and digestion.
UTD said the system's effect on memory is key to the study, because researchers theorize it can help those with PTSD learn to overcome fear responses during non-threatening situations.
Christa McIntyre, associate professor of neuroscience in the School of Behavioral and Brain Sciences, is lead author of the study that was publish in the journal, Translational Psychiatry. Doctoral student Lindsey Noble is lead author and Michael Kilgard, professor of neuroscience, is an author. Learn more about the study here.
---
CHILDREN'S MEDICAL RESEARCH INSTITUTE GETS $12M GIFT
The Moody Foundation of Galveston has awarded a $12 million gift to the Children's Medical Research Institute at UT Southwestern Medical Center. 
The gift will help researchers at the institute to take "big risks" with their research to better understand pediatric diseases, The Dallas Morning News reported.
"But if you don't test those ideas, we will never have transformative findings." 
Dr. Ralph DeBerardinis
The newspaper said the award includes an immediate $5 million to create an endowment for a new faculty scholar, as well as $700,000 a year for at least a decade in support of the institute's research.
"A lot of creative ideas never end up being relevant to human disease," Dr. Ralph DeBerardinis, who will be the first person to hold the new title of Robert L. Moody Sr. Faculty Scholar, told the Morning News. "But if you don't test those ideas, we will never have transformative findings."
The institute was create in 2011 as a joint venture between Children's Health and UT Southwestern.
Feature photos (from left) via Libor-Balák/SMU, UTSW, and Professor25/istockphoto.

Get on the list.
Sign up to keep your eye on what's new and next in Dallas-Fort Worth, every day. 
And, you'll be the first to get the digital edition of our new Dallas Innovates magazine: 
The annual edition publishes in January