Across North Texas, companies are promoting and hiring people to take on leadership positions within their organizations. Dallas Innovates covers prominent personnel moves in Dallas-Fort Worth businesses and nonprofits—from the newest startups to well-established companies. Here are people moves tied to innovation and technology in the region.
Don't miss a move: Get Dallas Innovates Every Day. Have a move? Let us know.
Bob Gamgort is named as the executive chairman of the board at Keurig Dr Pepper
Coffee and beverage giant Keurig Dr Pepper has announced that its Board of Directors has elected CEO Bob Gamgort as the executive chairman of the board, effective immediately.

The appointment follows the news that Bart Becht would be stepping down from the Board in conjunction with his retirement from KDP's controlling shareholder, JAB.
Since May 2016, Gamgort has been CEO of Keurig Green Mountain, Inc., where he led the company's transformation and subsequent merger with Dr Pepper Snapple Group. Keurig Dr Pepper, which is headquartered in Plano, was created on July 9, 2018, with Gamgort at the helm. He has vast experience in the industry, and is also a director of Wayfair Inc. and the Grocery Manufacturers Association.
The KDP Board of Directors also appointed Fabien Simon, JAB's recently named Partner and Chief Financial Officer, as a director, assuming Mr. Becht's seat on the KDP Board. Mr. Simon most recently was CFO of Jacobs Douwe Egberts ("JDE"), where he led the company's M&A strategy and helped oversee the integration of the coffee business of Mondelez into Douwe Egberts to create JDE.
Fabien Simon, JAB's recently named partner and CFO, has also been appointed a director by the KDP Board. Simon will assume Becht's seat on the Board.
Fujitsu Network Communications announces new President and CEO, Doug Moore
Richardson-based Fujitsu Network Communications, Inc. has named a new president and CEO, Doug Moore, to replace Mikito Kiname. Kiname has accepted the position of president and CEO with Fujitsu America, Inc.
"At Fujitsu, we are committed to delivering the highest quality solutions and services to network service providers and enterprises worldwide," Moore said in a statement. "I look forward to building on the success we have achieved to date as a leader in networking solutions and optical transport technologies."
Moore has been with Fujitsu since 1996 in a variety of roles, having most recently served as executive vice president and chief operating officer of Fujitsu Network Communications. He has served as chairman of the board of directors for the Metroplex Technology Business Council, according to a press release, and he also holds a U.S. Patent in telephone technology.
Six employees promoted to managing director at Accenture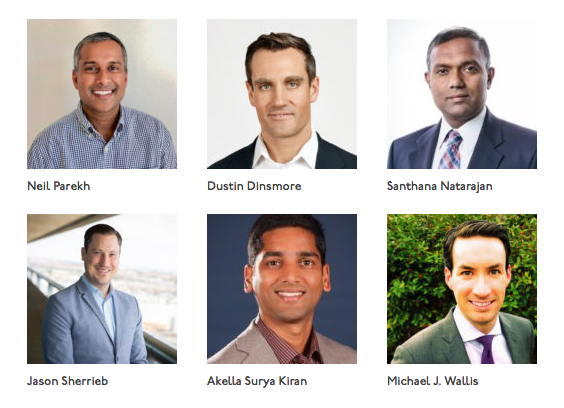 Recently, Accenture announced the promotion of multiple employees to the partner-level position of managing director.
Accenture, which has North Texas operations in Irving, is a global professional services company that provides a variety of services in strategy, consulting, technology, digital, and operations. 
The new promotions included:
Dustin Dinsmore, Managing Director, Retail Technology Consulting, Accenture
Santhana Natarajan, Managing Director, Accenture Technology
Neil Parekh, Managing Director, Accenture Strategy
Jason Sherrieb, Managing Director, Travel Practice, Accenture
Akella Surya Kiran, Managing Director, Product Operating Group, Accenture
Michael J. Wallis, Managing Director, Accenture Consulting
ZeOmega appoints new chief nursing officer, Sandra Hewett
ZeOmega—a Plano-based industry leader established to deliver its leading population health management platform, Jiva—has appointed Sandra Hewett as its new Chief Nursing Officer.
Hewett joined ZeOmega in 2012 with 25 years of experience in healthcare. Since becoming a member of the team, ZeOmega says Hewett has taken the lead on developing clinical assessment protocols to improve the management of chronically ill patients. To help improve clinical and financial outcomes, she has also executed an integrated set of clinical rules that drive identification and stratification of population
ZeOmega calls her a "CNO to watch."
"Sandra offers the kind of purposeful leadership that can only be inspired by living and breathing a life in the healthcare trenches," Co-Founder, President, and COO Sadananda 'Sada' Babu Rai said in a statement.
In her new role as CNO, Hewett will plan and direct the development, use, and interpretation of Jiva's clinical content and intelligence, and help to strategically plan ZeOmega's PHM and value-based care solutions.
Tailwater Capital promotes four of its team members

Energy-focused private equity firm Tailwater Capital LLC has announced four promotions that became effective Dec. 15: Joel Fry, Scott Peters, Clark Hudnall, and Tanner Newton.
"These promotions reflect the depth of our talent and Joel, Scott, Clark and Tanner have made significant contributions to the growth and development of Tailwater," Edward Herring, co-founder and managing partner of Tailwater, said in a statement.
"We are pleased to recognize their performance, professionalism, and dedication through these well-deserved promotions and we look forward to continuing to deliver value to our investors and capitalize on the opportunities ahead."
Joel Fry, who's been with Dallas-based Tailwater since 2014, has been promoted to partner. The firm said Fry was instrumental in its early stages and subsequent growth.
Scott Peters has been promoted to vice president and E&P portfolio manager, where he will manage Tailwater's non-operated upstream investments. Peters has been with the firm since 2013. Clark Hudnall and Tanner Newton have both been promoted to senior associate. Both are responsible for evaluating, executing, and monitoring Tailwater's investments. Hudnall has been with the firm since 2016, and Newton since 2017.
Beth Landry joins Caregiver as president of operations in select states
The president and CEO of Caregiver, Inc., Mark Lashley, has announced Beth Landry as the new president of operations for the newly acquired businesses in Indiana, Tennessee, and Ohio.
"Caregiver, Inc. has grown significantly outside of Texas in 2018," Lashley said in a statement. "We needed a top executive to lead and integrate our recently and newly acquired businesses, especially as we anticipate acceleration of acquisitions throughout 2019."
Fort Worth-headquartered Caregiver is a provider of a wide range of care services to adults with intellectual or developmental disabilities. Lashley said Landry will bring exceptional leadership skills to the organization during a time of growth and expansion.
Most recently, Landry served as senior vice president of Seniorlink, a Boston-based provider of adult programs that support caregivers and keep loved ones at home. While there, according to a press release, Landry was responsible for over $130 million in revenue and 375 employees across seven states.
Hyphen Solutions announces new VP of customer relationship management
Danny Forbes has joined Hyphen Solutions as the new vice president of customer relationship management, bringing with him over two decades of experience in residential SAAS software.
Dallas-based Hyphen Solutions is a leading provider of cloud-based construction management software, serving over 12,000 companies with its Home Builder and Supply Chain platform.
Hyphen has finished repositioning a new design center application for its Pharaoh and BRIX clients, according to a press release. Available in early 2019, the new design includes an updated user interface that will provide Hyphen customers with a more efficient way to work with home buyers.
In his new role, Hyphen says Forbes will be instrumental in heading the CRM delivery of experiential features and functions that are designed to give home buyers flexibility and offer home builders' sales and marketing teams easy use and automated workflows.
"Hyphen is delighted to bring on Danny Forbes to support the Pharaoh and BRIX user experience," said Dr. Felix Vasquez, CEO, in a statement. "Our forward-thinking approach and dynamic cloud-based products make for innovative solutions for our clients. Danny Forbes' industry expertise will extend our solutions footprint and generate tremendous benefits to the entire supply chain, providing the top CRM system in the industry."
Lane Cates is named as Equest's new chairman of the board
Dallas-based nonprofit Equest has announced that Lane Cates will serve as the chairman of the board, replacing Andy Steingasser, who held the position for the past three years.
Cates, a native Dallasite, is currently the general counsel and chief compliance officer of a medical billing company, Abeo Management Corporation. Cates's passion for horses led her to Equest, where she's volunteered since 2006 and been a board member since 2016.
"I part with confidence and comfort in Lane to guide Equest into a strong future," Steingasser said in a statement. "Lane's leadership skills combined with her experience as a program volunteer and board governance committee chair will be valuable assets in the continued sustainability and growth of Equest in Southern Dallas and beyond."
Founded in 1981, Equest provides equine services—like assisted learning, therapies, and counseling—to enhance the quality of life for children and adults with diverse needs.
Communities Foundation of Texas gets new board members and chair-elect

To continue growth, CFT announced three new members of its board of trustees, and named a new board chair-elect.
The trustees are Matrice Ellis-Kirk, Gunjan Jain, and Debra Brennan Tagg, and the chair-elect is Alfreda Norman. President and CEO Dave Scullin said that as Communities Foundation of Texas continues to expand its positive impact, the new board members will provide the fresh perspective that's necessary.
Read more about the newly appointed members on Dallas Innovates.
---
READ NEXT
DI People: RealPage, Istation, One Technologies Announce Leadership Additions

Get on the list.
Dallas Innovates, every day.
Sign up to keep your eye on what's new and next in Dallas-Fort Worth, every day.