Mangoceuticals Inc., a Dallas startup that sells a mango-flavored drug for erectile dysfunction, is hoping its initial public offering will put some lead in its pencil for future growth.
The company opened for trading on Nasdaq Tuesday morning under the ticker symbol MGRX, raising $5 million after offering 1.25 million shares at $4 per share. The sole managing underwriter for the offering was Boustead Securities LLC of Irvine, California.
The opening results, the company said, gave it a market cap of more than $60 million. Mangoceuticals shares closed at $4 per share following its IPO. During its first trading day, the stock's price swung between a high of $4.37 per share and a low of $2.96 per share.
Jacob Cohen, Mangoceuticals' CEO and co-founder—along with Jonathan Arango, who serves as president—said the IPO proceeds would be used for expanding the company. That will include roughly doubling its workforce, to about 20, over time.
A Telemedicine Solution for ED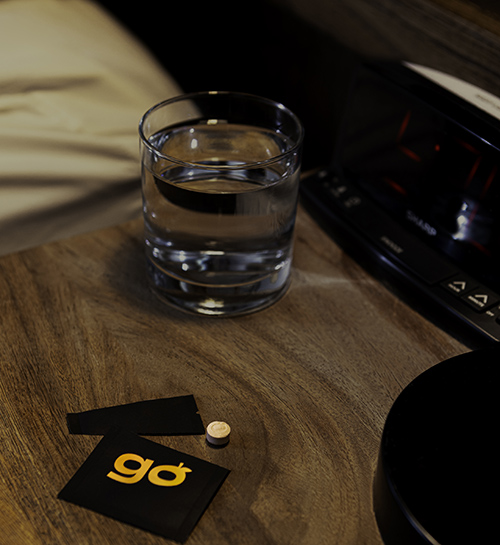 Founded in 2021, Mangoceuticals says it's focused on developing, marketing, and selling a number of men's health and wellness products, including the ED drug, via a secure telemedicine platform.
The ED product, called Mango—"think 'Man Go,' the company quips—is a mango-flavored compound drug including Tadalafil (the key ingredient in Cialis), Oxytocin (which "gives you more of a warm and cuddly feeling with your partner," Cohen said), and L-Arginine (an amino acid that promotes blood flow).
The product is a Rapid Dissolving Tablet that's placed under the tongue to hit the bloodstream "quicker, for faster results," Mangoceuticals claims. Other companies also sell so-called sublingual disintegrating tablets for ED, but the unique mango flavoring of the Dallas startup's product—"Just like you plucked it from a tree!"—sets its offering apart, Cohen said.
Widening the net for ED marketing
Mangoceuticals also is attempting to distinguish its offering with colorful packaging and a humorous marketing approach aimed at younger people.
"Over the last 10 years, ED has seen a lot bigger rise in the younger demographic, whether that's due to stress, or because a lot more of the younger population is on other types of drugs now—anti-depressants, or hair loss drugs—as a side effect of ED," Cohen said. "We're trying to widen the net in our marketing approach and take the stigma out of ED."
A study published in the journal Sexual Medicine in 2018 said erectile dysfunction affects one-third of all men, and its prevalence increases with age.
Down the road, Mangoceuticals will look to launch other products in the men's health and wellness space, Cohen added. Among the possibilities are offerings for anti-aging, hair and weight loss, stress relief, and hormone therapy, he said.

Get on the list.
Dallas Innovates, every day.
Sign up to keep your eye on what's new and next in Dallas-Fort Worth, every day.