Alto, the Dallas-based luxury rideshare startup, is known for rolling out "art cars" in Dallas and the six other U.S. cities where it operates. Now it's introduced a new one in Dallas with its newest partner, Wildlike.
Wildlike founder Alysa Teichman mashed up the tattoo/piercing culture with an "elevated jewelry experience" when she launched her company last year.
"Whenever we collaborate with a brand, we first look at their customer journey, as we want to make sure brands we partner with prioritize the highest quality customer experience," Alex Halbardier, Alto's chief customer officer, said in a statement. "We love the creativity that's bursting out of Wildlike, so when we were looking for our next Art Car partner, Widlike was the perfect match."
The Alto/Wildlike art car collab features a nod to Wildlike elements, including some of its signature earring motifs.
Rides come with Wildlike scratch-off tickets
In addition to the wrapped vehicle, Alto is also including Wildlike scratch-off tickets in each car, with the chance for riders to win "thousands of dollars in diamonds and jewelry." Each ride comes with one scratch off, with a $2,500 "Golden Ear" prize as the top reward.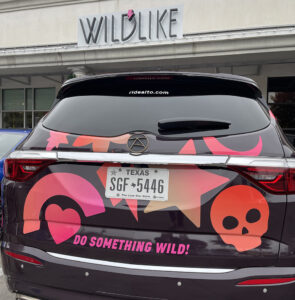 "I use Alto often as my preferred rideshare, so I'm proud to place my brand's imaginative and joyful spirit on the vehicle," Teichman said. "I'm excited to see people post on social media when their Alto shows up and they experience a happy surprise that it's the Wildlike/Alto art car. We have one wild prize that someone very lucky will get to experience, and I just can't wait to have the opportunity to welcome some new faces to Wildlike."
Wildlike has Booker T. Washington High School connections
Inside Wildlike's store at 4218 Oak Lawn Avenue is a mural created by a student from Dallas' Booker T. Washington High School for the Performing and Visual Arts. The brand says it has supported Booker T. Washington in a variety of ways, and often holds giveback events for multiple charitable endeavors.
Alto hit 1 million rideshares recently
In late November, Alto announced it had hit the 1 million mark in its number of rides across the U.S. And last June, it detailed its plans to move into a new 16,000-square-foot headquarters at 141 Manufacturing St. in the Dallas Design District
Founded in 2019, Alto is now operating in six different cities: Dallas, Houston, Los Angeles, Miami, Washington, D.C., and San Francisco.
The company differentiates itself from other gig-based rideshare companies like Uber and Lyft by owning its own fleet of luxury vehicles and managing its own W-2 employee drivers. Besides "rethinking an inconsistent, gig-based industry," Alto also aims to be the first 100% electric ridesharing service, with a fleet of 3,000 EVs planned by the end of 2023. 
A look at some other Alto art cars
Alto has had creative collaborations with a long list of artists including Gray Malin, ReagArt, David Yarrow x Thompson Hotel, Maggie O'Neill, Agnieszka Pilat, Alli K Design, Shelbi Nicole, Sara Schroeder, Michelle Robinson, Marpohl, and Lela Rose. Other collabs include the American Heart Association, Rise School of Dallas, Toys for Tots, and Susan G Komen. Scroll down for eye candy.

Get on the list.
Dallas Innovates, every day.
Sign up to keep your eye on what's new and next in Dallas-Fort Worth, every day.