After receiving his Master of Education degree from Notre Dame, Dallas native Gunnar Rawlings came home and began to lay the groundwork for Dallas' first Cristo Rey high school. Spanning 19 states, the Cristo Rey Network consists of 30 Catholic high schools with student populations comprised of youth from low-income backgrounds. Since 1996, more than 20,000 students have been impacted by the Cristo Rey Network's unique blend of rigorous academics and professional work experience. 
Following a successful two-year application process with the national Catholic high school network, Rawlings and a team of committed educators and volunteers officially opened Cristo Rey Dallas in July 2015. "We were determined to create an environment where students take ownership of their lives," says Rawlings, who served as feasibility study coordinator for Cristo Rey Dallas, prior to the school's opening.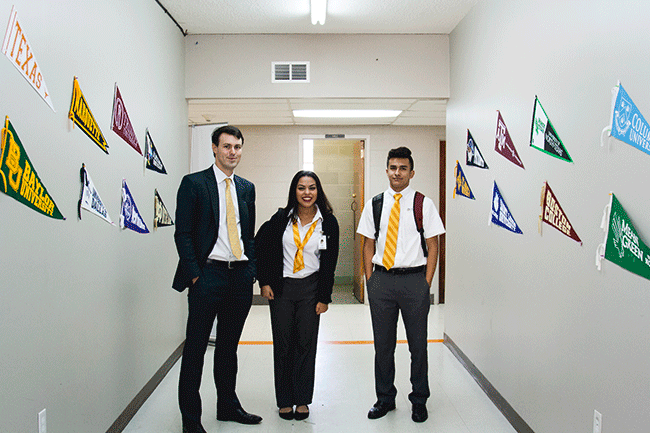 "Expectations are very high," Gunnar Rawlings says, "but we believe we've created an environment where our students are loved and supported." 
Located in the Pleasant Grove area of Southeast Dallas, Cristo Rey Dallas' inaugural class is made up of 126 ninth-grade students who come from 21 ZIP codes and reflect the demographics of the school's surrounding neighborhoods. Like its national network, Cristo Rey Dallas exclusively serves students living near or below the federal poverty line. But that does not mean faculty or staff lower standards. "Expectations are very high," Rawlings says, "but we believe we've created an environment where our students are loved and supported." 
Nationally, such expectations have produced impressive results for Cristo Rey: the college completion rates for its 2008 high school graduates is twice that of low-income high school graduates, while 88 percent of Cristo Rey students who graduated in 2013 have enrolled in college. 
Corporate Work-Study Program
The power behind Cristo Rey's model is its combination of a Catholic, college-preparatory education and a corporate work-study program.
Prior to the actual school year, Cristo Rey high schools hold what they refer to as "Viva," a three-week program that teaches students the professional skills they'll need to work in a corporate setting.
"Students are taught everything from how to use a copy machine and use a spreadsheet, to the importance of looking someone in the eye while speaking," Rawlings, who today serves as the Director for Cristo Rey Dallas' Corporate Work-Study Program, and whose father, Mayor Mike Rawlings, has focused on education reform.
After "Viva," Cristo Rey students are then placed with a leading corporate partner for whom they will work a full day, five times a month.
In addition to providing early experiences in a professional setting, corporate partners like PwC give Cristo Rey $32,000 ($8,000 for each of the four students provided annually) to support the education of its student body. AT&T, Hunt Oil Company, United Way of Metropolitan Dallas, and PwC are among 32 of DFW's leading corporations and organizations that have already partnered with Cristo Rey Dallas.
"While this is our first year, Cristo Rey Dallas is proud to have partnerships with 32 top companies across DFW," Rawlings says. "We send our kids to work in corporate America to earn their tuition."
One kid earning his tuition through the program is 14-year-old Martin Najera-Vega. Martin and his family first heard about Cristo Rey Dallas while attending their church in Pleasant Grove. The corporate work-study program sold them on the new school. "My mom said we should try [Cristo Rey Dallas] because it's more real-world, career experience for you and that not a lot of kids get that experience," Martin says.
Every Wednesday and one Friday a month, Martin gets on an 8 a.m. bus that heads from school to PwC in downtown Dallas. Dressed in a white collared shirt adorned with a yellow tie, a blue blazer, khaki pants, and nice shoes (Cristo Rey Dallas' standard uniform), Martin arrives and takes an elevator to the 17th floor of the Trammell Crow Center, where PwC is located. He then sits down at his cubicle and gets to work.
Read Cheryl Hagan's full-length interview on how the program is preparing students to be the leaders of DFW here.
Cheryl Hagan, PwC's market administrative leader for the North Texas market who oversees the company's corporate work-study partnership, has witnessed how the program develops students' professional skills. 
"The students are wide-eyed when they get here, and within four to six weeks, they are more confident and feel like they know people," Hagan says.
Martin echoes Hagan's observation, adding, "I was really nervous at first, but now I feel like I'm learning what it is really like in the work place."
PwC's Financial Literacy Program
PwC looks at their partnership with Cristo Rey Dallas as a way to give back to students.
"Cristo Rey provides the opportunity for young people to get a quality education through a college-prepatory, work-study program so that they can reach their potential and be contributing members of our society. They are a strong partner with us, and PwC is proud to be a founding supporter of greater Cristo Rey's first school in Dallas," says Scott Moore, PwC's market managing partner for the North Texas market.
Guided by that belief, PwC created and implemented a shadow program as an additional component of the corporate work-study experience the firm provides.
This program helps me think of my future," says Martin, a freshman at Cristo Rey. "I want to go to college and be an engineer. I want to set an example for my brothers."
Through PwC's shadow program Martin—and his three peers who also work at the firm—are given the opportunity to spend time with experienced professionals across many of the company's specialty areas, and learn about how they prepared for their careers.
"When we started the shadowing program, our main goal was to expose the students to as many professionals as possible to show that with hard work and education, they someday can be successful and improve their situation," says Joel Francia, experienced tax associate, who oversees the program along with PwC senior tax associate Caitlin "Caty" Lively.
The program also teaches financial literacy. As high school freshman, Martin and his peers learn about topics ranging from insurance, savings, and risk to paying for college and balancing one's personal finances. They're also learning about leading by example. "This program helps me think of my future," Martin says. "I want to go to college and be an engineer. I want to set an example for my brothers."
---
For a daily dose of what's new and next in Dallas-Fort Worth innovation, subscribe to our Dallas Innovates e-newsletter.