A new pharmaceutical business in Fort Worth is working to develop an advanced cancer treatment based on nanoparticles that are injected directly into tumors.
NanOlogy was formed by Fort Worth-based private investment and development group DFB Pharmaceuticals in cooperation with two other companies — CritiTech and US Biotest.
The partnership will finance and develop what it calls a breakthough technology platform that produces unique, patented, "naked" nanoparticle forms of chemotherapy drugs paclitaxel and docetaxel that can be delivered with greater efficacy and safety to treat cancer and other serious diseases, DFB said in a release. The 400x reduction of cancer drugs into nanoparticles is like reducing a basketball to the size of a pinhead. 
THE NANOPARTICLES RELEASE SLOWLY OVER 4 WEEKS
NanOlogy said that it has developed sterile suspension forms of NanoPack (nanoparticle paclitaxel) and NanoDoce (nanoparticle docetaxel) designed to be injected directly into cysts, peritoneum, and other body cavities, where they remain and slowly release for four weeks.
An inhaled form of NanoPac also has been developed.
NanOlogy said a topical form of of nanoparticle paclitaxel has been developed by its affiliate, DFB Soria.
The Fort Worth Business Press described the development as a complex, but still relatively simple concept.
The publication said that chemotherapy drugs used for injections are too thick and must be cut with a solvent to more readily flow in a blood vessel.
"Because the toxicity of the both the drug and the solvent, the body can only take it every week or 10 days or something like that."
Paul Dorman
The medicines and solutions currently used to carry the medicine into a patient's body are toxic, and NanOlogy Chairman and CEO Paul Dorman told the Business Press that toxicity limits treatment.
"Because the toxicity of both the drug and the solvent, the body can only take it every week or 10 days or something like that," Dorman told the Business Press.
He said the kidneys and the liver immediately begin to eliminate this new toxin introduced as a treament.
To work effectively, the drugs need time, he told the Business Press.
"So you're limited as to how much you can put in by the amount your body will tolerate, and you're limited to how long it stays in your body before it filters out," Dorman said. "But it takes a certain level of it to kill the tumor, which they call the therapeutic level. So, you're only at therapeutic level about six to eight hours."
He said that nanoparticles generally require coating agents to keep them stable, but that NanOlogy's nanoparticles are stable in their naked form.
NANOPARTICLES ARE DELIVERED IN STERILE SALINE
Dorman said that because the nanoparticles are microscopic solid particles, they can be put in sterile saline, put in a syringe, and injected directly into a tumor.
He said the drugs don't circulate in the body and the liver and kidneys don't remove them.
"Because they're solid particles, they dissolve over time," Dorman said. "It takes about four weeks for the small particles to fully dissolve — each particle has something like 2.5 billion molecules of drug in a nanoparticle — and I'm putting thousands and thousands, hundreds of thousands of nanoparticles into the tumor."
Dorman told the Business Press that the company has been doing tests on humans and now is in Phase Two testing for "five or six different cancers."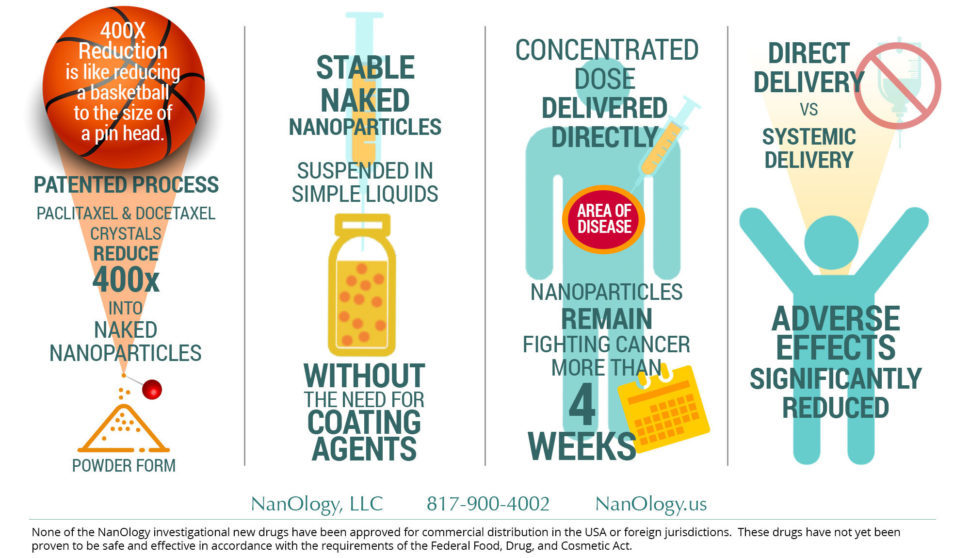 ---
Dallas Innovates, every day
One quick signup, and you'll be on the list.