Most cars that pull into a 7-Eleven need a big gulp of gas—with only 14 of the company's stores nationwide offering charging ports for electric vehicles. Today's electrifying news: Irving-based 7-Eleven, Inc., is undertaking a "massive installation project" to help power up EVs, with a goal of building at least 500 direct current fast-charging (DCFC) ports at 250 U.S. and Canada stores by end of 2022.
The expansion will give 7-Eleven one of the largest, most compatible fast-charging footprints of any U.S. retailer, the company says.
"7-Eleven's legacy is bringing convenience to the customer, and that continues to evolve—from ice on a dock in 1927 to electricity for your car today," said President and CEO Joe DePinto in a statement. "7-Eleven's rapid expansion of EV charging ports across the country is good for our customers and our planet and it's the right thing to do."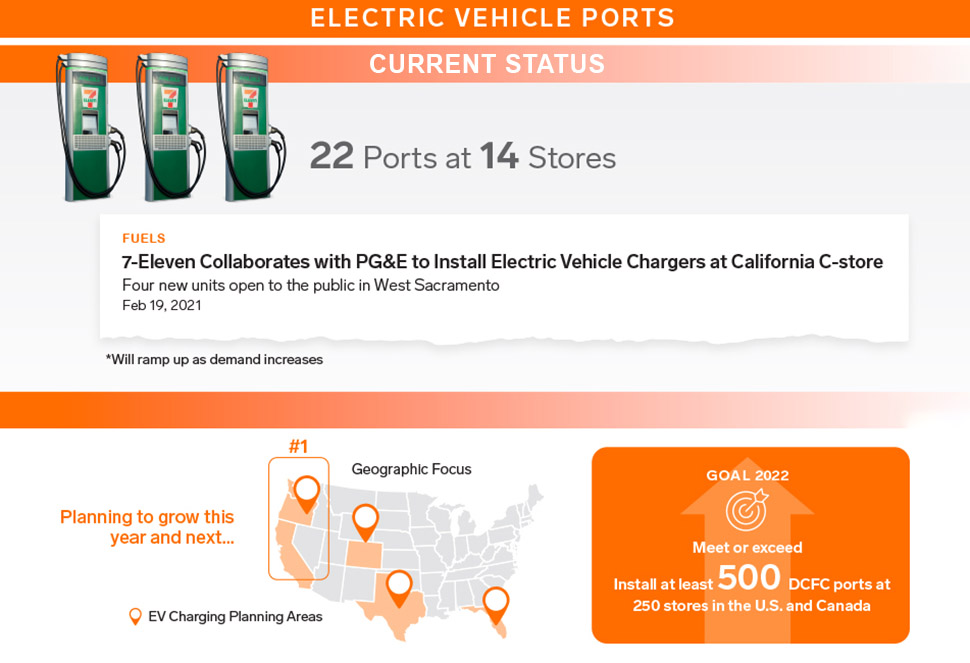 The need for DCFC ports is driven by electric vehicles starting to take center stage, according to 7-Eleven. As more automakers release EV innovations and consumer demand increases, the retailer saw the opportunity to host accessible, convenient EV charging. The DCFC ports will be owned and operated by 7-Eleven, and should increase charging options for EV drivers. 
Committed to a sustainable future
Expanding its DCFC offering is just one of a number of 7-Eleven environmental initiatives dedicated to making "a meaningful difference in our communities and for the planet." Since it's uniquely positioned as a leading chain, 7-Eleven said it wants to accelerate its ambitions of doing good via a three-pronged commitment to responsible retailing in the convenience industry.
As the company puts it, "we're just getting started."
7-Eleven's approach focuses on people, products, and the planet. So far, the company has donated more than $10 million to 1,400-plus organizations that have helped to provide 10 million meals through Feeding America. 
Another mission to help the planet: tackling climate change.
7-Eleven doubles down on C02 reduction
7-Eleven recently "doubled down" on its commitment and pledged to reduce its C02 emissions 50 percent by 2030. To help fight climate change, the company had earlier planned to achieve a 20% reduction in CO2 emissions by 2027. But it achieved that goal eight years early in 2019, so it has raised its target. Already, its current CO2 reductions equals the carbon sequestered by more than 349,000 acres of U.S. forests in one year, the company said.
The moves are in alignment with Green Challenge 2050, Seven & I Group Environmental Commitment.
"We are committed to the communities we serve and to working toward a more sustainable future," DePinto added in the statement.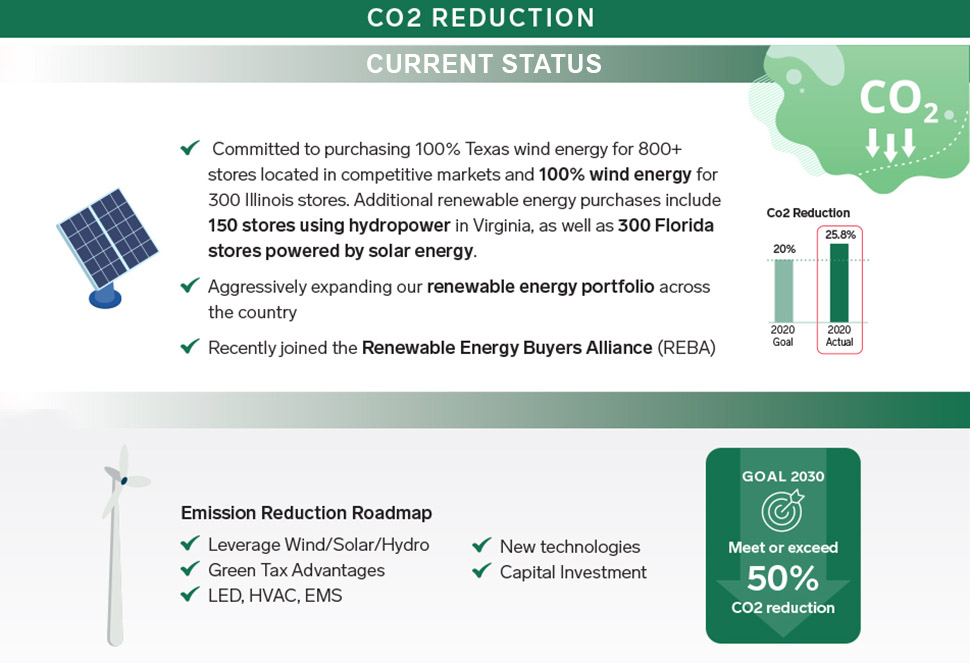 Eco-friendly products & renewable energy
The last part of 7-Eleven's ESG strategy is products. The company intends to shift to eco-friendly packaging for half of its private brand products by 2030. So far, it has achieved 61.6 percent.
7-Eleven is also purchasing wind energy for more than 800 of its Texas stores and 300 of its Illinois stores. That's added to the 150 stores in Virginia using hydropower and the 300 Florida stores using solar energy.
Additional 7-Eleven sustainability efforts will be detailed later this year. You can learn more about the company's efforts here. 

Get on the list.
Dallas Innovates, every day.
Sign up to keep your eye on what's new and next in Dallas-Fort Worth, every day.