You can sum up what Dallas companies can do to make employees satisfied and retainable in two words: flexibility and adaptability.
That's according to Capital One's recently released 2019 Work Environment Survey. The financial company surveyed 3,500 full-time professionals, ages 18 and over, across the nation about the impact of workplace design and employee experience on their satisfaction, creativity, and productivity at work.
This is the second year that Capital One has collected data at the national and regional levels for a comprehensive analysis of findings. The survey was conducted across the nation, including more than 500 respondents from Dallas, New York City, Washington, D.C., Chicago, and San Francisco.
---
READ NEXT Capital One's Innovation Summit Unites Corporations and Startups to Spark Real Change
---
What employees want
What Capital One found flexibility and adaptability is important in both workplace design and scheduling, especially when it comes to keeping employees happy and retaining them. Companies can create environments that encourage productivity and innovation, and even help with employee mental health and well-being.
Capital One, which has a large campus in Plano, also found that urban professionals expect more from employers in terms of mental health and well-being resources.
That can be seen in local places like GoodWorks, a coworking company based in Dallas that has this goal in mind with its sustainability-tailored amenities and WELL-certification.
When it comes to office design, Capital One says it continues to be an important element for employee success and productivity. A whopping 90 percent of employees noted that they perform better in well-designed workplaces. That's especially true for millennials (35 percent agreed) compared to Baby Boomers (32 percent) and Gen X-ers (28 percent).
Almost three out of every four employees—71 percent—think flexibility is important in workplace design. 65 percent believe they are more productive when they can change where they are physically working, while 73 percent think they have their best ideas when they can work with flexibility.
73 percent are also able to work better when the furniture arrangement is flexible, like when there's multiple seating and standing options.
A noteworthy Dallas workspace that offers this flexibility is Kings Club, a coworking space with a multitude of areas to work from including comfortable break rooms to a lounge-style library to a New Orleans-inspired meeting space.
A multitude of workspace preferences
The survey found that 45 percent of workers said they would like to have space set aside from their traditional work area for individual work. Some 77 percent believe they perform better when their workplace offers collaborative spaces, while 88 percent think they perform better when they have space for focused, "heads-down" work.
Don't discount innovation in making for a good workplace, either.
The survey found that almost two in three employees agree that companies cannot encourage innovation unless their workplace design and environment is itself innovative.
In 2018, 60 percent of workers said their company's workplace design and environment did not encourage them to be innovative. That number has decreased to 56 percent in 2019.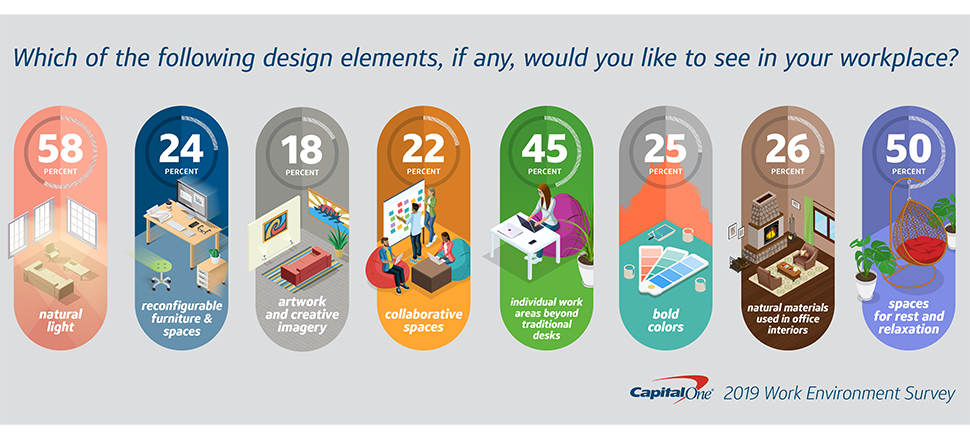 "The findings of the 2019 Work Environment Survey indicate that it's critical to remain adaptable when it comes to designing workspaces and amenities," Stefanie Spurlin, vice president of Workplace Solutions at Capital One, said in a statement. "Dynamic and adaptable spaces that not only accommodate various work styles but also foster employee well-being give companies an edge when it comes to helping people achieve better work-life integration that ultimately enables them to create better products and services for customers." 
Breaking down the statistics
Here are the key findings for professionals in Dallas:
Flexible schedules help with retention: Urban professionals want their schedules to be flexible with 85 percent of Dallas professionals ranking a flexible schedule in their top two reasons to stay with a company.
Design elements should be adaptable: 81 percent of Dallas workers agree they work better when their workplace has collaborative spaces, compared to 77 percent nationally. Ninety percent said they work better when they have space for focused work, compared to 88 percent nationally.
Mental health is important: Almost all Dallas professionals—92 percent—think it's important for employers to have resources for employee mental health and well-being, which is several points higher than the national figure of 87 percent. When asked which amenities should support mental health and well-being, the top answers from Dallas employees were flexible schedules at 79 percent (66 percent nationally); natural light access at 64 percent (compared to 53 percent nationally); on-site healthy food and beverage options at 56 percent (43 percent nationally); and quiet spaces for relaxation at 52 percent (42 percent nationally).
Bringing the outside inside: Connections to the outdoors are more than just a design trend—they have the ability to improve employees' well-being and productivity. When asked to rank what natural connections would help, 64 percent of Dallas employees said a visual connection such as windows or natural light, compared to 57 percent nationally; 50 percent believe a physical connection would help such as having outdoor spaces, compared to 45 percent nationally; and 41 percent answered a material connection like indoor plants or water features, compared to 31 percent nationally. 
Popular design elements: For the third consecutive year, natural light is the most desired design element (67 percent, up 6 percent from 2018). Other design elements professionals want include relaxation spaces (58 percent);  individual work areas other than traditional workstations (49 percent); integration of natural/organic materials in or outside of the building (40 percent); and collaborative spaces (30 percent).
The survey was conducted from April 18 to May 6 by Morning Consult among 3,608 office professionals employed full-time in a U.S. office setting. The survey includes 1,000 national respondents, 520 from Dallas, 518 from Chicago, 512 from Washington, D.C., 517 from New York City, and 541 from San Francisco.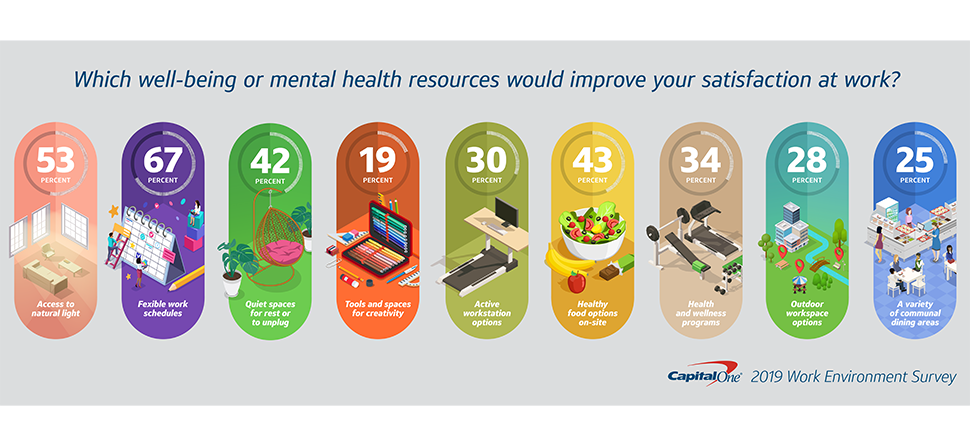 Get on the list.
Dallas Innovates, every day.
Sign up to keep your eye on what's new and next in Dallas-Fort Worth, every day.