If Eno's Pizza Tavern owner Shane Spillers lived by a set of ABCs, it would be atmosphere, brew, and "cracker thin" crust.
The family-owned restaurant company was born in Bishop Arts just as the Great Recession was beginning in 2008, but now with locations in Forney and at Cypress Waters in Coppell, the pizza chain is spreading the world about thin-crust pizza and craft brews.
Spillers credits the company's growth to his family members' talents and hard work in founding the company.
"Our family was uniquely positioned to be in the restaurant business," Spillers told Dallas Innovates. "My parents (Allan and Donna) do interior design for restaurants specifically. I've got two younger brothers, the youngest (Zachary) of which was an architect, the middle of which is a chef (Matthew), classically trained at the Culinary Institute of America. And, I'm just the business guy." 
Recipe for success
Spillers, who has a degree in information operations management, worked for eight years at Deloitte and EY before leaving to join the family business that he now owns.
He said his love affair with pizza started at a young age.
"Every family has things that they like to do together," Spillers said. "And we would just go exploring on Saturday night, and we would try a new restaurant or try something interesting."
After church on Sundays, Spillers said his family would all go eat pizza —they "dialed in" on thin-crust pizza.
---
READ NEXT What's on Tap? Craft Beer is Pouring into Dallas-Fort Worth
---
"We ended up developing our thin-crust recipe with our neighbors, and it's the recipe that we use today," Spillers said. "My brother developed a way to take that residential-grade recipe and turn it into something that we could offer on a commercial scale."
That recipe turned out to be a winner.
"People really like our pizza," Spillers said. "I think it's because it's ingredient-forward."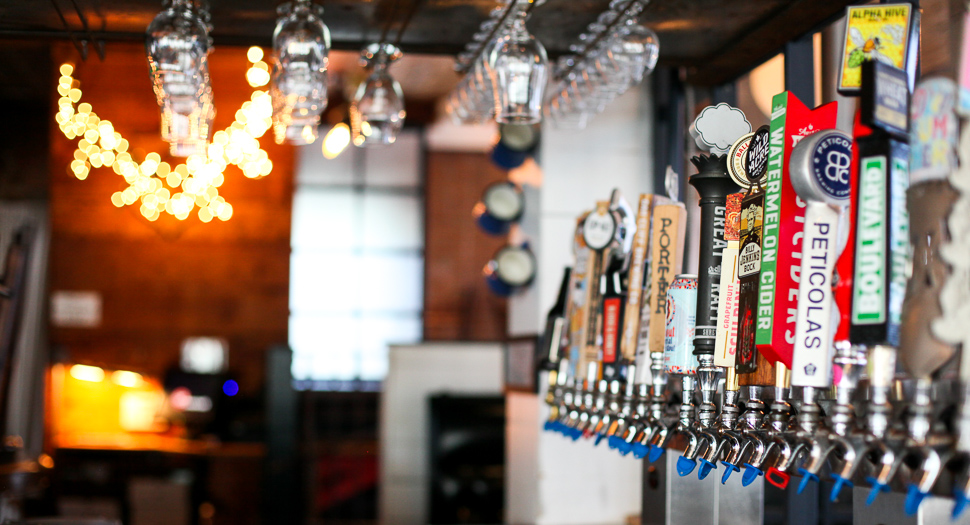 [Photo: Liz Goodwin]
Eno's sources local products that are responsibly produced, Spillers says, which leads to the freshest ingredients that they can find.
When Spillers' parents and his brother started the business, he was still working as a consultant at EY. He started flying back to Dallas on a Thursday or Friday to work as a server.
Finding a second career
"I'm just a curious creature," Spillers say. "So, I went through the server training, and I was super proud of my brother for what he had done on the culinary perspective. And I wanted the opportunity to work with him and my parents."
From Eno's beginning, Spillers said hopping on the plane for those weekend server shifts led to a a career shift.
"I got hooked, I got hooked really easy, but I love the teaming aspect of what this business is about," Spiller said. "I love the opportunity to serve people in our community in a way that just kind of elevates their expectation a little bit. And, I like to see people enjoy being with others in a space that we foster and create."
Starting a business at the beginning of a major recession would seem to be a daunting task, but Spillers said Oak Cliff's personality helped.
"The interesting thing about it is that North Oak Cliff, Bishop Arts in particular, was experiencing kind of this early-stage resurgence," he said.
Going local was a key to Eno's early success.
"My brother (Matthew) with this background, had the opportunity to see what putting the best ingredients—the local ingredients—on the table can really mean," Spillers said. "But not just for the dining experience, but for the economy, if you will. And so the more local you keep it, the better for your vendors and how they produce their product."
Responsible sourcing leads to a better product
Spillers said that when you can source as responsibly as possible, it makes your product stand out from others in the industry, something people haven't experienced before. That's true with craft beer, too.
"I don't think any of us could have predicted where craft beer would be 11 years later, after starting Eno's," Spillers said. "There was a pretty intentional decision to only offer craft beer, which flew in the face of every sort of tradition that was out there because it's all about, traditionally, it's all about making the economics work." 
A lot of customers at first expected to find the well-known national brands of beer, "and we had turned a lot of people away and turned a lot of people off because we didn't offer their beer that they had this kind of emotive response to consuming," Spillers said. "We just made a decision that we were going to focus on the things that we thought were responsibly sourced, and produced by our friends and neighbors."
Spillers calls craft beer a "foundational" part of Eno's business. 
Eno's finds a growing audience with expansion
Expanding to Forney and to Cypress Waters gives fans of the company's pizza and craft brew philosophy new locations that might be closer to where they live. It also exposes Eno's product to a whole new audience.
"We have a lot of people that drive from Coppell, Irving, Southlake, Grapevine to the Bishop Arts District for Eno's," Spillers said. "How cool is that, that we can be able to open the location that's a little bit more convenient for them."
But even with expansion, Bishop Arts will always be another foundation of the business.
"I really enjoy, specifically, how Bishop Arts District works in terms of just the organic layering of experiences here," Spillers says.
This article was updated on Sept. 3, 2019 for accuracy and context. Managing Editor Lance Murray contributed to this article.

Get on the list.
Dallas Innovates, every day.
Sign up to keep your eye on what's new and next in Dallas-Fort Worth, every day.