In the age of COVID-19, companies of all sizes have been forced to adapt to a more virtual-centric world.

While large corporations began quickly churning out new ad campaigns and social media strategies, for entrepreneurs, taking things digital can oftentimes be a solo job. That's why The DEC Network teamed up with The Slate and Capital One for a new at-home workshop on video marketing this week.
The virtual bootcamp is part of WEDallas, one of the DEC Network's signature programs, powered by Capital One. Its speaker events, workshops, and conferences are designed to empower female entrepreneurs in North Texas.
---
READ NEXT Dallas' Female Founders Share How to Rock Business and Motherhood
---
At the event, local experts Shelly Slater, Leah Frazier, Mike Mayberry, and Cleo Greene took attendees through the self-produced video creation process, from how to write a script to marketing it once complete.
Topics included: on-camera presence and techniques, how to create high quality videos with your smartphone, and how to take advantage of video-marketing on a budget. The intent was for every small business owner to leave the event ready to create their own videos—and The Slate even offered two participants with the best videos a free mini-session.
The prize includes an hour of filming on a full set, a professional videographer, and a final edited video to use for marketing purposes.
Here's our roundup of the best takeaways and advice from every speaker for those who might have missed out.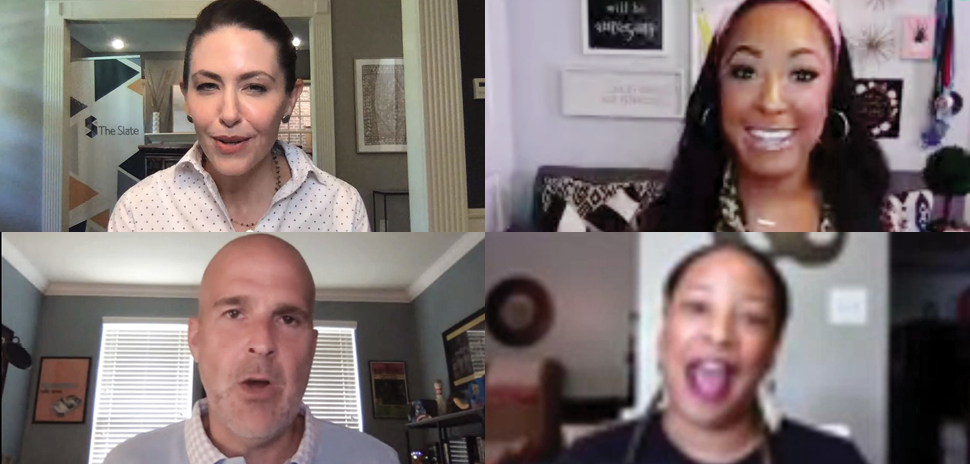 Mike Mayberry, director of creative strategy at Capital One
The first thing Mayberry wants anyone—no matter the business they're in—to know about marketing is "know your audience."
"You always have to know who's watching, why they care, and where are they located," he said. "That will constantly dictate why you're telling your story. You have to make them care, then upload important things pretty quickly up front."
When it comes to social media, there are now more ways than ever to share content with a broad audience. He notes new platforms like TikTok and Snapchat as ways to significantly impact your brand; although he's not on them, his kids are.
One of the biggest takeaways from Mayberry is to practice. Most of the time, there's not a budget to redo a million takes before getting it right.
"I highly encourage you to rehearse. You're probably not going to get it right the first time," he said. "Rehearse, look at your video, and make sure you get it right. It's okay to be hard on yourself."
For the video itself, he suggests a three-act structure with a beginning, middle, end. It's a critical aspect to storytelling. He nods to Neil Gaiman's MasterClass, in which the author says he always tries to write something that leaves the reader intrigued enough to want to know more.
Mayberry also delved into the equipment. He highly recommends buying a smartphone video kit, wireless lav microphone, tripod, and ring light.
"The quality you can get from your smartphone is unbelievable," he said. "Audio separates the pros from pretenders. Having a wireless lav will allow you to have a lot of flexibility with when and where you shoot. And, how far away from your phone you are. If you don't have a lav, you'll never be able to change your framing."
Though if you don't have a budget, there are easy video tips anyone can follow at home. Follow the rule of thirds, step away from the wall for a more dynamic look, use titles (but make sure they're not covering anyone's face), and use a lamp or computer monitor as lighting. To take your videos up a notch, he suggests using b-roll or various cuts in the editing process.
And, don't forget to always look at the lens.
Shelly Slater, co-founder of The Slate
"Video is king. People are starting to realize that," Slater said. "It's taken this virtual world to push people over to the other side. There's people who are getting in front of the camera that normally wouldn't."
Slater's number one tip is to be conversational and emotional. It's important to humanize when producing videos—don't make it sound like you're just reading facts.
Especially in the age of COVID-19, there is an opportunity to be more relatable and vulnerable. Whether videos are professional or recorded on a phone, as long as there is a specific point to zero in on, it will be successful, according to Slater.
Though most storytelling over the next year will be COVID-centric, you don't have to talk about the virus directly.
"The first thing—and the hardest—is boiling down what you're saying into a 'six word point.' You have to come up with an actual sentence: a subject, verb, and noun," she says. "How does it differentiate you from everyone else? Ask yourself, why am I different? What am I trying to accomplish with this story?"
Slater tells all of her clients if your mom can't repeat what you're trying to explain, it needs to be rethought. She suggests condensing stories into three to seven second versions of what you do.
"If you get stuck, picture someone important to you drinking their coffee and saying 'Hey, how's it going with your nonprofit?' What are you actually going to say as a normal human being?" Slater says. "You could even voice record yourself saying it in casual settings to practice. Humanize."
Cleo Greene, a morning anchor and social media reporter at WFAA
Greene used her professional experience to give five tips to boost your on-air confidence.
1. "It sounds cliche, but be yourself," she said. "On-air, in your videos, during your Instagram stories. Stop trying to make everyone like you, because not everyone is going to and that's okay. People love imperfection because it makes you so much more relatable."
2. Get comfortable in front of the camera, Greene suggests. You don't always have to look perfect when recording—sometimes, you can simply pick up the camera at a random time and start recording.
"Don't wait until it's time to go live—role play with someone ahead of time if you've never done a live interview before," she said. "You can even place a picture of someone 'in your tribe' under your lens so it seems like you're just talking to them."
3. Use bullet points. For many interviews Greene does, she notices people will look at their notes and read directly from them.
"Don't write down full sentences or scripts," she said. "If you feel like you're getting flustered, just remember to take a pause. Control your emotions and think it through."
4. Perk it up, Green said. If someone's energy is high, it makes the video even more appealing to watch and listen. And, it will often garner social media follows.
5. "Confidence comes from within," she said. "Practice your content and get yourself ready to be on air. Once you start recording yourself in practice sessions you'll see what works for you. Do the preparation beforehand to get yourself together."
Leah Frazier, president of Think Three Media
Frazier focused on ways to market and tell stories using video.
"People want to connect with the human side of companies," she said. "Video is huge because you can feel the heartbeat of the brand. Videos are the best way to show brand values, messaging, and storytelling."
Video is also the best way to market a product or service because it allows a small business owner to directly interact with their customers. She suggests starting the process by considering why you should increase your video marketing. Throughout COVID-19, most people have spent all day online.
It's important to tap into those numbers, according to Frazier.
"Videos are still king. People are saying they would much rather see video content from brands and businesses they support more than any other marketing mechanism," she said. "There's so much noise out there, if you can build trust with your audience directly, customers will stay engaged."
She asks small business owners to consider what will set their video apart. It's not necessary to always focus on the product, service, and business itself—"people want emotion," Frazier said. Focus on telling a story.
That story could center around the customer, such as testimonials on how a business affected their life. Or it could be a behind-the-scenes to gain brand awareness and build customer trust. That personalized touch will go a long way.
 But, she said, don't drag it out. Sometimes a 3-minute video is long enough.
"Reframe your mind. It doesn't have to be a professionally shot, hour long video," she said. "Gone are the days of paying a fortune for videos and waiting for it to be edited. Videos are now live streams, stories to Facebook and Instagram, and soon LinkedIn."
According to Frazier, a small business owner should get up to 50 percent of what they're posting to be video content. But remember: Consistency is key.
"What ways can you tap into escapism because people are stuck at home? How can you get people to think positively during this time? What can you do to bring what you do into peoples' homes while they're stuck?" she said. "People want positive content right now because of what's going on in the world. Be inspiring."

Get on the list.
Dallas Innovates, every day.
Sign up to keep your eye on what's new and next in Dallas-Fort Worth, every day.