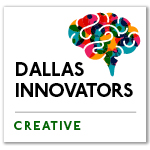 Stepping into Brittany Cobb's store in Deep Ellum is like entering a visual representation of the founder herself. Jewelry, home decor, clothing, handbags, and knick-knacks fill the nearly 3,000-square-foot retail space, each item carefully curated, but different in its own way. There's no specific aesthetic; no mold. Instead, the some 80 vendors on display embody this creative spirit that's driven by Cobb's experiences and personal flair.

But the store, Flea Style, is so much more than just a place to shop. Born from the mind of a journalist-turned-interior-designer-turned-entrepreneur, Flea Style has been on a decade-long journey—and has ultimately become a lifestyle brand that's handmade, vintage, and one-of-a-kind.
"We're definitely going against the grain of what Dallas looks like and how Dallas dresses. And that's not intentional, that's just who I am," Cobb told Dallas Innovates. "The brand is me and my amazing team. It started as a one-woman show, and it's just always been an extension of who I am. That was just very authentic."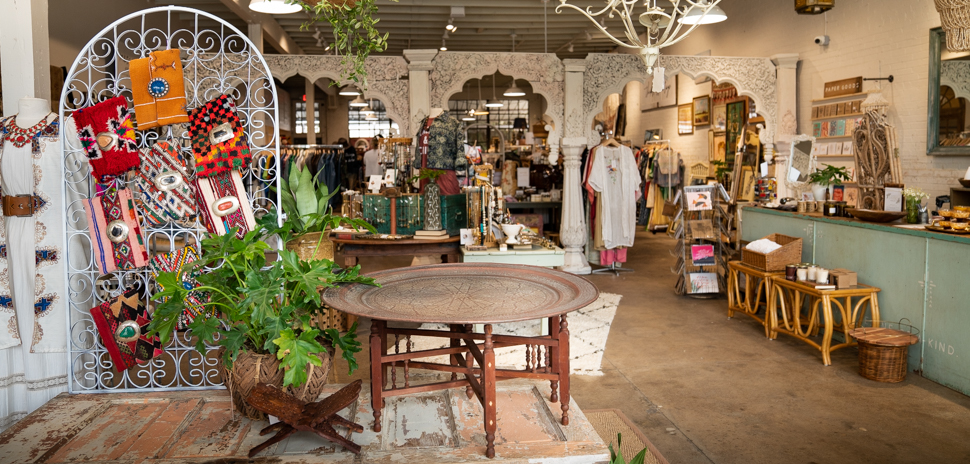 The woman behind the store
Cobb was born and raised in Southern California, which is evident in the bohemian feel that's sprinkled throughout Flea Style. The 36-year-old moved to Dallas at 18 to attend SMU, graduated as a journalism major, and went on work at The Dallas Morning News. She recalls meeting a variety of interesting people, like bakers, fashionistas, or shoe designers, that would often find success after she wrote their story.
"I come from a family of entrepreneurs, and my mom always hosted a holiday bazaar as a child," she says. "And I thought: 'What if I did kind of what she did, but in Dallas once a year around the holidays, and brought those people I was meeting as a journalist together to make this unique shopping experience?'"
She left Dallas for a bit to work in New York. It was there that she watched the Brooklyn Flea start and quickly expand, giving even more inspiration to her very niche concept. "I came back more excited than ever about that kind of shopping. My job at the time was with DailyCandy, and they laid me off around a week before my first market that I had been planning for about six months," she says. "My first show was a success, the vendors were really happy, Dallas really embraced it, and it was really special."
Most North Texans avid on the shopping scene are familiar with Cobb's first one-time holiday event, The Dallas Flea, that she put on in 2009. For the time, Cobb calls it an innovation—Dallas didn't have a small, local shopping experience besides the few stodgy, old antique malls.
She took the immediate buzz as a sign that this was something she needed to do more than just around the holidays, and went on to do a few shows a year.
At the same time, rather than dive back into journalism, Cobb started to test her knack for interior design as a side-hustle. As interiors were taking off, her markets took a backseat. But she quickly began to miss it.
"The cool thing was that I was now meeting framers and upholsters and all these other people," she recalls. "I ended up getting married, I had two children, and it was just all kind of a lot. But I really missed the small businesses that I had been supporting. I missed my markets. I missed the opportunity of growing that. And I just decided, you know what, I'm going to take my time back in my hands and decide what makes my heart happy."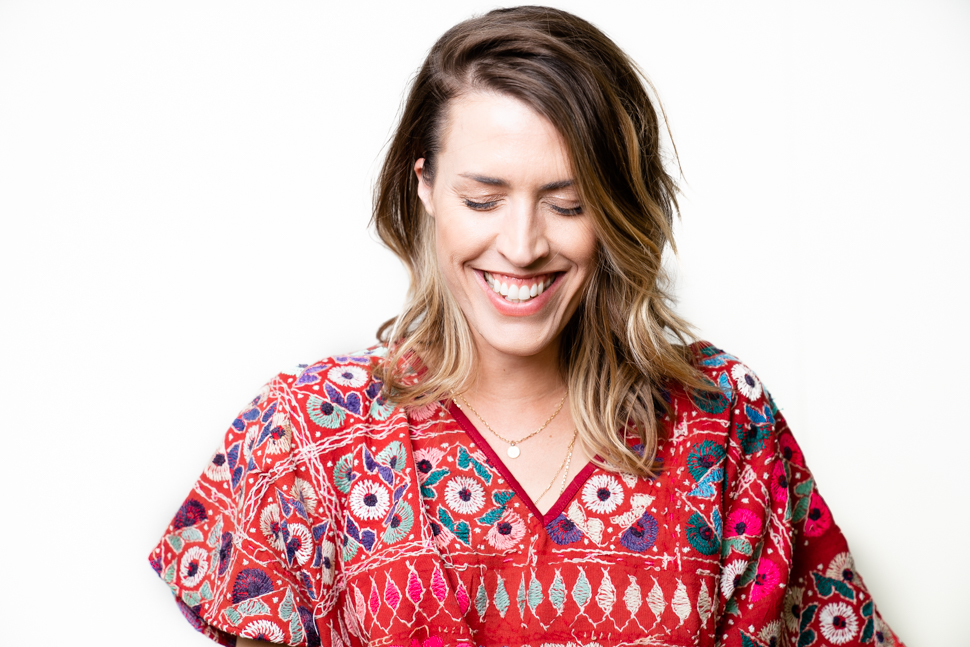 And so, in 2015, Flea Style was born. Cobb rebranded and went all-in on her shows: she immediately doubled the vendor footprint, took the concept to other cities, hired employees, and expanded to a bigger venue.
Because the shows weren't year-round, Cobb knew she had to fill she and her employee's time outside of show season. She and her team started creating products and selling merchandise they purchased in a little online store. And she recalls it all "kind of working"—that's when she realized she needed a retail space.
"This was at a time when retail is struggling. It's a hard market; it's hard to get people through the door," Cobb says. "But at the same time, we're selling something that's also really hard to sell online. We're all about our vendors and telling their stories. And that's just hard to translate through digital. So I just thought, you know what, I'm going to go against the grain and popular belief, and I'm going to open a retail store. I'm going to open a really big retail store because I had so many vendors by this point to highlight and celebrate."
Fast forward to June 1, through a few years of searching for the "perfect home," and Cobb was opening her first brick-and-mortar location in Deep Ellum.
Flea Style: A lifestyle brand
In total, Flea Style is about 5,000 square feet in what Cobb calls a growing and evolving neighborhood that's really fun to be in. Beyond the retail section, Cobb and her team carved the space out to house a place for workshops, private events, or educational seminars. There's a studio, where Cobb hosts a podcast called Fridays with Flea Style, and the brand's corporate headquarters.
"Anything we do in here is to give back to the small business community, whether they just want to be inspired and do something creative," Cobb says. "We just want to champion the underdog and the mom-and-pops that are doing really cool things in our backyard. We feel like, as a whole, if we keep championing them and creating the platform, we can actually become a really big player in the retail market here locally."
Cobb has this history of shaping Flea Style into so much more than just a shopping event, and that passion shows. She seeks out vendors with eccentric, lifestyle-good items that will make visitors tick style-wise, but all high quality with fair price points.
"There really truly is something for everyone. We have a lot of traditional Western wear if you're really Texan; we have basic, simple, breezy things for the safer shopper; and we have totally crazy, fun vintage," she says. "What I think the coolest is to combine all of it and live out your best life each day with how you're feeling and your mood and mix it all together."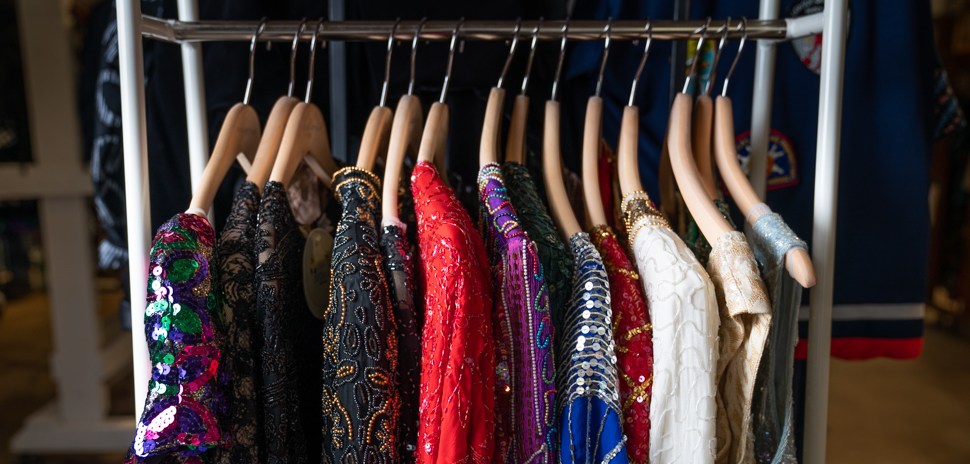 Visitors could walk through the vibrant green door in Deep Ellum to browse, become a vendor, or listen to the podcast. Females are Cobb's bread-and-butter, but she's working on expanding the male section.
At its core, Flea Style embraces the "thrill of the hunt" that comes with finding an item nobody else has.
"I feel like for there's a place for Amazon; there's a place for mass-produced stuff. I love Target as much as the next gal. But I also think that today, it's really important to keep your dollar local when you can," Cobb says. "And also, everything looks the same now. Everything is so accessible and global that it's always kind of homogenous. I feel like what makes Flea Style so cool is that anything you buy here will make your closet, your wardrobe, or your home unique."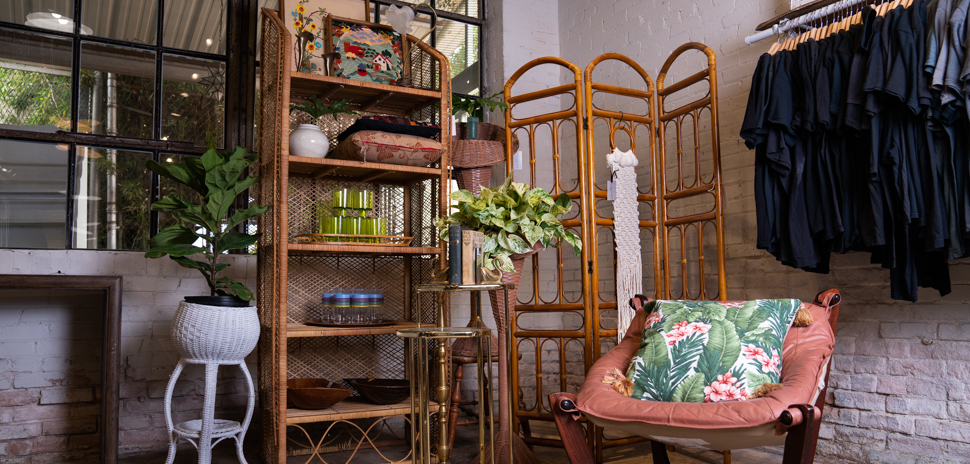 Cobb recently announced that she and her team will be opening their second location in a 6,200-square-foot space The Star in Frisco, along with a new culinary concept.
As the founder and CEO continues to grow her brand, she says it all goes back to her roots.
"It really harps back to my journalism career and what I wrote about; the things that make me giddy inside. And also even my interior design," she says. "It's really become kind of this full circle thing."
Flea Style: The Spring Show
Cobb says this year's Flea Style Dallas Spring Show, held April 27 at Dallas Market Hall North, is her most curated show yet when it comes to activations.
She's brought on live music for the first time, complete with an entire lineup of female singer-songwriters. From LunchboxWax's free facial waxing, to Travis Austin making hats on-site, to Sugarfina's treat bar, Cobb has made this year's event a full-day experience.
"Obviously, we want you to shop till you drop," she says. "But also come support the founders, meet the makers, spring clean your wardrobe and come fill it at Flea Style."
All photos were taken by Rebeca Posadas-Nava. This story was updated on Wednesday, May 1 to include the announcement of Flea Styles second location in Frisco.


Get on the list.
Dallas Innovates, every day.
Sign up to keep your eye on what's new and next in Dallas-Fort Worth, every day.