Austin Patry plans to change the way we valet our cars and how we eat fast food.
Since graduating from Texas Christian University in May, Patry has launched two businesses — a valet app and a food truck.
At TCU, Austin studied entrepreneurial management in the Neeley School of Business, but his business roots began long before that. 
"I'm a purebred entrepreneur," Patry said. "When I was little, I would go to the beach and I'd collect a bunch of seashells, and I'd bring them back and I'd go door-to-door around my neighborhood selling those seashells."
In middle school, while his friends collected Pokémon cards, Patry sold them.
"They'd [say], 'Oh, you don't want these?'" Patry said. "[I'd say], 'No, I'd much rather make a business out of it.'"
VOILA VALET IS BORN
One of his latest business endeavors initially began as an app for hotel housekeepers. 
"Say you're in your room and you want to get room service or you forgot something downstairs, instead of calling the front office and they send you to housekeeping, you can just text [the housekeeper directly]," Patry said. 
Patry worked as a housekeeper for a day at the Hilton in Preston Center to get into their mindset. 
He studied the housekeepers to see if the app was feasible. He decided it wasn't, due to both language barriers and the complicated technology necessary to produce an app of this nature.
His original idea pivoted into what is now Voila Valet when he had an especially slow experience with a valet service.
"I used the valet service and it just took a while — it wasn't a horrible experience — but I was like, 'what if I got my old idea of this housekeeper getting in direct contact with the [hotel guest] and put it towards this valet, so you could just contact the valet driver directly and you could pay the valet driver directly like an Uber?'" Patry said. 
He noted that usually with valet companies, the money valet drivers earn goes directly to the company and is later split up among the employees. By using Voila Valet, valet drivers will make more money, as each tip they earn is deposited directly into their accounts.
"With our app, each individual driver uses their phone, and they put in their bank account information, and so [say] I'm a valet driver and I drive your car and I park it, when you tip me through your phone, it just goes straight into my bank account. It doesn't go into the company," he said.
Patry has been working with a restaurant in Fort Worth, which will be the first company Voila Valet is going to pilot with. This way, Patry will see how the app performs in a real-world scenario.
In the meantime, Patry has been testing the app on his own using three different phones at once to make sure that the app works from the perspective of the customer, the individual valet driver, and the valet company.
In order to support the project, Patry competed in the TCU Shaddock Venture Capital Competition, where he pitched Voila Valet and received funding.
HOW THE APP WORKS
When a valet driver creates an account with Voila Valet, they input a passcode individualized for the valet company, which identifies them as an employee of said valet company.
After setting up an account, the driver will input their bank account information and restaurant location. The driver is now ready to begin working.
When a customer requests to leave their car with the valet, the valet driver asks for their name and inputs it in Voila Valet. After entering the customer's name, the valet driver scans the Vehicle Identification Number on the car, which identifies the vehicle's make and model. The driver then chooses the color of the car so it's easier to identify in the lot when the customer requests their car back.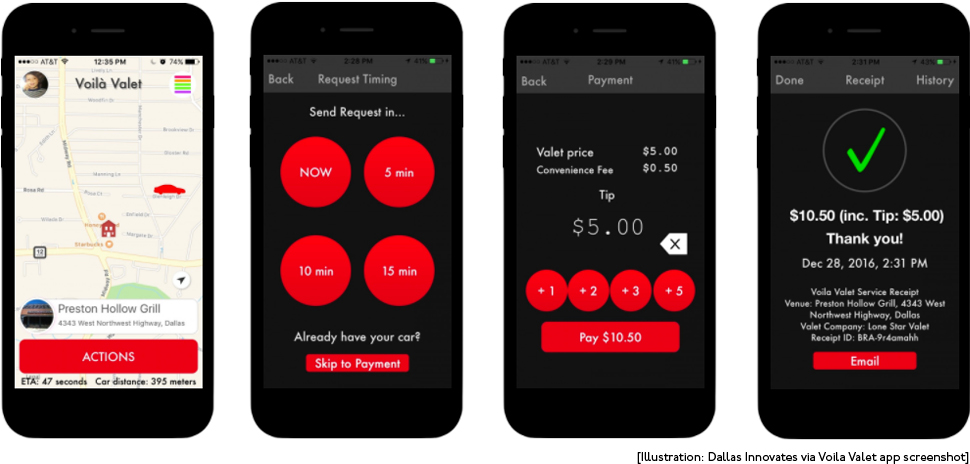 On the app, the driver sees several tabs, including one listing the cars parked in the lot and another listing the "requested cars." The requested-car tab shows which customers have requested that their cars be brought back to the restaurant.
Once the driver parks the car, a pin is dropped at that location so the customer can see exactly where their car is parked. A customer can request their car back immediately or set a timer for a certain amount of time if they're still eating or at the bar.
When the customer requests their car, they can watch the vehicle get closer to their location, which is a similar feature to Uber.
The entire (summarized) process is below:
| | |
| --- | --- |
| Valet Driver Perspective | Customer Perspective |
| 2 – Request customer's name, take picture of VIN number, park vehicle. | 1 – Drop car off at valet. |
| 4 – Customer's vehicle is under "Parked Vehicles" tab. | 3 – Customer eats in restaurant. |
| 6 – Customer's vehicle moves to "Requested Cars" tab. | 5 – Customer finishes eating in restaurant and clicks "Request Car." |
| 7 – Driver gets customer's vehicle from the parking lot, and clicks "Tap to Arrive." | 8 – Customer watches car come closer and closer to the restaurant. |
| 9 – Valet driver pulls up to the restaurant, and clicks "Tap to Deliver." | 10 – Customer sees "Your Car is Delivered." He/she pays and tips the driver and leaves the restaurant. |
Voila Valet makes money in two ways: charging monthly subscription fees to the valet companies and a 50-cent convenience fee when customers pay with a debit card, credit card, or PayPal via the app. If a customer uses the app, but chooses to pay cash, the entire transaction is free. 
Some of Voila Valet's most distinguishing features include a social page and a platform for the valet company to review various locations' performance.
On the social page, people can post messages for everyone at the same location to see. For example, someone can write, "after party at my house" if they want everyone in the valet queue to know.
"I don't know if that's something that might take off, it might not," Patry said of the social feature.
"They can view their teams and they can view this online dashboard which shows all of their operations just from their phone."
Austin Patry
A major selling point of the app is for valet company owners and the management team, he said.
"They can view their teams and they can view this online dashboard which shows all of their operations just from their phone."
The company can see their most profitable locations, how many customers have been served, who their best employees are, and their monthly revenue, among other things. They can also access this information via a computer.
Voila Valet's main competitor is SMS Valet, which is a texting-based service.
"It's pretty big in Fort Worth," Patry said. "But because it's only texting, [it doesn't have any of the components that our app has]."
Patry said the "biggest hurdle" for Voila Valet is the reluctance of people to download apps, which is why he plans to add a texting option.
ROLLIN' N BOWLIN'
As if developing an app wasn't keeping Patry busy enough, he has already opened a fast-food food truck that serves acai bowls and smoothies. He and his business partner, Sophia Karbowski, were paired in a group at TCU and realized they both were very interested in healthy eating and wellness.
"The ultimate vision is to do brick and mortar and to be one of the first genuinely healthy fast food places."
Austin Patry
"We started talking [about how] there's really nothing healthy around TCU that we can just walk to and grab a nice meal at that's healthy and quick," Patry said. "So we were like, 'let's do something about it.'"
Patry and Karbowski initially wanted to start with juices because they saw TCU as the perfect market.
"It's over 60 percent female, and the majority of out-of-state students are from California," Patry said.
Instead, they decided to jump into another California-inspired trend — acai-bowl restaurants — except their concept would be on wheels. 
Patry and Karbowski studied Los Angeles' popular acai spots, such as Amazebowls, "and things just started happening," he said.
Rollin' n Bowlin' opened a few weeks ago with a menu of four acai bowls, each of which can be made into a smoothie.
Though the food truck is off campus for the summer, Patry and Karbowski have been in discussions with TCU about possibly moving on campus in the fall.They've already been booked for several sorority events.
Eventually, Patry hopes to expand into his hometown of Dallas stopping by places such as Klyde Warren Park.
"The ultimate vision is to do brick and mortar and to be one of the first genuinely healthy fast food places," Patry said. "There's no one doing acai bowls to-go, like drive thru. So we want to do a drive-thru with acai bowls and do hot grain bowls with grilled chicken and vegetables, and oatmeal bowls and stuff like that."
HELPING OTHER ENTREPRENEURS
Patry has several ideas for other startups, but right now, his time is spent ramping up both Voila Valet and Rollin' n Bowlin'.
"I want to be that springboard that you can bounce those ideas off of and then make videos of my failures, my journey, and everything."
Austin Patry
"I'm trying to do more self-branding, because I know that these two are not going to be my only two businesses in my life," Patry said.
Patry started a YouTube channel and posts vlogs via Instagram.
He said eventually he hopes to help other entrepreneurs get off the ground. 
"I want to be that springboard that you can bounce those ideas off of and then make videos of my failures, my journey, and everything."
Photos by Chase Mardis: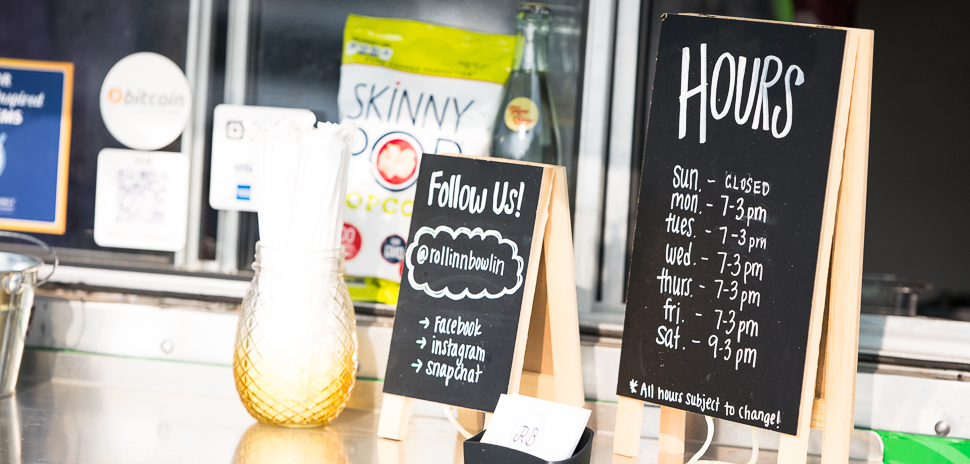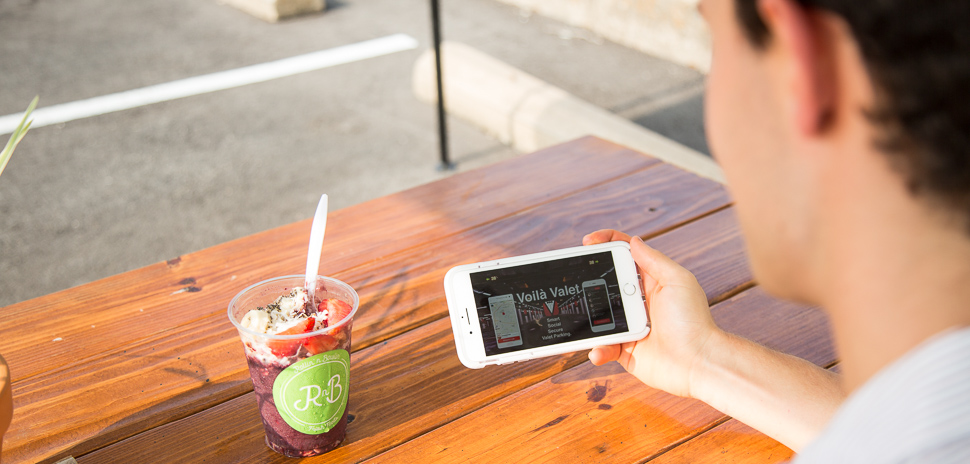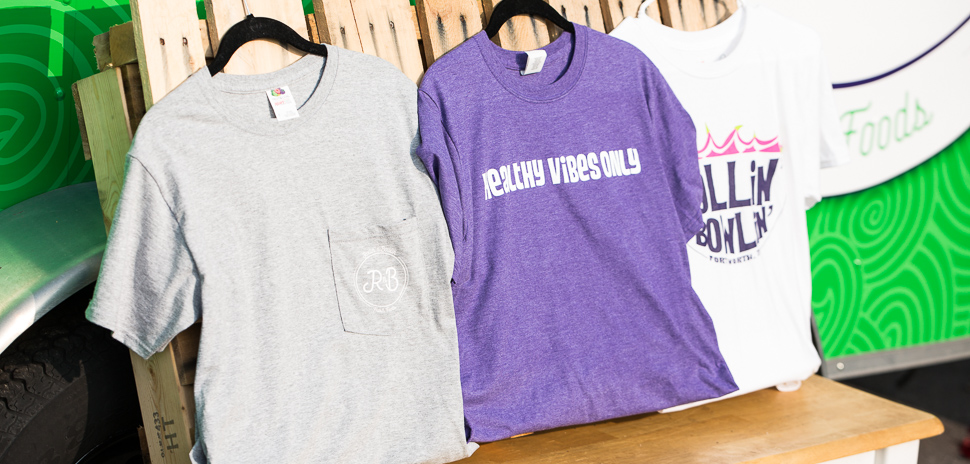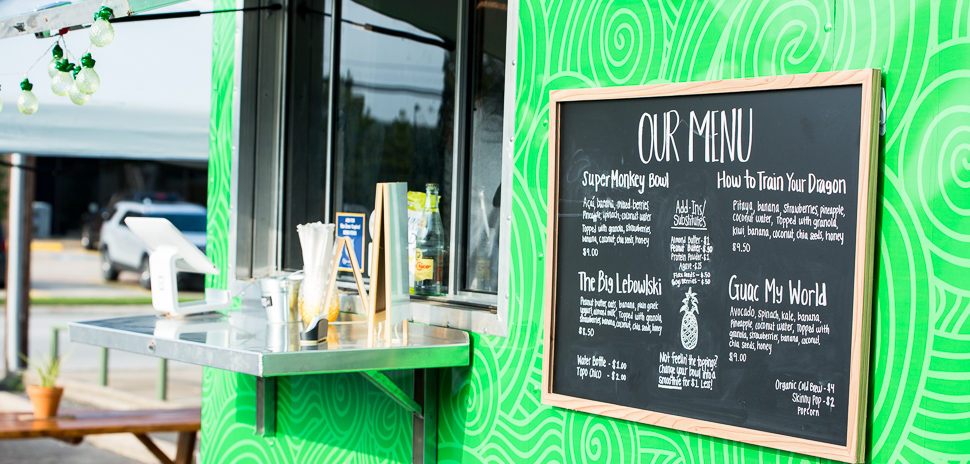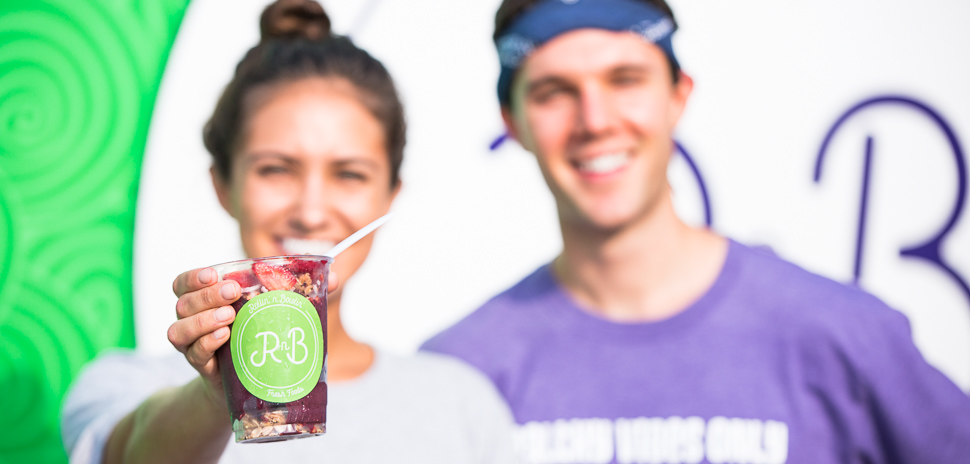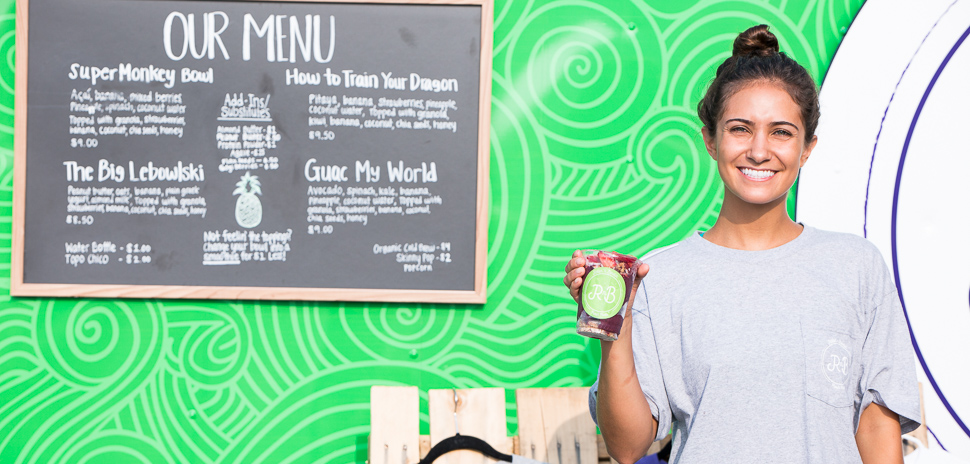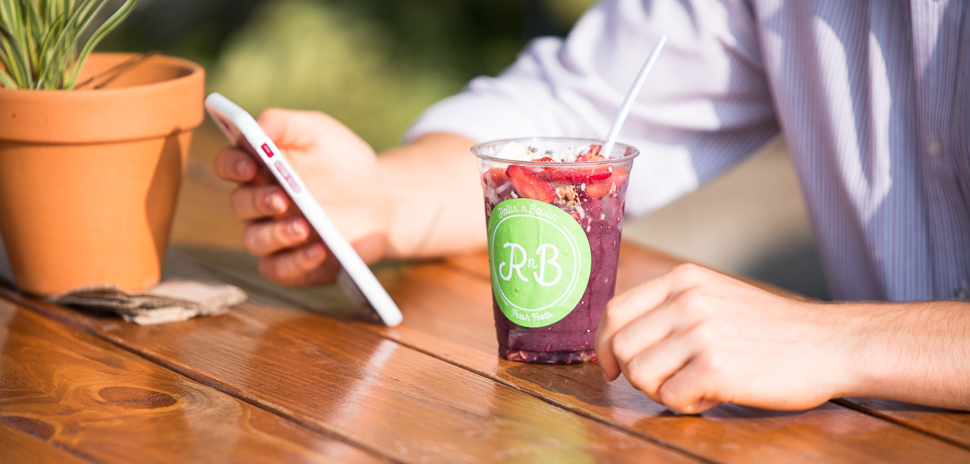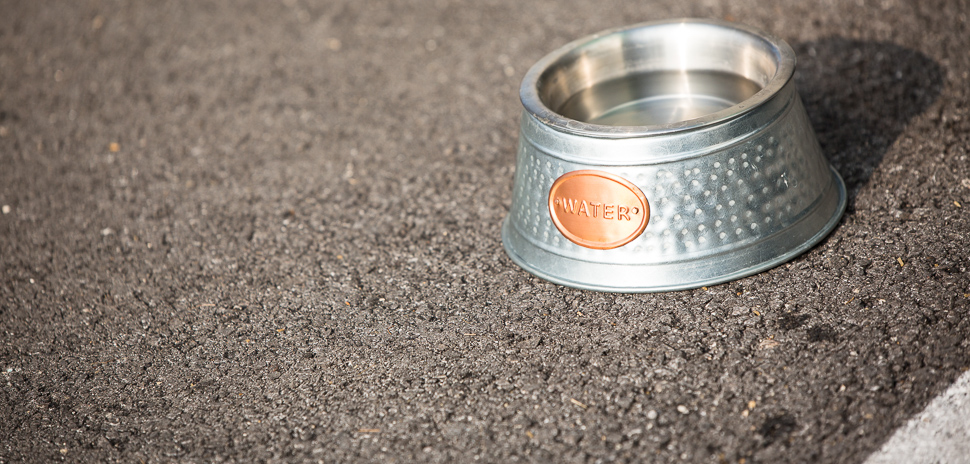 ---
Dallas Innovates, every day