To hit the books or sink some free throws: That is the question. Most teenage boys would choose the latter, but what if they could blend the two options together? 
Texans Can Academy – Dallas Oak Cliff gave its students the opportunity to do just that last weekend with the first-ever Beyond the Ball: IT Immersion experience.
The four-day summer camp gave at-risk students a chance to see behind the curtain of sports technology. Some of the hands-on experiences included technical analysis of player skills and esports competitions and career seminars.
Merging missions
The purpose of Beyond the Ball is to broaden the minds of minority boys when it comes to careers in professional sports—a mission that's close to home for Founder Erica Molett. A mother of two boys, Molett wants other young minority men to know sports careers can exist off the field. 
"Witnessing my oldest obsess over NBA dreams has always made me nervous," Molett said in a statement. "Statistics say that only three in 10,000 high school students will be drafted to the NBA. As the remaining 99.97 percent step into the real world, will they have the STEM and literacy aptitude to excel beyond the court or field?"
Enter Texans Can Academies. The network of tuition-free charter schools throughout the state gives struggling students a second chance to earn high school diplomas. Of the 14 locations, six are in the Dallas area. 
When the Dallas – Oak Cliff campus was searching for a summer tech camp, its team said choosing Beyond The Ball was easy. 
"We were very excited for the opportunity to work with Beyond the Ball and to be the very first school to host the IT Immersion Experience," Cynthia Miles, principal of Texans Can Academy – Dallas Oak Cliff, said in a statement. "This program made a big impact on our students that want to be professional athletes.
Photo recap
All photos courtesy of Texans Can Academy.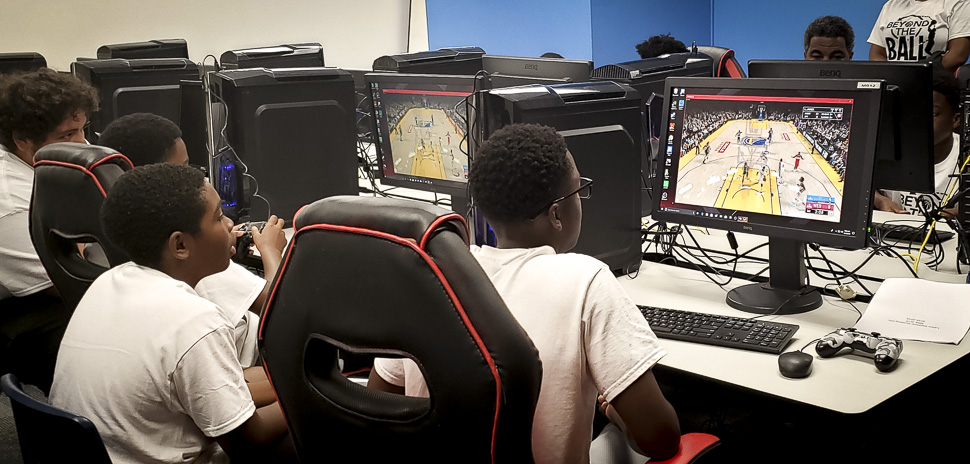 Get on the list.
Dallas Innovates, every day.
Sign up to keep your eye on what's new and next in Dallas-Fort Worth, every day.