Welcome to the content hub for invention news and commentary. In this area, we'll focus on breakthrough IP disclosures, emerging trends in IP, and strategy tips. Here's a look at the exciting progress made this year.
North Texas' reputation as a hub for invention got a big boost last month when the United States Patent and Trademark Office christened its fourth and final regional office in downtown Dallas.
"Many cities wanted a regional office, and you have one," USPTO director Michelle Lee told the crowd that filled the Perot Museum of Nature and Science lobby for a celebratory gala on November 9. "So take advantage of it, use it, and make it the busiest office in the country."
If the Texas Regional Office, as the Dallas location is officially known, handled patent applications only from Texans, it would have the potential to be among the nation's busiest. The USPTO granted 10,691 patents to Texas inventors last year, second only to California's 43,679.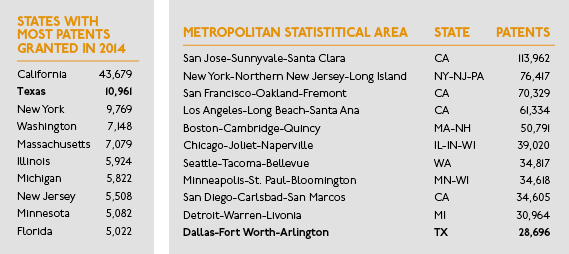 But what about North Texas, specifically? In 2000 through 2013, the metropolitan statistical area of "Dallas-Fort Worth-Arlington" had more patents granted than any other MSA in Texas, ranking 11th nationally. (California had four of the top nine.)
All of those inventors need patent agents and/or patent attorneys to help them protect their creations from infringement. Luckily, there are plenty of these "patent practitioners"—the blanket term for professionals who are registered by the USPTO—in North Texas.
"Many cities wanted a regional office, and you have one," said Michelle Lee. "So take advantage of it, use it, and make it the busiest office in the country."
When you rank Texas cities by population, the Dallas-Fort Worth area includes four of the top 10 (Dallas, Fort Worth, Arlington, and Plano). If you rank them by patent practitioners per 1,000 people, the Dallas-Fort Worth area includes five of the top 10 (Richardson, Dallas, Plano, Irving, and Frisco). Richardson jumps from No. 32 to No. 3, and Plano goes from No. 9 to No. 6. In fact, Plano has more patent practitioners than San Antonio, a city with five times as many residents.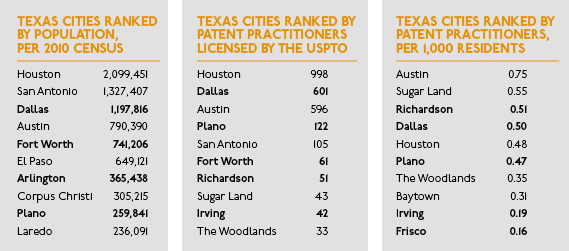 Independent inventors have long had a bevy of resources in North Texas. Since the 1980s, the Dallas Public Library has housed a Patent and Trademark Resource Center, offering patent and trademark training as well as reference assistance and outreach to the public. Dallas' Patent and Trademark Resource Center is one of six in Texas and one of only two based in municipal libraries in the entire Southwest.
One service provided by Dallas' Patent and Trademark Resource Center is a series of free Q&A sessions with patent attorney Bob Wise, who meets with inventors individually to answer general questions on patents, patent searching, and the application process. Wise also happens to be the president of the Texas Inventors' Association, which meets on a monthly basis at the Davis Library in Plano.
As for more practical resources, the Dallas Makerspace is a community workshop that offers free classes to the public as well as access to specialized tools and equipment to its members. Two of the more popular machines there are the laser cutters, which inventor Leo Estevez used while developing prototypes for a drone that can teach the basics of coding and a remote-controlled beer brewer.
Estevez's day job is with Texas Instruments, where one of the world's most significant inventions—the integrated circuit, or microchip—was created by Jack Kilby in the late 1950s. Of course, the region's corporations are still actively inventing today. When IAM, a magazine focused on intellectual property, created its "U.S. Patent 100" list a few years ago, it identified more than 140,000 entities that have at least one active U.S. patent. But it highlighted 14 companies as the owners of "the largest, fastest growing, and most industry-recognized patent portfolios" in the nation. One of those 14, AT&T, is based in Dallas, and another, Ericsson, has its U.S. headquarters in Plano.
"Some of these patents are created by employees here in Dallas-Fort Worth, although many of the patents are also created by employees outside DFW or even the U.S.," says Bob Gessel, Ericsson's head of network and technology strategy. "Employees working in these companies in the DFW area often fall into the 'applied' side of the invention, where they put the patents to work by developing the products, solutions, and services that make the patents become real. This is the realization of the invention, which makes this a vibrant community of talent in that respect."
This is just a bird's eye view of the many innovative things happening with DFW's inventive landscape. Be sure to check back for more stories.
---
For a daily dose of what's new and next in Dallas-Fort Worth innovation, subscribe to our Dallas Innovates e-newsletter.