Ted, meet Stan. When you combine a critically acclaimed lecture series with an advertising agency legend, it looks a little something like "Stan Talks."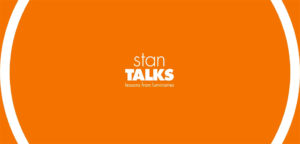 Inspired by Stan Richards, the founder of Dallas-based The Richards Group, #UTStanTalks is a new online video series launching this fall at the University of Texas. It's essentially a five-minute version of a TED Talk—if TED Talks solely featured figures in the world of advertising and public relations.
"The simple idea of collaboration between academia and industry leaders has the power to foster talent, equip students to make a mark in our business, and produce the future leaders who will continue to drive significant change in the way we build strong, enduring brands," Richards said in a release.
Spearheaded by the Stan Richards School of Advertising & Public Relations (named to honor Richards himself) in the Moody College of Communication, the initiative hopes to better prepare university faculty who are teaching subjects on the constantly changing world of marketing. However, students at UT and across the country will have free access to the YouTube channel for personal viewing.
The video series will featuring a wide range of topics based on "lessons from luminaries," such as:
"Making the Work Better" by Lee Clow, chairman and global director at TBWA/Worldwide;
"Why Ethics?" by Wally Snyder, executive director of the Institute for Advertising Ethics;
"Advertising Today" by Keith Reinhard, chairman emeritus at DDB Worldwide;
"Crisis Communications in the Digital Age" by Jeff Hunt, founding partner at PulsePoint Group/ICF; and
"Right of Publicity" by Stu Friedel, partner at Davis & Gilbert LLP.
WHAT YOU SHOULD KNOW ABOUT THE RICHARDS GROUP
Headquartered in Dallas, The Richards Group is the largest independently owned brand builder in the country.
In 2017, total billings for the agency reached $1.418 billion, with clients including GameStop, The Home Depot, Motel 6, The Salvation Army, and more. Stan Richards, who has been inducted into the Advertising Hall of Fame, founded the company in 1976, and now serves as the creative director.

Get on the list.
Dallas Innovates, every day. 
Sign up to keep your eye on what's new and next in Dallas-Fort Worth, every day.