McKinney-based Raytheon Intelligence & Space is launching a new Registered Apprenticeship program with the U.S. Department of Labor and Collin College in McKinney. The paid manufacturing program will let students enrolled at the college earn industry credentials while gaining on-the-job work experience and mentorship.
During an event on Monday, Raytheon Intelligence & Space, Collin College, and the Department of Labor signed a commitment to kick off the program in 2023.
Within the first five years, Raytheon Intelligence & Space said it expects more than 100 people will be enrolled in the program—the first of its kind in Dallas-Fort Worth. RI&S is a Raytheon Technologies business.
"Manufacturing is at the heart of what we do," Jeff Place, VP of Operations and Supply Chain at Raytheon Intelligence & Space, said at the event. "This apprenticeship program will allow students to create some of the most advanced technology in the world—providing unmatched capabilities to our men and women in uniform—and do it while continuing to pursue their education."
Place said the Registered Apprenticeship Program offers students a chance to graduate with a touch labor certification in three years or less, he said. "Touch labor" refers to hands-on labor efforts—production or technical—in manufacturing and business operations.
Workers are needed for those jobs, and Raytheon said the program will help address a manufacturing skills gap in Texas.
 "According to the Texas Workforce Commission, more than 800,000 touch labor jobs were unfilled in July 2021," said Place. "By developing a new pipeline of manufacturing talent in the Dallas-Fort Worth area, this Apprenticeship Program will address a local skills gap and help continue to position North Texas as a manufacturing hub."
"A game-changing opportunity" for students
McKinney Mayor George Fuller says the average starting wage after completing an apprenticeship is $72,000, according to the Department of Labor.
"Can you imagine even before graduating college, completing 2-3 years of courses and hands-on training, earning while learning, and being able to walk into earning $72,000 at your first job, as the result of completing an apprenticeship program?" the mayor said at the event. "It is a game-changing opportunity."
The mayor touted the long-term impact of the program.
Fuller says the apprenticeship is "a tried-and-true approach for preparing workers for jobs" that also meets business needs for a highly-skilled workforce that can innovate and adapt to the needs of the 21st century.
"A key element to the city's vision for success is cooperation and collaboration between various entities, both public and private," he said, noting the relationship with Raytheon benefits the community.
The "globally ranked titan" is McKinney's top employer by employee count. "Its partnership with Collin College in standing up the Registered Apprenticeship is setting the bar high for the community and region," the mayor said.
Culivating a "much-needed talent pool"
With the program, Collin College District President Dr. Neil Matkin looks forward to cultivating a "much-needed talent pool" that can become manufacturing employees.
"Educating and training a highly skilled workforce is mission critical to support industry growth and success, and apprenticeships enhance and fortify the educational experience," Matkin said in a statement. 
The program will offer students work-based training programs for the following touch labor roles:
Assembly Technician: Apprentices will learn how to assemble or modify electro-optical and electro-mechanical equipment or devices and will work with a team of operators, technicians, and engineers to support factory optimization. They will perform various tasks in support of a manual and partially automated assembly production environment.
Precision Assembler: They will be assigned to work with a team of operators, technicians, and engineers responsible for the assembly of various mechanical assemblies and microelectronic devices. In addition to the manual assembly, they will be required to cross-train on automated equipment and computers that will be essential in their work cells.
Electronics Tester: Apprentices will perform a wide variety of technical tasks in support of processes, engineering, quality control, calibration, laboratories, production/test environment, field operations, line maintenance, and/or chemical handling. They will test, troubleshoot, repair, maintain and install a wide variety of electronic, electromechanical, mechanical, computer, laboratory, and scientific systems and/or equipment.
Addressing the manufacturing skills gap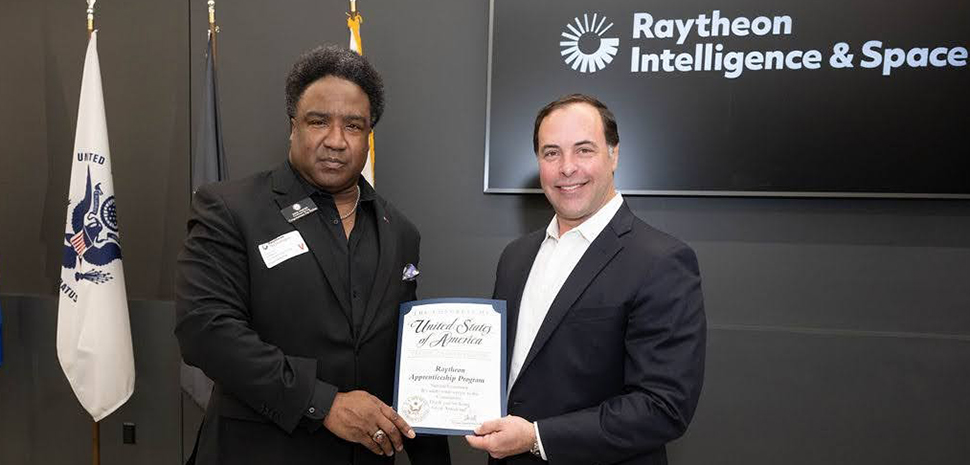 Raytheon Intelligence & Space said the program will help address a manufacturing skills gap in Texas. The company is simultaneously expanding a three-year manufacturing Apprenticeship Program in Forest, Mississippi, with the Department of Labor and East Central Community College.
RI&S's Forest location launched an Apprenticeship Program in January 2022, with 18 internal assembly candidates graduating from the Nida Corporation electronics classroom training component in June 2022. They are now going through on-the-job training, which will conclude in 2025.
Last year, Raytheon Intelligence & Space celebrated the grand opening of its Advanced Integration and Manufacturing Center, or AIM Center, at which it created 500 new jobs. At the same time, Raytheon Intelligence & Space announced plans to build more state-of-the-art production facilities at the company's McKinney campus, which is set to open by 2025 and generate 700 more jobs.
Official gathering for the Registered Apprenticeship
Dudley Light, the U.S. Department of Labor's Southwest Regional Apprenticeship director, says the launch of the program by Raytheon Intelligence & Space "will empower their ability and continue to develop a world-class workforce and reap its benefits."
He calls Registered Apprenticeships "a proven model for preparing people for good-paying jobs and an opportunity for a successful career with leading employers around the nation."
Elected officials and representatives turned out for the launch event, including J. Collin McLochlin, Regional Director for U.S. Senator John Cornyn; Ashley Thomas, Deputy Director of North Texas for U.S. Senator Ted Cruz; Erik Simien, Constituent Services Representative for U.S. Representative Pat Fallon; Judith Tankel, District Director for U.S. Representative Colin Allred; Jeff Coulter, Outreach Coordinator for U.S. Representative Michael C. Burgess; Candy Noble, Texas state representative; Janie Havel, staff for Texas Governor Greg Abbott; and Paul Grimes, McKinney City Manager.
"We are thrilled to gather today to celebrate Raytheon Intelligence & Space, a globally ranked titan of a company, as they partner with a local community college to provide value on several levels. With Collin College's 38-year history, the next decade and decades to come will continue to advance education and the talent pipeline of the future," said Mayor Fuller.
Quincy Preston contributed to this report.

Get on the list.
Dallas Innovates, every day.
Sign up to keep your eye on what's new and next in Dallas-Fort Worth, every day.