In an increasingly cashless and diverse financial world, offering the ability to pay bills with cash, debit cards, or credit is the solid business model PayNearMe put into place at its 2009 founding.
PayNearMe describes itself as "the industry's only platform that facilitates cash, debit, credit, and ACH payments for thousands of businesses and government agencies nationwide" and as "a simple way for businesses to collect payments through an intuitive, consistent experience for their customers."
The West Coast-based company has quite a few North Texas ties, beginning with senior software engineer Lauren Hasson—founder of DevelopeHer—who helped with both front- and back-end development of the latest electronic consumer flow and was instrumental in taking the bill payment platform to market.
Also based in Dallas is Laura Rummel, PayNearMe's senior director of strategic partnerships. Rummel manages the company's retailer relationships, including two key players headquartered in Dallas, 7-Eleven and Ace Cash Express.
The company's partners and customers also headquartered in North Texas include Greyhound, City of Dallas Court, Dallas Area Rapid Transit, Paisano Financial, American First Finance, and Tricolor Auto Group.
A recent local announcement from PayNearMe last year was the launch of DART tap cards, which offers riders a tap and pay card that can be loaded in retail stores or through PayNearMe's mobile app. In the second half of 2018, PayNearMe also added Paisano Financial as a new electronic payment customer and began accepting electronic payments at two existing Dallas area accounts: American First Finance and Turtle Creek Assets.
According to Michael Kaplan, SVP of Merchant Processing at PayNearMe, the value prop has built a network of more than 27,000 retail locations and over 1,000 active billers on the platform. That amounts to billions of dollars a year moved through the PayNearMe cash network.
Customers are found in multiple verticals—lending, collections, gaming, property management, government, utilities, eCommerce, transportation—with a primary focus on auto and consumer finance lending and collections, as well as legalized gambling as sports betting rolls out across the U.S.
Mobile-first payments
Last year, PayNearMe launched what it calls the "industry's only complete mobile-first payment system." Kaplan says the innovation was significant for both the company and the industry because it backed the belief that technology gets businesses paid faster, while eliminating the need for multiple vendors for businesses processing payments streamlining those systems.
On the consumer side, there's no app to download or website to register for, as the payment due originates from the biller via an SMS text or email notification with a one-click link to make a payment with no other need for authentication.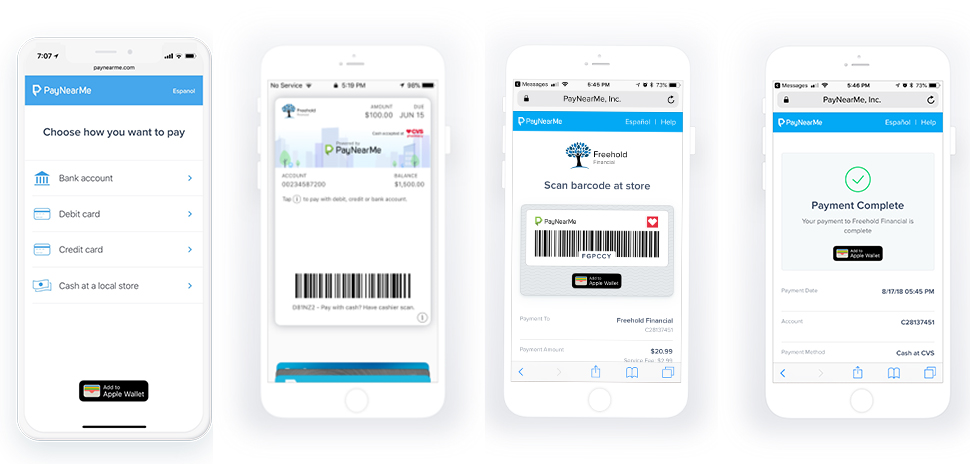 "Over 85 percent of consumers own a smartphone, but it's also a fact that consumers aren't given the same mobile experience for bill payment that they enjoy for other purchases such as ecommerce (as a specific example—a one-click ordering with Amazon)," says Kaplan. "Our product closes this gap for the consumer."
Another consumer-friendly aspect of the platform is people can choose the way they want to pay, and even change between payment types, like paying one month in cash and the next in debit. PayNearMe customers can also store their payment credential in their Google or Apple wallet for recurring payments.
"We are the only platform that consolidates all this into a single platform, providing a richer, simpler, and more consistent user experience," Kaplan says.
On the biller side of the platform, things are simplified through tools that allow for reminders via email or SMS messaging and the ability to send links directly to customers' phones. Having all of these features in one platform means billers don't have to manage relationships with multiple vendors, leading to reduced operational costs and complexity.
"For PayNearMe, it's an exciting time as we take the company to the next level and extend the same great experience to EP that our cash clients and their customers have enjoyed for 10+ years," Kaplan says. "Technology is in our DNA, and we look forward to shaking up the payments industry with our approach to payments."

Get on the list.
Dallas Innovates, every day.
Sign up to keep your eye on what's new and next in Dallas-Fort Worth, every day.