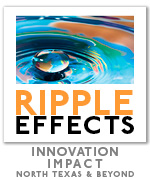 Two people walk into a doctor's office with the same type of cancer.
The doctor may be inclined to treat them with the same drugs, but those patients may respond in very different ways. Why? The answer lies in DNA. At the North Texas Genome Center (NTGC) at the University of Texas at Arlington, researchers are using multimillion dollar machines to sequence human DNA. "The genomic analysis can be somewhat challenging due to the fact that the human genome consists of around 3.3 billion letters strung together; each represents what we call a base or nucleotide," says Kelly Sheff, director of laboratory operations at NTGC. A DNA sample could come from tissue, such as liver, spleen, or kidney, or from fluids, such as blood or saliva.
From that work, the researchers are creating databases to inform solutions for difficult problems, says Jon Weidanz, founding director of NTGC. "We're able to have databases with tens or hundreds of thousands of profiles," he says.
Going back to the cancer patients, though they have the same disease, their DNA profiles could be vastly different, and they may require different approaches to care. Once their tumor genomes are mapped, the possible outcomes for various types of treatment can be compared to thousands of others with similar variant profiles. That allows oncologists to understand why "this person is not responding to the new treatment, because a specific tumor gene has a certain mutation," Weidanz says.
Genome sequencing can also be used proactively, to find problems before they become serious. "You can really look at specific mutations that can predict an individual's risk for a particular disease," Weidanz says.
The research can be used for any genetic-based disease, says Sheff. "Ultimately, the sequencing data that we generate can be used to better diagnose and provide better treatment options."
The NTGC opened in March at UT Arlington, but it's also a partnership with the University of North Texas Health Science Center and Texas A&M University. And now the NTGC is moving aggressively to get beyond academic research into clinical trials. "We want to move it to health care providers and get the technology out to patients and clinicians," Weidanz says. "We also want to establish the North Texas region as an area for biotech companies that have an interest in genomic information. The dream would be that it's a catalyst for promoting a bioeconomy for the North Texas region."
A version of this article was first published in Dallas Innovates 2019—The Magazine.
---
Read it online
Dallas Innovates 2019—The Magazine explores the region as a rising tech hub that will shape the future of innovation. The theme of our second annual print publication, "A Breakout Moment," explores why now is the time for the region to grab its place in the tech universe.

Get on the list.
Dallas Innovates, every day.
Sign up to keep your eye on what's new and next in Dallas-Fort Worth, every day.