If you thought vinyl was dead, think again.
Records—that music format your parents collected back in the day; that old-timey technology that's often the butt of ageist jokes—is experiencing a resurgence. Just ask Waric Cameron, co-owner of Josey Records, the largest record store in Dallas.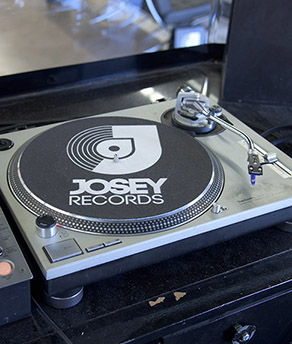 With music available for download at the click of a button, it's hard not to wonder: just how viable is vinyl? Is it an outdated technology that hipsters and music snobs are trying to bring back around? Or is it an antiquity that's simply taken its sweet time in dying out?
Honestly, it's probably a little of both. But if anything is certain, it's that records—and the people who swear by them—are tenacious.
"Vinyl is a format that has stood the test of time," Cameron says. "It has never disappeared. It doesn't seem to die."
He asserts that many people have never deviated from vinyl: part of his customer base includes collectors who have always purchased their music in record form. Josey Records also profits from a younger generation who missed out on vinyl and have more recently fallen in love with its novelty. And it's difficult to argue with success—Cameron and his longtime friend and business partner, Luke Sardello, have recently opened a second store location in Kansas City, Missouri.
"There's just an experience with vinyl that doesn't come when you download music," Cameron says, ticking off the value of cleaning and storing records, collecting them, and enjoying the accompanying art. "With downloaded music, you don't get anything tangible for your money—you just get a bunch of 1's and 0's that go onto your iPod or music player and that's it. Music has become devalued through those formats, and I think people are starting to recognize that."
Cameron and Sardello are music-lovers who have collected records since their teens. Cameron calls their opening of Josey Records back in 2014 a "natural progression" of a hobby-turned-business. Now, their 15,000-square-foot music paradise stocks more than 200,000 albums. They specialize in records, but also vend CDs, turntables, music posters, T-shirts, and music-related equipment. (Remember those Virgin Megastores you'd peruse at the mall but never actually purchase from? Josey is kind of like that, but Cameron doesn't expect to close anytime soon.) And there's more to it than just shopping, Cameron says, a record store is a place to meet likeminded people. It's a place to share music interests and find out what's happening around Dallas.
"In 2016, we want to give back to our customers and keep spreading the vinyl word," Cameron says. "We're business guys, but we love vinyl." After a pause, he rephrases: "maybe it's actually the opposite—we're vinyl guys who know a little bit about business."
In October 2015, Cameron and Sardello took their love of records to the next level by purchasing A&R Record Manufacturing, a production plant that began pressing records back in the 1960s. Well-known artists like Prince, Smashing Pumpkins, and the Flaming Lips have all had their albums pressed at A&R.
"There are only 18 record-pressing plants in the United States," Cameron says. "For vinyl enthusiasts, it's special that there's one here in Dallas."
This year, the partners plan to move their press to a larger facility and launch an e-commerce website. They're also looking forward to starting their own record label and signing indie and local artists.
"We want to make a mark for Dallas," Cameron says. "Dallas is already on the map musically, but we want to keep adding. We want to make Dallas a premiere city."

Get on the list.
Dallas Innovates, every day.
Sign up to keep your eye on what's new and next in Dallas-Fort Worth, every day.