Trust is the most important quality you will ever have, says Dr. Yoram Solomon, the Plano-based author of "The Book of Trust" and founder of the Trust-Building Institute. And he wants to help companies and individuals build trust in teams, be trusted by others, and know who to trust.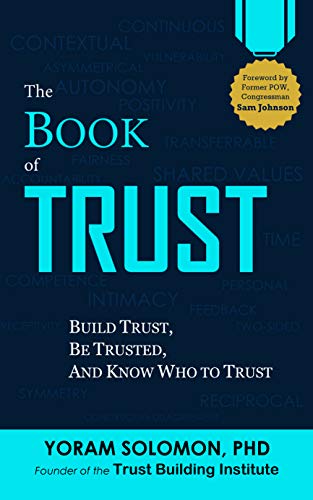 That's especially vital when businesses and people are building and maintaining relationships virtually during the COVID-19 pandemic.
As folks shelter in place, Soloman is offering his book on trust for free on Kindle through March 27. The entrepreneur, who has authored 13 books, thinks this is a great time to lean into learning: He's reading more and wants to help others "come out stronger on the other side of this, too."
Thinking about the future, "if you could raise the level of trust in your organization, you will increase shareholder returns by 286 percent. Your employees would be 50 percent more productive and 76 percent more engaged. A trustworthy salesperson can sell the same product for 29.6 percent higher price," he said via email earlier this year.
Built on original research, Solomon, who has 22 patents, has built a model of trust that includes a mathematical algorithm. He told Dallas Innovates the algorithm includes six components of trustworthiness: competence, shared values, fairness/symmetry, positivity, time, and intimacy.
A foundation of trust comes first
Solomon, who has a background in education and technology, describes trust as an essential solid foundation to improving an organization, and uses the metaphor of a house: "Only once you have a solid foundation, can you build the first floor."
Innovative ideas don't always stick, he says. "They didn't stick because those companies didn't have a culture of innovation. But they didn't have a culture of innovation because they didn't have trust. You must start building your house at the foundation."
Solomon has worked with customers that include a wide range of Fortune 500 companies, as well as startups, for-profit, non-profit, and government organizations across industries, according to the National Speakers Association.
Considered an expert on innovation, leadership, strategy, and team-building, Solomon had some 70 engagements last year around the globe, speaking at companies such as AT&T, Texas Instruments, Dannon, Northrop Grumman, and VCE.
Seven tips for trust during the COVID-19 pandemic
Solomon shares some high-level advice from the book.
Here are seven tips for companies and leaders right now: 
1. [Watch for] losing trust between interactions. Keep interactions going. Try more face-to-face than phone or email.
2. Sensitivity is going up—use more empathy. People don't want to be sold to right now. These days, it's more about the value you give them than what you get out of it.
3. Focus on shared values. One of which is, give more than you take
4. Be realistic in what you are selling these days
5. Think about the future after this. What will be different? Where are the opportunities? ("Who parked the car where the shade will be at 4?" Solomon asks.) 
6. Competence is important. What can you do during this downtime to increase your competence afterward?
7. If you have to track what your employees are doing when they work remotely, you are either not a good leader, or you don't have trustworthy employees. Either way, productivity will be down.
"May the trust be with you, always," he said.
Go here to get more information on Amazon. The offer, through March 27, is limited: "Amazon allows me to make an offer like this only once every 90 days," Solomon noted.

Get on the list.
Dallas Innovates, every day.
Sign up to keep your eye on what's new and next in Dallas-Fort Worth, every day.