Addison-based cosmetics giant Mary Kay Inc. has named a new chief executive officer, and it's a member of co-founder Mary Kay Ash's family.
Ryan Rogers, 45, Ash's grandson will become chief executive of the direct-selling cosmetics empire that spans nearly 40 countries. Rogers, the company's chief investment officer will become CEO and president effective Jan. 1, the company said. The move comes because David Holl, CEO since 2006, will retire after nearly 30 years with Mary Kay. He will remain chairman of the board.
"As a young man, my grandmother predicted I would someday lead her company and worked to prepare me by sharing many of her lessons in leadership," Rogers said. His father, Richard Rogers, co-founded the company in 1963 with his grandmother. "As usual, Mary Kay was right. I am honored but also energized to have the opportunity to lead my grandmother's company as we begin our 60th anniversary year."
The younger Rogers joined Mary Kay Inc. in 2000 as a financial analyst and held several positions, including project manager, director of strategic initiatives and vice president of strategic initiatives. In 2001, he became vice president of the Mary Kay Ash Foundation, which was created in 1996 by Ash to fund women's cancer research and end domestic violence. In 2013, he became chief investment officer.
"Taking on the role of CEO for Mary Kay is humbling," Rogers said. "Not only because I am following in the footsteps of my grandmother and father, but also because I am following our company's second most long-serving leader behind Mary Kay herself—David Holl. David's tenure has seen tremendous growth and success for Mary Kay. Through global recessions and economic downturns, the terrorist attacks of 9/11, a global pandemic, military conflicts and ever-changing regulatory environments around the world, David's steady and dedicated hand have kept us on track and lead us to unprecedented growth."
Holl, who joined Mary Kay Inc. in 1993, becoming CFO and treasurer in 1996. In 2011, he was named president and COO, until 2006, when he helmed the company as president and CEO. In 2018, Holl became chairman and CEO.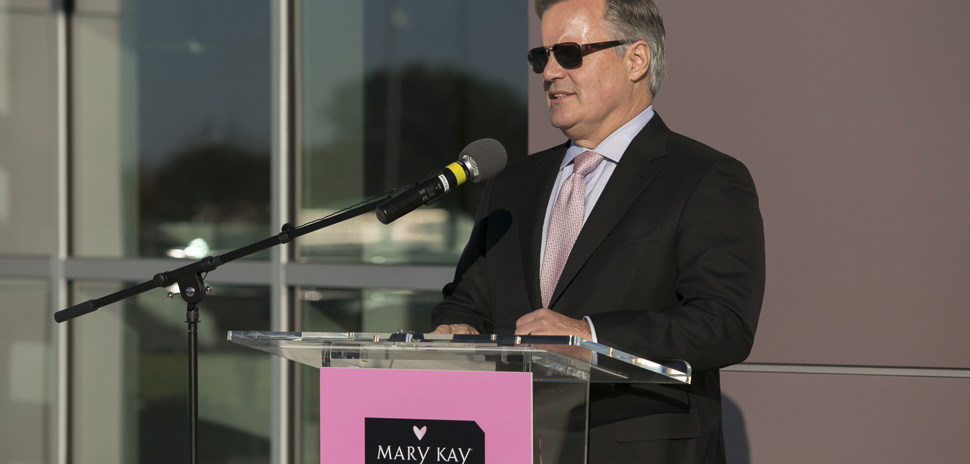 "Besides my family, nothing has given me greater joy and pride than being part of Mary Kay for the last 30 years," said Holl. "I will always proudly be part of this company, its employees, and its mission of enriching women's lives. Now, following in the footsteps of his grandmother, Mary Kay Ash and his father Richard Rogers, Ryan becomes the third generation of Mary Kay family members to lead this great company. No one but Ryan Rogers is better suited to lead Mary Kay and take the company to greater heights as a global trendsetter in cosmetics, business, and entrepreneurship."
The exec oversaw Mary Kay's global rebranding and the expansion of research and development operations to include more than 800 products in its global portfolio— and thousands of Mary Kay Inc. employees and millions of independent sales force members worldwide. Holl led the company's investment of new manufacturing and corporate facilities in China, along with its $100 million Richard R. Rogers Manufacturing and R&D Center in Lewisville, which was completed in 2018.
Mary Kay Ash, who is noted as "one of the original glass ceiling breakers," founded the beauty company in 1963 to enrich women's lives. The company is now a multibillion-dollar company. Today, the entrepreneurship development company has millions of independent sales force members in about 40 countries and invests in the "science behind beauty," the company says.
Ash died at age 83 in 2001.

You'll find a roundup of innovators to know in North Texas. DI People includes hires, leadership moves, and accolades. Send us your news here.

Get on the list.
Dallas Innovates, every day.
Sign up to keep your eye on what's new and next in Dallas-Fort Worth, every day.