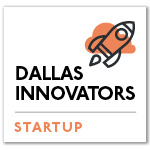 Dmitri Love's crypto startup, Bundil, caught the attention of Shark Tank investor Kevin O'Leary (Mr. Wonderful) in late 2018. During an episode of the TV show that aired in October, O'Leary gave the 24-year-old $100,000 in exchange for 50 percent of the company Love co-founded in 2017.
Bundil is a micro-investment platform that allows users to automatically invest spare change from debit card or credit card purchases into bitcoin and other cryptocurrency.
"I'm a web developer myself, and I wanted to invest in cryptocurrency, and my family also wanted to invest," Love told the sharks during his episode. "So I thought, 'Man, you know, anyone that's trying to invest in cryptocurrency has to go through all these steps to try to figure out how to buy it. And I thought there could be an easier way for it to be done."
Love is featured in Dallas Innovates 2019—The Magazine's The Kickstarter, a highlight of cool people, fun facts, and the changing landscape of tech in Dallas-Fort Worth. Meet the founder and CEO of Bundil in our extended Q+A.
Give us some insight into your original inspiration.
My mom asked me one day how she can buy bitcoin. After I told her the process of signing up with Coinbase (a popular crypto exchange) she still didn't get it. So I started researching different types of investment vehicles and landing on the micro-investing solution. A quick google search showed me the gap in the market and the rest is history.
How is Bundil different from other apps in the space?
Bundil focuses on a fantastic user experience and all encompassing options. We don't want to pigeon-hole our users into one type of security. Our goal is to provide multiple investment vehicles for any type of user on our platform.
What problem are you solving with Bundil?
The average American doesn't have 400 dollars for an unexpected expense. Our generation doesn't know how to invest or save their money, and we want to provide a fun, simple, and beautiful platform to do just that.
What are your real responsibilities day to day?
My job is to lead the company to its potential and make sure our users are taken care of. This includes directing my team and making sure our product is ready for the consumer, responding to the needs of our users, and meeting with and seeking the brightest minds in the world to help bring Bundil to the moon.
How has your previous life experience or employment played a role in your success?
As a UI/UX Developer by trade, I have years of experience building amazing products for customers. One of my main goals is to make sure Bundil is an app I would want to use. And that has translated to where we are today.
What do you like about working in tech in Dallas?
There's so much opportunity. I don't feel the intense pressure of meeting with potential partners and investors like I would in Silicon Valley.
Your first breakthrough moment?
Being on Shark Tank. Season 10, Episode 3.
Your latest breakthrough moment?
We were recently accepted into the Capital Factory Accelerator. Capital Factory mentors some of the greatest companies around the world, and we are proud to be among the few.
What's on the horizon for you and your company?
We are securing our next round of funding and planning to add numerous cool features that our users will absolutely love.
Who's inspiring you right now?
I grew up in a low income family. That translated into many missed opportunities due to financial constraints. I want to be the one to show others with a background like mine to never give up—and that you can always reach your dreams.
What advice do you have for someone who is trying to break through in tech right now?
Never give up. If you believe in your product, don't stop until the world believes in it too.
This Q+A is extended content from Dallas Innovates 2019—The Magazine. It was edited for brevity and clarity.
---
Read it online
Dallas Innovates 2019—The Magazine explores the region as a rising tech hub that will shape the future of innovation. The theme of our second annual print publication, "A Breakout Moment," explores why now is the time for the region to grab its place in the tech universe.

Get on the list.
Dallas Innovates, every day.
Sign up to keep your eye on what's new and next in Dallas-Fort Worth, every day.