For his day job, Ryan Bricker designs everything from the overhaul of the Interstate 30 and Interstate 35E interchange, also known as the Horseshoe project, in downtown Dallas to the expansion of Arlington National Cemetery in Virginia.
The design director for HNTB stays busy with these and other grand projects.
But not busy enough.
His mind got to thinking of much smaller, household products when he met the inventors of the Corkcicle a few years ago. The Orlando-based company is well-known for designing products designed to chill wine, beer, and other drinks by fitting seamlessly where the cork or bottle cap used to be.
He founded R.E. Brickerstudio so he could design his own innovative products such as the Whiskey Wedge, which now is being sold through Corkcicle.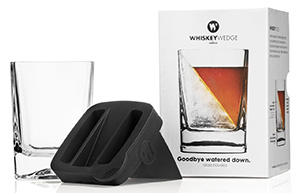 "It's really the same design process whether I'm designing a bridge or something else," Bricker said. "That launched me into becoming a product designer on the side."
ICE ADHERES TO GLASS SO IT WON'T FLOAT AROUND
The Whiskey Wedge is a glass that comes with a custom mold that you fill with water, then place in the freezer. When it freezes, the mold is removed and you've got a half-frozen glass that perfectly chills the whiskey. The ice adheres to the sides of the glass so it doesn't float around like an ice cube.
The Whiskey Wedge launched in December 2014.
He also designed the Invisiball, a Thermos-like container that freezes just right so that air won't be trapped in the spherical ice cube. The trick is the container is insulated at the bottom so that part freezes last, forcing the air down and out of the ice cube.
"The air is getting pushed down really slowly," Bricker said. "By the time it freezes down here, all the air is at the bottom. So I have this perforated spherical ball where all the air has gone out."
Both products are being sold on the Corkcicle website.
He's got a new product in the works for cigar lovers who want to sip whiskey. Expect more details on that soon.
He's also partnered with Foot Cardigan, the Dallas-based online sock ordering company, to design modular storage products for socks. Those products could be ready by Christmas.
---
Delivering what's new and next in Dallas-Fort Worth innovation, every day. Get the Dallas Innovates e-newsletter.