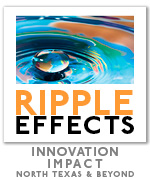 North Texas didn't invent blockchain, but Hedera Hashgraph significantly advanced distributed ledger technology by unleashing a limitless number of use cases and better reliability.
Co-founders Mance Harmon and Leemon Baird started the company in August 2017 and have raised $124 million in funding. Harmon is the CEO and specializes in the business side of things; Baird is the chief scientist with a doctorate in computer science.
Together, they built an alternative distributed ledger that corrects a lot of the problems that have plagued better-known blockchains platforms. To start, Hedera Hashgraph is not really blockchain—it's its own distributed ledger technology.
"Our platform will never split. Our network is stable. We can bring stability to the market for enterprise customers that no one else can," Harmon says.
What's more, some consider Hedera Hashgraph superior to other blockchain products because it's faster, more secure, and doesn't require proof of work. As a result, the overall transaction can reach finality in seconds with 100 percent certainty versus blockchain programs. "We expect to approach, if not achieve, 100,000 transactions per second," Harmon says. "That's the goal, and we think we will achieve it."
Hedera launched in August 2017 and has moved fast. After only a year, it minted the first "hbar tokens. In October 2018, the company hosted Hedera18, a one-day deep dive that explained how the platform works and potential use cases. The public got its first taste of Hedera Hashgraph on December 18 when the company launched its Community Testing Program, which allowed anyone to sample new applications, including a micropayments Chrome extension. Developers could also gain access to testnets, where they can begin building their own applications at no charge and have access to new developer resources at Hedera.com.
The testing period will help Hedera Hashgraph iron out issues before full open availability starts at the end of the first quarter of 2019, Harmon says.
Hedera Hashgraph could also revolutionize smart contracts, cryptocurrency, and file storage. It could provide an easy way to track products back to their sources so consumers would know where their apples or lettuce came from in case there's a recall.
Harmon envisions a new business model in which users make micropayments using a crypto wallet to get through paywalls or pay someone for a one-time transaction. This would replace the current method that requires setting up an account for every website used and entering credit card information at multiple sites. "This eliminates the need for all that by creating what I'll call the economic layer of the internet," he says. "The merchants or enterprises can just enable the use of their APIs with a cryptocurrency payment."
---
READ NEXT Hedera Hashgraph Opens its Distributed Ledger Tech for Public Testing
---
It could also change how social media platforms make money: Users would pay fractions of a penny to use the sites rather than be subjected to advertisements or have their personal information scooped up. "We believe that this capability for companies like Facebook or Wikipedia helps them realize new revenue models," Harmon says. 
"We are the product," Hedera Hashgraph CEO Mance Harmon says of tech giants who exchange people's privacy for "free" access to their sites and services. Dallas-based Hedera, which has opened up its distributed ledger technology for public testing, aims to change that.
Another developer, hearo.fm, is using Hedera Hashgraph for a music platform where songs could be downloaded and artists would get more of the money because it cuts out the middleman. "There's more margin that can be paid directly to the artists as opposed to them getting squeezed," he says.
In early 2019, Hedera will announce the first members of a council who will handle governance for the platform. Council members can serve two three-year terms for a maximum of six years. "There's nobody else in the market that has anything like that. It's the most representative governance body of any platform," Harmon says.
A version of this article was first published in Dallas Innovates 2019—The Magazine.
---
Read it online
Dallas Innovates 2019—The Magazine explores the region as a rising tech hub that will shape the future of innovation. The theme of our second annual print publication, "A Breakout Moment," explores why now is the time for the region to grab its place in the tech universe.

Get on the list.
Dallas Innovates, every day.
Sign up to keep your eye on what's new and next in Dallas-Fort Worth, every day.