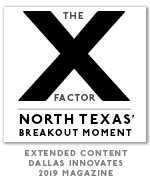 You could say George Brody has experience in the world of technology. Perhaps best known as the founder and CEO of GlobeRanger, which was acquired by Fujitsu in 2014, Brody has been a leading innovator in the wireless space for decades. 

These days, Brody is founder and CEO of InfoNet of Things, an IoT solutions company, a company he started after a brief retirement from his 43 years in both the corporate and entrepreneurial worlds. His resume also includes a stint as VP and general manager of Nortel Networks' Wireless Network Solutions division during the 90s.
Brody is currently a member of the advisory council for the Jindal School of Management at The University of Texas at Dallas and serves on the executive advisory board of Plano-based ilumi Solutions. He also was the Chairman of MobME Wireless Pvt Ltd, a wireless technology venture based in Cochin, India for over seven years.
So, it's only fitting that Brody is a source for an article in the newly released Dallas Innovates 2019—The Magazine, The X Factor. His professional interests span the vast range of emerging technologies, from entrepreneurship to angel investment to the creation of new ventures with medical and enterprise applications involving IoT, 5G, AI, and AR/VR.
What, if anything, makes this moment in time special in terms of North Texas as an emerging tech hub?
Today, North Texas' advanced communications industrial complex is composed of several increasingly integrated sectors, including communication equipment manufacturing, semiconductor, other electronic component manufacturing, telecommunications services, data processing, hosting and related services, and gaming software and accounts for nearly 1,500 firms employing approximately 80,000 workers.
---
Be a Dallas Innovator: Sign up for our e-newsletter to get what's new and next every day.
---
North Texas is home to the telecom industry's dominant players including AT&T's global headquarters in Dallas and its Internet of Things (IoT) Foundry for advanced R&D located in Plano. Meanwhile, Texas Instruments (TI) has a legacy of designing and delivering RFID, application‐specific integrated circuits (ASICs), task‐specific digital processing (DSPs, DLPs), and today is a world leader in analog and hybrid devices.
Today, these devices enable emerging mosaics of connectivity among products, processes, and operational performances that define IoT. Tomorrow, 5G advances will offer reliable high‐speed 'last‐mile' access to mobile users, automated vehicles 3.0, and user experiences in dynamic complex settings. This promising future is why Ericsson Inc., Alcatel‐Lucent, NEC, Fujitsu, Hitachi, and Samsung Telecommunications America located their North American headquarters in Dallas-Fort Worth, as well as New York‐based Verizon Communications locating major offices within the metroplex.
In addition, the region hosts the major operations of many of the world's largest IT (equipment and services) companies, including: IBM, Cisco, HP, Dell, NEC, Oracle, Siemens, Hitachi, NTT, Amazon, VMWare, and Google. Cutting‐edge application‐focused entities such as Toyota, Magic Leap, and Oculus are also either headquartered or have a major presence here.
Finally, major logistics and networking entities such as Facebook, Amazon, FedEx, and Dallas‐Fort Worth Airport are supported by the nation's second largest concentration of data centers, which in turn creates more producer services advanced research opportunities.
North Texas' information and communications technologies (ICT) industrial complex has long enabled the innovation potential of the convergence of communication, community, and computation. The Dallas-Fort Worth region itself has been transformed in the process.
What are some of the factors that are creating this moment?

North Texas is characterized as much by the region's concentration of industry users of ICT technical advances as by its concentration of ICT industry producers. Marquee multinational corporate giants include: Toyota (auto), ExxonMobil (energy), State Farm (insurance), Lockheed Martin (aerospace), Comerica (banking), and American Airlines and Southwest Airlines (aviation), among many others that have either relocated or reoriented their headquarters functions here.
This is to have early and easy access to the technologies, strong talent pools, and lower costs that will allow them to remain competitive in their respective industries.
---
READ NEXT: The X Factor: Four Ingredients are Turning North Texas into a Rising Tech Power
---
The esports phenomenon, being fueled by North Texas gaming companies, has witnessed growth in recent years. Top-tier esports teams are relocating to North Texas, and several new startups are springing up locally. Major investors like Mark Cuban and Jerry Jones are fueling this growth by providing fresh capital for a burgeoning industry. With several local teams achieving major wins, local esports companies are opening new training facilities, planning big stadiums, creating a support, and marketing an ecosystem that includes coaches and broadcasting staff. There are several leagues that are being set up around specific video titles like League of Legends. North Texas is rapidly transforming itself into an esports mecca.
The exceptional successes of the North Texas ICT and gaming industries built on the strong cooperative relationship with the local state and city governments is expected to expand into these exploding disruptive technology areas.
Tech hardware, software, and user experience are coming together in five leading-edge technologies: AI, quantum computing, Internet of Things, augmented/virtual reality, and blockchain. How do these fit into the idea of North Texas as a tech superpower?
All of these emerging technologies will fit very nicely into making North Texas a tech superpower. I would like to propose that we should include 5G along with IoT (it can be referred to as IoT/5G). Likewise, AI should also encompass machine learning (it can be referred to as AI/ML).
However, I also feel that these need to be augmented and/or complemented by other technologies, such as smart health-tech, smart additive manufacturing (3D printing), and voice enabled services/bots.
All the above technologies, although very powerful on their own, can be even more valuable to society when they are strategically combined.
As an example, the combination of IoT and blockchain can create opportunities for a whole host of services. Some possible examples are using the combination of IoT and blockchain to authenticate and track pharmaceuticals within a supply chain or create hack-proof smarter cities with connected energy management systems and the use of connected traffic lights to better manage rush hour without the fear of being hacked.
The design of autonomous vehicles will combine a number of these technologies like AI/ML, IoT/5G and augmented reality (AR).
How about how these technologies fit into society and business in general?
Although many tech waves fizzle out and die without seeing any traction, others transform society and businesses in ways that were never envisioned. The emergence of "network-based platforms" has created significant value for its members by facilitating connections and exchanges between people and businesses for services, products, or information. These platforms facilitate interactions that are easy and safe for its participants.
Such platforms have enabled businesses like Uber, Amazon, Airbnb, and eBay, and are also the foundation of what Facebook and Twitter do for the masses today.
I feel that the technologies highlighted in The X Factor —either in a stand-alone mode or in combination with each other—will enable even more powerful 'network-based platforms' in the future that will enable business models we haven't even contemplated.
For example, with augmented reality going mainstream and wireless bandwidth being provided by 5G, the idea of virtual pop-up stores that can be created in real-time anywhere people are gathered (e.g. in a stadium) that can transact business by augmenting or competing with the successful online or brick-and-mortar merchants of today. With wireless data speeds several hundred times faster than Wi-Fi (e.g. with Li-Fi or 5G), these AR customers would be able to see limitless inventory in the virtual store, at scale.
Where do you see each of these technologies heading in terms of business and social impact in the next two, five, or five-plus years?
Two to five years
Industrial IoT, 5G–based public and private networks, and additive manufacturing (3D printing) will gain traction within large enterprises, especially in the aerospace and manufacturing sectors.
Fintech and quantum computing will come together primarily for the purpose of reducing energy consumption. Mining today's cryptocurrencies is predicted to require more electricity annually than the total energy used in 160 countries. This makes a strong case for investment in quantum computing.
Augmented reality will go mainstream in certain markets. Sports stadiums will be equipped with personalized heads pp displays (HUDs). One can watch a live football game in the stadium while seeing personalized stats floating above the fantasy sports players you follow. Virtual pop-up stores will also be delivered to these personalized HUDs.
The use of voice-controlled applications and natural language bots will become very pervasive.
The phenomenal growth in automation and AI/ML will enable machines to replace and/or augment the human in doing complex as well as repetitive tasks. Companies like Netflix, Amazon, and Airbnb will use AI to generate significant competitive advantage and provide superior customer experience.
Blockchain will be built into most platforms as a fundamental fabric. Financial services, insurance, and healthcare will be some of the sectors where blockchain will be heavily adopted. The combination of blockchain and IoT will be heavily sought out as a capability within major supply chains.
Five plus years
AI/ML will become embedded into all our products and services. Any enterprise that has not moved itself to an AI-enabled product or service set will be left behind in the dust.
The AI/ML paradigm will shift from machines replacing or augmenting humans, to designers of machines creating machines that are human-like and can think and act like humans.
There will be a race toward solving complex problems or creating world-class algorithms using quantum computing.
Virtual reality (VR), augmented reality (AR), and mixed reality (MR) will be pervasive and become group experiences just like the gaming experience transformed itself from an individual experience to communal experience.
Blockchain will gain the attention of governments. The exercise of casting a ballot in a hack-proof environment will be the driver and end of paper-based ballots.
IoT and 5G networks will be pervasive around the world as much as today's wireless networks. Applications that require high bandwidth combined with low latency will become commonplace for consumers and businesses.
Smart health tech powered by "nano-robots" will revolutionize targeted drug delivery. In some cases, these "nano-robots" could be enabled for rapid treatment of certain diseases instead of taking medications.
Autonomous vehicles will become very pervasive in both the consumer and commercial vehicle markets.
Is any of that group better poised to make an impact over the near-term?
AI/ML and blockchain are better poised to make an impact as fundamental technology fabrics for all new platforms over the near-term.
IoT/5G and augmented reality are better poised to make an impact over the near-term as enablers of applications that were not yet possible to be delivered.
Editor's Note: Regarding these technologies, Brody identified AI/ML as having the greatest impact over time and quantum computing as the biggest wild card right now.
What players in North Texas are driving these techs?

All major telecom equipment vendors like Ericsson, Nokia, Fujitsu, and more are clearly driving the IoT/5G technologies, along with startup players like Mavenir.
All major wireless carriers like AT&T, Sprint, T-Mobile, and Verizon are driving the 5G/IoT applications and network roll-out.
The HUD and mobile-based AR/VR/MR space has players like Bottle Rocket, Microsoft, Oculus, and Magic Leap that are quite active. There are several startups like EastEdge Studios, Neuro Rehab VR, and Caplar who are building niche AR/VR/MR applications.
There are several special interest groups or communities around North Texas focused on these technologies. All major universities in North Texas have programs, while organizations like the Tech Titans have created communities called Forums around these technologies.
Final thoughts on this topic?
I feel that the whole area of esports needs more discussion. North Texas, with its strong roots in the gaming software industry, has become a major player. From a technology point of view, I feel that a company like Balanced Media Technologies based here is pioneering the use of human intuition combined with grid-computing and gaming to solve really complex problems—quite a novel approach to solving complex problems while we are waiting for the advent of cost-effective quantum computing.
Drones are also a good part of our future along with autonomous terrestrial vehicles. Perhaps that too needs some discussion.
This Q+A was edited for brevity and clarity.
A version of this article was first published in Dallas Innovates 2019—The Magazine.
---
Dallas Innovates 2019—The Magazine
Dallas Innovates 2019—The Magazine explores the region as a rising tech hub that will shape the future of innovation. The theme of our second annual print publication, "A Breakout Moment," explores why now is the time for the region to grab its place in the tech universe.

Get on the list.
Dallas Innovates, every day.
Sign up to keep your eye on what's new and next in Dallas-Fort Worth, every day.