An aerospace engineer wants to dustproof your ceiling fans and possibly more with a new chemical formula.
R. Perry Mercer has patented the EZ Dust solution that you can spray onto fan blades once every five years.
"It basically eliminates all the factors that cause dust to stick on the blades," he said. "It's a complex formulation of 11 different ingredients. There's several chemical fusions that go on during the mixing process that changes the formulation."
The Fort Worth-based startup could start its first production run in the next month or so. Mercer plans to sell the product online while also partnering with retail representatives and ceiling fan and lighting manufacturers.
Mercer is the president of MTI Today Inc., but previously worked as an aerospace sales manager. Before that he worked as a technical buyer for General Dynamics.
In lab tests, the coated blades outperformed an uncoated blaze by 2,100 percent, Mercer said.
The lab subjected the fan blades to 24 hours of intense dust blown by compressed air into the chamber. Five blades were treated and one was the control blade.
"It basically eliminates all the factors that cause dust to stick on the blades." 

R. Perry Mercer
In other tests, portions of a fan blade were treated and other portions were left untreated. The blades were from ceiling fans sold at Home Depot.  
The tests determined that the product was superior for both aftermarket and factory applications.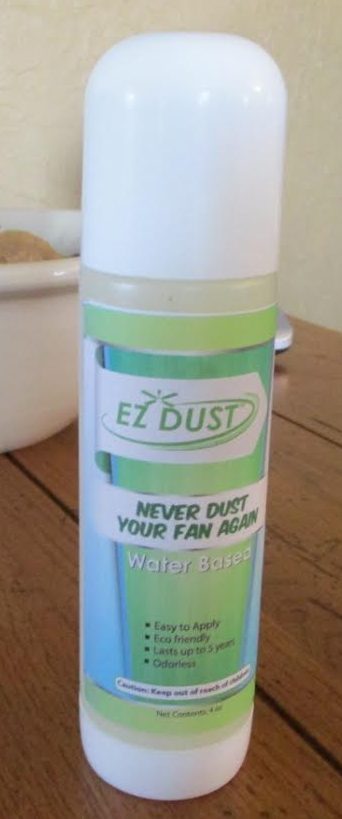 Exactly what the bottle will look like is still being finalized, but Mercer envisions a pressurized spray bottle.
EZ DUST COMPETING TO BE AMERICA'S NEXT 'GAME-CHANGING INVENTION'
Even bigger opportunities await.
EZ Dust is a semi-finalist in the Home Shopping Network and Good Housekeeping American Dreams contest, which is designed to uncover the "next great entrepreneur with a game-changing invention."
The finalists will be announced by the end of June. If Mercer reaches the finals, he will be featured in the Nov. 15 edition of Good Housekeeping so readers can vote on the product. The winner could receive a Good Housekeeping Seal of Approval.
"That would change our marketing plan, somewhat," he said.
With a slight modification to the formula, EZ Dust could be used on air vents to prevent dust build-up. Window blinds could be another use case for EZ Dust, though it would still require some feather dusting since there's no air flow through the blinds like there is through a vent.
"There's less dust so you won't have to clean them as often," Mercer said.
---
Dallas Innovates, every day