"We're in uncharted territory," Dallas entrepreneurs Trey Bowles and Nick Kennedy say. And that's why now could be the perfect time to launch their new podcast, SwitchBacks.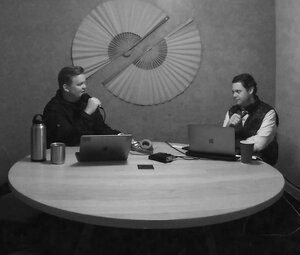 Bowles and Kennedy, both successful serial entrepreneurs, know something about surviving challenges and remaining agile. Bowles, who is the co-founder and executive chairman of the Dallas Entrepreneur Center, most recently launched InnoCity, a boutique consultancy for smart city innovations. Kennedy is the co-founder of Rise Air, which was acquired in 2017 by Santa Monica-based Surf Air, and an EY Entrepreneur of the Year Hall of Fame inductee. 
The longtime friends aim to help other entrepreneurs survive and thrive. 
The podcast focuses on "The Never Told Stories of Entrepreneurs," The name, SwitchBacks, is apt for entrepreneurs, Bowles explained. In hiking, a switchback is a trail that zig-zags up a steep mountain to get to the top. 
The project has been in the works for several months.
"We've already recorded several podcasts and have insight from entrepreneurs that we believe will really help serve and support entrepreneurs and leaders as they grow," Bowles wrote in a blog post on Medium.
But, in light of the recent pandemic, Bowles said the pair moved up the timeline for launch.
The just-released first episode of "SwitchBacks: The Never Told Stories of Entrepreneurs" focuses on "practical solutions that entrepreneurs can use to survive this colossal and global attack that is stopping most entrepreneurs in their tracks."
Bowles and Kennedy hope the podcast will be helpful to startups that need to figure out the next steps on how to survive—and hopefully, optimize and thrive in the future.
The episode focuses on four topics that are essential to startup survival, according to Bowles:
1. Cash Is King
2. Communication is Key
3. Develop a Plan (30–60–90 days)
4. There is Opportunity to Innovate and Lead
You can find the podcast on Spotify.
Bowles shared a rundown of practical tips from Season 1, Episode 1 of the podcast with Dallas Innovates, below:
Cash is King
For an early-stage entrepreneur, there is nothing more important than cash flow. It is important to have a Pro-Forma (income statement), Balance Sheet, Statement of Cashflows, etc but in the end, the only thing that matters is how much money is in the bank. You have to live and die by the reality of cash. As a first step, you need to get your financial status under control. Bring your finance team together and get a real picture of where you are financially and what you need to do in order to survive. Cutting costs and unnecessary expenses are a key first step. Renegotiate payment timelines and Accounts Payable. Find ways to bring in immediate revenue through creating realistic and far payment cycles, and do everything you can to keep staff even if that means cutting back on current salaries for yourself and your team.
Scott Case, CEO of Upside, put together an Existential Business Threat Flowchart around this very thing we discuss in the SwitchBacks podcast: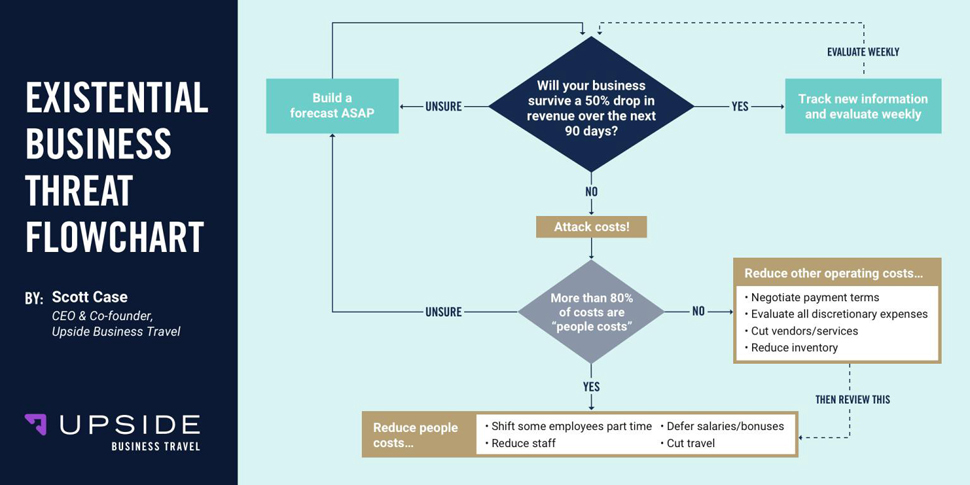 Communication is Key
In this time of unrest and fear, the best thing you can do is communicate, communicate, communicate. Honesty, transparency, and frequency is your best policy during times like this. You need to make sure you speak to your staff, communicate your process, strategy, and plan for moving forward. Listen first to your employee's concerns and fears and respond by letting them know you understand and are there for them. Only after you appropriately communicate your consideration of the employee can you offer a plan. It is always better in times of crisis to over-communicate and utilizes Nick Kennedy's "Drive Through Communication Method".
Nick Kennedy's "Drive Through Communication Method"
Just like ordering food at a drive-through, have the employees repeat what you are saying to them. Make sure they understand you and that you are communicating well. Far too often, the issue of misunderstanding is a miscommunication that is the responsibility of the entrepreneur to the team.
Develop a Plan (30–60–90 days)
Next, you need to develop a plan or set of plans for how you are going to weather the massive business earthquake we have been enduring the last week. You need to develop your internal COVID-19 plan for your team.
Will you be working remotely? How will that be structured? What will work hours be, and how can you best support the team to be as productive as possible moving forward?
There is no better way to be able to keep on staff then helping them be as productive as possible even though they are working out of the office. Realize that your plans might need to change and you have to be agile in making sure you are operating most effectively in this new COVID-19 business landscape. Being willing to "switchback" your way up the mountain to get to a safe place or reprieve, survival, and eventual sustainability. 
Follow this strategy to develop your 30-, 60-, and 90-day plans during the age of corona:
30 days: Assess and Respond. (Aka Stop the Bleeding). Cost-cutting, revenue optimization, get on life support.
60 days: Develop a plan and start to operate your business as needed to adjust to the requirements of running a business in a time of corona. (Get off life support)
90 days: Plan for re-emergence and optimizing a plan for the new world. It may take longer than 90 days, but you need to create a plan and future that realizes that "this too shall pass". People will get out of their houses, they will go back to work and things will get back to some semblance of normalcy. You need to determine and plan for how you are going to operate in a world post-Coronavirus or post the initial scare of the pandemic. (Build and grow).
Innovate and Lead
Finally, it is time to step up and innovate and lead. Take this opportunity to innovate, disrupt and find ways to provide services and technology that serves the needs of consumers and businesses.
Necessity is the mother of invention and innovation. There will be an opportunity during this time. Be creative and find a solution. This too shall pass, but we must be innovative to get there. Your job first and foremost is to provide. Find temporary work if you need it. Get through this and then reemerge stronger than ever.
A version of this podcast takeaway first appeared on Medium.
---
No one knows when this is going to end, writes The DEC Chairman Trey Bowles. But the good news is, people are trying to help. Here are things entrepreneurs can do in order to weather the storm of uncertainty.

Get on the list.
Dallas Innovates, every day.
Sign up to keep your eye on what's new and next in Dallas-Fort Worth, every day.